Silver Prices "Ready to Break Out" as Futures Betting Jumps to Pre-Crash Level
Monday, 4/14/2014 11:06
Long-term silver price chart shows "bearish trend" meeting "5-year bull support"...
SILVER PRICES traded in a tight range last week, hitting a high of $20.30 and a low of $19.68 before closing just a few cents higher from the previous Friday as tensions rose over Ukraine's response to pro-Russia separatists.
Tracking gold's short-lived spike mid-week, silver prices had risen sharply – hitting their high for the week – after Wednesday's release of notes from the Federal Reserve's mid-March meeting.
Friday's Fixing for wholesale
silver bullion bars
in the London market came at a price of $20.06 per ounce, some 16¢ higher than the week before and over 4% higher from silver's low of the year.
New York's Comex exchange saw May silver futures, now the most actively traded monthly contract, settle at $20.091, up by 15¢ from the previous Friday.
"The [silver price] range has been sideways for the past three weeks," says the latest technical analysis from London market maker Scotia Mocatta, part of Canada's ScotiaBank, "with support at the low in the 19.57-19.62 area.
"There is a long-term bearish trend line, which is providing resistance…in the 21.21 area."
But silver prices are also "trading on the edge of the 5-year trend line support," says Yana Stunis at
Standard Bank
's London office in a note to clients.
"No surprise to see open interest pile in to see a break out either way...[Silver prices are] about ready for a break out."
Open interest in Comex silver futures rose again last week, up for the fifth week running and growing by 5% to the largest level since the same week last year – just before silver prices were hit by
April 2013's gold crash
.
Its previous peaks also marked major price moves in late-2010, early 2008 and New Year 2006.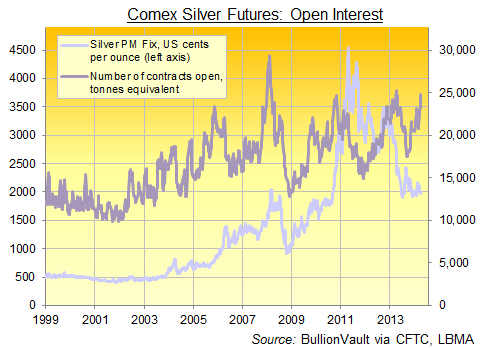 Speculative traders have been taking the bearish side of the bet, cutting their net position on silver prices rising by 45% since the 4-month high at $21.73 per ounce hit in mid-February.
The long-term chart which Standard Bank highlights shows a wedge formation, with silver prices recording lower highs since May 2011 but touching 3 higher lows since late 2008.
Silver investment holdings at the major exchange-traded trust funds meantime ended last week unchanged on Bloomberg data, just shy of 19,764 tonnes.
Although silver prices were virtually flat over the first 3 months of this, "Silver saw the largest inflows [amongst commodity ETFs] during the quarter," says the Wall Street Journal, citing one provider's data, "as investors looked to the metal as a leveraged play on improved sentiment towards gold."
The only major silver coin producer to release frequent data, the US Mint reports 2014 sales now running 2.5% below 2013 levels to end-March.
Legal gold and silver imports to India, a major consumer market, showed
a drop of 40% in fiscal-year 2013-2014
according to the Press Trust of India, down to $33.46 billion thanks to the government's anti-gold import rules, aimed at cutting India's large current account deficit with the rest of the world.