Asia's Giant Gold Buying Rises as Biggest Demand Season Starts
Saturday, 10/07/2023 01:27
India 'optimistic' for Diwali, China 'gold craze' continues...
The FESTIVE period for gold's largest consumer countries to buy the precious metal has begun with demand rising in the key markets of India and China as people take advantage of the current drop in prices.
Last month saw the return of 'auspicious' dates for marriages on Hindu calendars after the seasonal summer shutdown, and November will bring India's peak gold-buying festival of Dhanteras, the start of Diwali. Western gift-giving at Christmas will then be followed by the run-up to Chinese New Year, starting on 10 February in 2024.
Altogether, this festive period – covering the October-to-December and January-to-March calendar quarters – has seen consumers in China and India buy 8% more gold by weight over the past 10 years than they did across the April to September period on average, according to quarterly data from specialist analysts Metals Focus.
That extra demand rises to 15% if you exclude the exceptional years of 2013 – when a crash in global gold prices spurred record-heavy buying in the precious metal's top 2 consumer markets – and also 2020, when Covid lockdowns crushed sales, from comparing Q4 plus Q1 against the figures for Q2 plus Q3.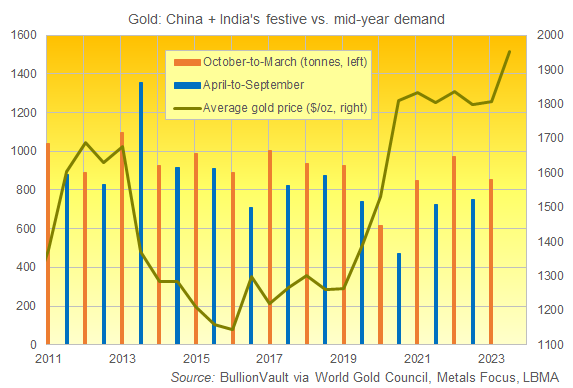 Having averaged a price above $1800 per Troy ounce in each of these periods since Q2-to-Q3 2020, global bullion prices jumped to average $1950 across mid-year 2023, denting India and China's demand amid
gold's typically quiet summer lull
.
But so far in October, global prices – as set by trading in the London bullion market – have fallen hard, down by more than $100 from that level at Friday's finish as
the crash in Western government bond prices
drives longer-term interest rates sharply higher.
"Many consumers are frantically buying gold," reports China's
National Business Daily
, saying that
the "gold buying craze"
seen in the precious metal's No.1 consumer market ahead of the past week's Mid-Autumn and National Day holidays "has not fallen but risen" according to retailers.
Bullion prices in Shanghai jumped a record $120 per Troy ounce above London's global gold price in mid-September as
China's rising gold demand
met restricted supply, with household jewelry and investment purchases
"running unstoppably hot"
according to the Henan News Channel.
Gold's Rupee rates in India are meantime showing a premium of $5 per ounce to the cost of newly-imported bullion – which includes a massive 18% in duty and tax – the highest incentive for new inflows to the No.2 gold consumer nation in 17 months according to Reuters, thanks to rising demand and the lower global price.
"Retail and wholesale
demand is improving because
of the price correction," the news-wire quotes one Mumbai gold dealer. "We have been witnessing good traction in the last few days."
In China, where
the world's No.1 gold-buying central bank
of the last 3 years has expanded the national holdings by nearly 8% since mid-2020, "There are now a lot of people buying investment gold bars," NBD quotes a gold store salesman during the Golden Week holidays, "because the price has dropped a lot."
But with China's Yuan gold price previously rising sharply over the past 12 months, "It's hard to say what the impact will be on the post-holiday sales market," cautions Chen Biao, general manager of Swiss refiner Metalor's Chinese business.
"If the price continues to fall, it will have a greater negative impact on sentiment. But otherwise, consumers may buy gold on dips in the price."
As for India, the monsoon rainfall this year was slightly below average, says Metals Focus, but this is "unlikely to impact crop output, which bodes well for India's precious metals demand, particularly jewellery consumption, as a large portion of this is concentrated in rural India."
"Gold prices fall, retailers rejoice,"
said a headline
at the
Times of India
as the global price fall took hold last week, adding to the "optimism" reported among gold dealers by
Metals Focus
.