Trade War 'A Concern' for Silver as Solar Installations Slump
Friday, 10/12/2018 18:27
2018 still set to match record PV demand for silver...
The WORSENING trade war between the United States and China is set to have only a "limited direct impact" on silver's industrial demand, according to leading analysts, but the wider implications of a slowdown in global growth are "a concern".
Record-high silver demand from the photovoltaic sector is also likely to suffer in 2019 as the end of government subsidies, plus the US-China trade tariffs, depress the rate of new solar panel installation worldwide.
Thrifting is likely to dent silver's use in PV cells still further, because "when we talk of a [PV] module," explained Mudit Jain, senior manager at solar consultancy Bridge to India, to the Economic Times earlier this year, "the most expensive component is [the silicon-based semiconductor wafer] and the second-most expensive component is silver."
"[So] consumption of silver in panels
is being reduced
," agreed Anmol Singh Jaggi, director of PV engineers Gensol, "and getting replaced by copper."
In April GTM Research forecast that new PV installations worldwide
would grow 6% this year
from 2017's record pace, adding more than 100 gigawatts of capacity.
But in August the consultancy slashed that figure to 85GW, blaming the 14% year-on-year drop on Beijing's decision to halt 'feed in tariff' subsidies to domestic solar-energy producers and warning that China's solar industry was "overheating" with installations growing faster than it can integrate or use new capacity.
Taiwan's TrendForce consultancy had
already cut its global forecast
for new PV capacity in June, predicting a drop of 5-8% as a result of May's change in China's domestic policy.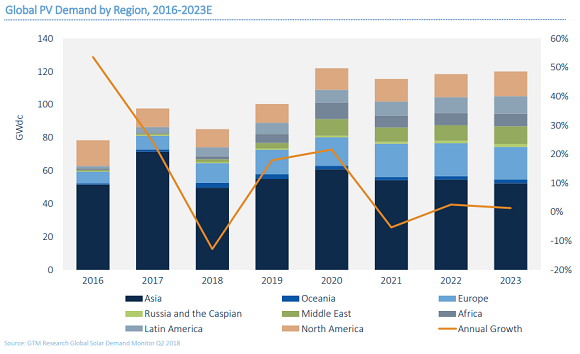 US trade tariffs on solar panels were
meantime set at 30%
on imports from any country, with Chinese solar panels hit by an additional 25% charge.
"Much has been made of the tariff impact on the photovoltaic market," says specialist consultancy
Metals Focus
, "including those introduced in the US and India.
"Without diminishing their importance, we should not lose sight of the fact that silver PV demand remains historically high, and this is also against the backdrop of additional headwinds from reduced subsidies."
Metals Focus' full-year 2018 forecast now puts silver demand from the solar-energy sector at 2,900 tonnes – matching last year's record on comparable data from metals-market analysts GFMS, part of the Thomson Reuters data and news group now part-owned by private-equity investors Blackstone and
re-branded as Refinitiv
.
The largest source of industrial demand outside Electicals and Electronics for the second year running, solar power's use of silver in 2017 beat the 2011 peak by 24% on GFMS' data, despite the quantity needed per PV cell
more than halving
since prices touched three-decade highs near $50 per ounce that year.
"The direct impact of the trade war on silver consuming industries," says Metals Focus, "will be limited in most cases [and] at a global level.
"[But] the secondary effect of rising tariffs...is a more pressing concern," the consultancy says, because if the global economy slows as a result of the trade war, so industrial demand for silver will in time weaken in line with demand for those end-products "[or] even overshoot it, given thrifting and substitution pressures."