'Adverse Trends' Hit India Gold Buying
Tuesday, 9/11/2018 18:37
Rupee dents festive demand, long-term change seen...
HOUSEHOLD gold buying in India will struggle as 2018 ends despite the typically strong Hindu festival season, according to analysts, with "structural changes" set to curb demand longer term in the No.2 consumer nation.
While gold bullion imports rose sharply in August, "There are some adverse trends in India," says the latest weekly note from German refining group Heraeus, "as the falling Rupee [has] lifted the local price and reduced buying interest."
The Rupee today
hit a fresh all-time low
against the US Dollar, with analysts and traders pointing to the country's worsening current account deficit with the rest of the world, driven by its heavy energy import costs.
Rural gold demand could be hit further,
Heraeus' note
goes on, both because of lower farm incomes thanks to reduced crop yields following 2018's "erratic" monsoon rains and also after the deadly flooding across Kerala – the southern state with "by far the highest per capita spending on gold in India."
Looking further ahead, "Indian investment demand [is] undergoing a structural change," says the latest
India Focus Monthly
from specialist analysts
Metals Focus
, pointing to an underlying decline in gold coin and bar buying by private households.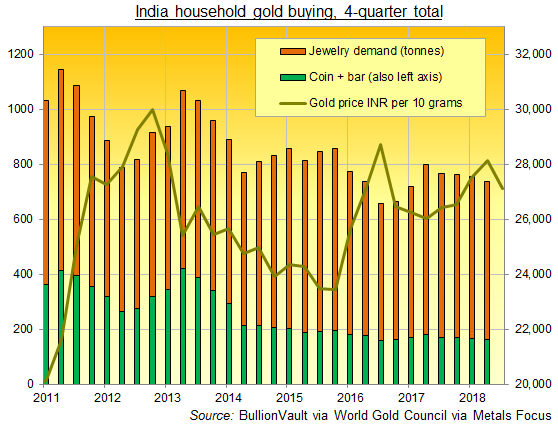 Most starkly, improved access to financial services – with bank account ownership now at 80% from 53% just 4 years ago – gives Indian households more choice beyond buying gold when looking for savings products.
"Micro-finance companies and small payment banks have also helped to increase financial inclusion in smaller towns and villages," says Metals Focus, with faster internet speeds also enabling people to use smart-phone apps for saving and investing.
India's young demographic also threatens weaker gold demand ahead, Metals Focus says.
Sixty-five per cent of the population is aged below 40, and "Their saving habits are very different from their parents and grandparents...more inclined to save in equities and bonds rather than gold."
"India's gold industry is
at a crossroads
," said Arjun Raychaudhuri, Managing Director & CEO of refining joint-venture MMTC-PAMP India Private Ltd, at the 2017 London Bullion Market Association conference in Barcelona, warning delegates that the global market couldn't take India's heavy demand for granted.
Highlighting what he called "tectonic shifts in the business environment" for gold – led by the Modi administration's push for good governance and financial inclusion – the retail market for jewelry, bars and coins faced "reduced dependence on gold [among consumers] as financial penetration increases," Raychaudhuri predicted.
In contrast to private households however, India's central bank has
now switched to a policy
of buying gold, adding metal to its bullion reserves for the first time since 2009 over recent months.
Taking advantage of lower global prices, the Reserve Bank of India says "the gold portfolio has...been activated" as part of a move to boost diversification "with attention being ascribed to risk management."