Gold ETFs Surge But Consumers Buy The Least Gold This Decade
Wednesday, 11/06/2019 12:11
2019's gold ETF price jump hits jewelry, coins, tech...
CONSUMER DEMAND to buy fabricated gold products sank to the lowest so far this decade in the July-to-September quarter according to the latest industry data, published Tuesday.
Jewelry demand – still the largest single source of gold buying – sank to 9-year if not 2-decade lows by weight.
All other segments of global gold demand also fell year on year except for gold-backed trust-fund investing.
That's according to new data from the mining-industry's
World Gold Council
and also to separate figures from the GFMS team at data providers
Refinitiv
.
The third quarter of 2019 saw bullion prices rise by more than one-fifth year-on-year, reaching the highest daily average since the start of 2013 in US Dollar terms as investment inflows to gold ETF shares jumped.
Gold prices
rose faster still for both gold consumers and mining producers outside the Dollar, averaging a Q3 rise of nearly 26% across all other major currencies and setting new quarterly average records in the UK Pound plus the Indian Rupee, Indonesian Rupiah and Turkish Lira among major gold buying nations, and also in Australian and Canadian Dollars, the Russian Ruble and South African Rand among large mining countries.
Together, that saw world mine supply and scrap gold sales set a new third-quarter record on the World Gold Council's series, compiled by specialist analysts Metals Focus since 2010.
Demand for fabricated gold products, in contrast – from bonding-wire in electronics to dental fillings, bracelets, watch-cases and gold coins – fell to the lowest in at least 9 years.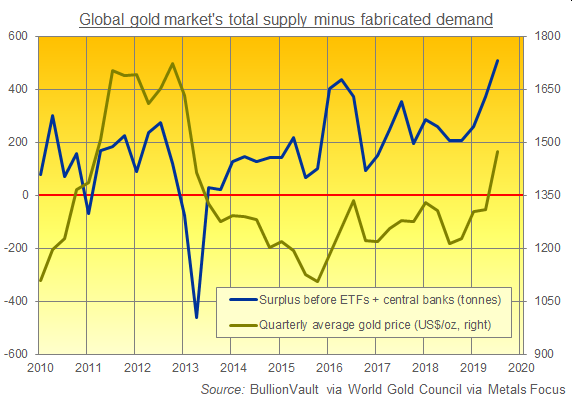 Only gold ETF investing and central-bank demand beat their previous 3-year quarterly averages in Q3 2019, and central-bank demand itself shrank 38% from Q3 2018's peak.
Both
gold ETF trust funds
and central banks buy gold in the form of large wholesale bars, rather than fabricated products aimed at the consumer market.
Global jewelry demand in contrast came in 15% below its 3-year quarterly average, falling 28% from the same period last year and totaling just 317 tonnes on data from Refinitiv's GFMS – founded in 1968 and rebranded with the rest of Thomson Reuters' financial data service after it was spun out of the news-gathering group in 2018 – the lowest figure in the consultancy's current database, starting from 2000.
Household demand for
gold investment coins
and small bars also sank, down 25% on Refinitiv GFMS' figures to the weakest total since the first quarter of 2009, and halving from Q3 2018's level on Metals Focus' analysis for the World Gold Council.
Ahead of October's
very poor Diwali festival sales
, "Indian demand fell an extraordinary 60% for the [Q3] period," says Refinitiv, "as a weak domestic currency drove gold in Rupee terms to a record high, making gold items unaffordable for many consumers.
While "jewelry demand in [No.3] North America was broadly stable on a year-on-year basis," the new report goes on, [No.1] Chinese and [No.4] European offtake was down by 13% and 12% respectively, as the economic uncertainty and higher gold prices put pressure on consumer spending.
"[This] weak fundamental picture and a strong Dollar will pose a major drag for prices" says Cameron Alexander of Refinitiv, commenting on the data provider's numbers and forecasting a 2020 average price of $1455 and then $1505 in 2021.
The rising price now forecast will come because, for money-manager and institutional investment demand, "The outlook remains quite supportive," Alexander goes on, "and will continue to benefit from ongoing global economic and political tensions" such as the US-China trade war, plus weaker growth and a return of "aggressive" central-bank stimulus.