Copper-Bottomed Fake Tungsten Gold
Friday, 3/30/2012 20:29
Tungsten in a Gold Bar? Just how much risk is there for the gold market...?
JUST IMAGINE, says Adrian Ash at BullionVault – a cache of clever fakes is discovered, notionally valued at $134 billion. Blogs from your mom's bedroom to Bloomberg immediately light up, claiming that the entire asset-class is now prone to suspicion in every trade, every portfolio, making a price-drop nailed on.
The result? In June 2009, when four Japanese "businessmen" were caught in Italy with a suitcase full of fake US bonds, the price of T-bonds first dipped (gasp!), then rose (oh...), pushing yields down below where the fun had started on the 16th.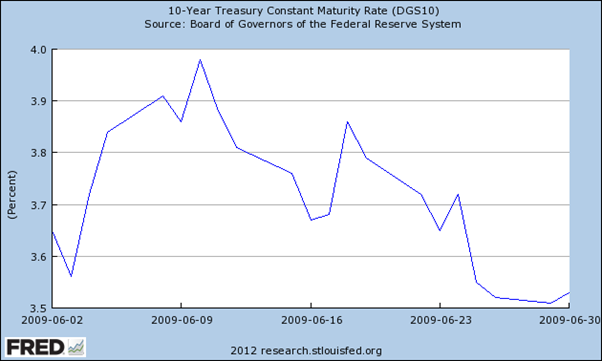 Nothing to see, in short. So how about the $6 trillion found in Feb. 2012, again by Italian police, and again in fake US government bonds? Now that's a real stab at shaking a market, fully 42% of the official total outstanding, itself swollen to $14 trillion thanks to the real thing of Uncle Sam's promises.
No giggling about how anyone could tell the difference! Surely with forgeries so easy and plentiful, plunging Treasury bonds would plunge the world into crisis. Because no market can bear such a question mark hanging over it, right?
But no – not unless you think Presidents' Day was rushed out to close bond markets the next morning. (All-too convenient. And directly linked to the White House, too...) Because once again, Treasury debt prices blinked no more, nor less than usual. And all at prices so much higher from 2009, the 10-year yielded less than 2.0% both before and after.
So let's try again, shall we?
"You don't need to be a conspiracy theorist to find this worrying," declared Reuters' finance blogger Felix Salmon last weekend, linking to two conspiracy theories in 5 words. "A 1kg Gold Bar, certified as 99.98% pure by XRF (X-ray fluorescence) tests, turns out to have been drilled out and largely replaced with tungsten..."
Crikey! Tungsten in a kilo gold bar? Good job I'm holding only fine gold in a warranted 400-ounce Good Delivery bar instead. Oh, but Salmon knows different...
"The fact that no salted 400 oz [wholesale] bars have yet been found...can be viewed as very worrying," warned Salmon – "an indication that the gold markets are very bad at uncovering such things...In any case, there's clearly now serious tail risk for anybody in the physical-gold market."
Tail risk, you say? For anybody in the market? Seriously? Let's start with the facts about this tungsten Gold Bar, such as they are.
On March 21st, Aussie dealers ABC posted photos on their blog apparently emailed to them by Swiss refiners MKS. The pictures showed a kilo-bar, cut in two, revealing 5 little rods of tungsten hidden inside. The email apparently said the bar had been bought by a UK scrap dealer, who discovered it was a tungsten gold bar after finding it was two grams short of a kilo.
How the tungsten got it, the photos don't show. How the photos reached ABC purporting to come from MKS, the people at MKS apparently say they don't know either. We don't if anyone's yet asked the UK police about the pictures, but the bug-o-sphere has been free to argue over whether the fake tungsten gold bar is in truth a fake fake tungsten Gold Bar ever since.
But let's take the story at face value. The apparent tungsten-gold scammer didn't try selling it to a bullion dealer, not as far as we know. S/he chose a scrap dealership instead, likely to pay well below true market value, but also less likely to spot a fake bar when they saw one. Because you need specialist knowledge to judge the true quality of a gold item. Which is why specialists exist, to do the work of checking quality that the rest of us can't.
Judging quality in the gold market is a key issue. So key, in fact, that the market began addressing it 250 years ago. Central banks, industrial users, mints, jewelry fabricators, and big financial institutions don't take any chances. Instead, they employ the Good Delivery circuit – developed since the mid-18th century in London, then (as now) the clearing point for the world's wholesale gold trade – to guarantee they buy and sell only top-quality gold and silver.
Weighing between 350 ounces and 450 ounces each (an exact 400-ounce pour is rare), London Good Delivery bars are how wholesale users trade gold and silver bullion. Coins, kilobars and other retail investment units typically take this form first, before being melted down and recast into those smaller pieces. So too do dental fillings, bonding wire for micro-chips, foil leaf, and all the other industrial uses which account for a further 15% of gold demand each year. Most importantly, a very large proportion of global jewelry demand will be met with fine gold cast at some point into Good Delivery bars, even though scrap recycling in local markets accounts for some portion of that flow.
Good Delivery bars are produced by a small list of refineries, each one scrutinized and approved by the London Bullion Market Association. The bars must meet strict standards for fineness, weight, shape and appearance. You can learn more about Good Delivery at the LBMA's website. You'll note just how exacting the criteria for refining and assaying are. Then, from the day it is cast until the day it is withdrawn for physical use, Good Delivery bullion must stay inside secure, approved storage. Good Delivery status is lost the very moment a large bar is taken out of accredited storage (we estimate the immediate loss of value at around 6%) and bars are very rarely re-submitted to the circuit. It is the vault operator's responsibility to accept or reject material as Good Delivery, no matter the client's wishes. Because the vault operator has a duty to the whole market.
What this means is that, inside the vaulting circuit, Good Delivery bullion enjoys a "chain of integrity". This path, extended by each new owner when they buy, leads from the current holder back to his/her seller, onto to their seller and so on, all the way back to the point of origin – ultimately, the approved refiner who first cast and assayed the bar, or the vault operator who accepted it. Good Delivery status is hard-won, and no refinery or vault would want to lose that accreditation once they've achieved it. Nor would they want to pay the legal fees or face criminal proceedings for fraud. To ensure that the market isn't at risk of loss, financial resources are a key check by the LBMA – which manages and maintains the Good Delivery rules and list – both when it reviews new applications and also in thorough spot checks conducted on all accredited providers.
The wholesale market of Good Delivery bars thus enjoys natural regulation. Self interest on the part of each individual actor keeps everyone else safe from fraud. No single owner in a bar's life can hope to control where it goes – or how it is used – after sale, and each owner is recorded by the chain of integrity recording each buyer's seller. Fakes could perhaps circulate outside the Good Delivery circuit, as the tungsten-gold story shows. But it's very unlikely that any such metal could ever make it into accredited storage. And if it did, the costs would be borne by the original refiner or, if submitted at a later stage, the vault operator who accepted it.
This is why BullionVault and its users trade only assayed Good Delivery gold bars, storing them only in accredited Good Delivery facilities. The same is true of our best competitors too. The current owner is never exposed to the kind of fraud apparent in that 1-kilo tungsten-gold bar. Because in the highly unlikely event that a bar turned out to be bad, the company which introduced it to the circuit would pay. And here at BullionVault, we ourselves also guarantee the quality of every gram bought by our users, too.
Yes, it's possible that fakes such as tungsten gold bars could perhaps circulate outside Good Delivery. The apparent fake sparking all this fuss proves that. But even there, "I suspect very few bars like this are out there," concludes ABC in Australia, commenting on its own comments thread this week. "Second-hand bars tend to get re-refined to be made into a other size/branded bars or used by manufacturing jewelers. We would soon hear about it if it was a more common occurrence."
You certainly wouldn't need financial blogs to announce it.
Looking to Buy Gold in Good Delivery form and with Good Delivery warranties and integrity only? Make it safer, cheaper and easier using world No.1 online BullionVault...