Silver Prices: Is 14% Enough for 1 Month?
Wednesday, 7/02/2014 19:30
Spec shorts hit a record start-June, then covered faster than ever helping prices jump...
SILVER PRICES hit new 15-week highs Wednesday, writes Adrian Ash at BullionVault, adding 14.1% from end-May's drop near 4-year lows.
Any more gas in the tank for extra gains short term?
Summer is typically boring for gold, and by extension silver prices. (The median move during June-August is the smallest 3-month change over the last 45 years, stats fans.) But 2014 has seen both gold and silver prices buck the seasonal lull so far. June saw gold add 6% against the Dollar. Silver doubled that move.
The immediate cause, certainly for silver prices, was plainly short covering. Bullionvault wasn't alone in spying the all-time record number of bearish bets against silver held at the start of last month by hedge funds and other speculators. We weren't alone either in guessing that could end badly for silver's short sellers if prices rose.
But we can't find many other commentators noting that, derivatives trading aside, June was actually quiet for silver investment demand. Indeed, after May's stellar addition to BullionVault user holdings – the largest 1-month rise since end-2012 – holdings were flat overall last month as more users opted to take profit than buy more following the sharp leap through $19...$20...and then $21 per ounce.
The rise in gold and silver prices meantime hit those hot-money traders betting against them so badly, they all ran to the other side...and at a record pace.
The question now is whether there's any cash left to join the bullish betting short term.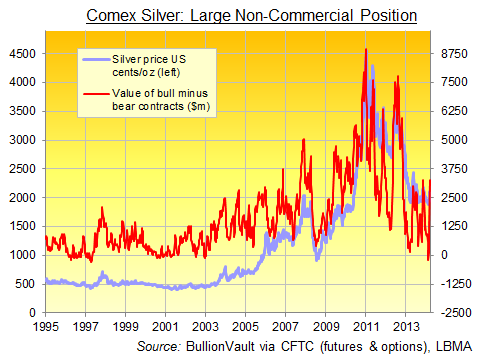 Every Friday, after the futures market closes in New York, US regulators print data showing
how traders were positioned
the previous Tuesday. Tracking the changes lets you see what the big money is thinking. If it's thinking at all.
On one side are the "commercials"...the producers and merchants who make a living selling the stuff. On the other are the "speculators"...the hot-money funds who try to make a living betting which way prices will move.
Now, at the start of last month, the specs were holding more bets against silver prices than ever before. Looked at as a group overall, they were "net short" silver (bullish minus bearish bets) for the first time in 11 years.
This made sense from a technical view. Silver prices, like gold, were marking a tight range which only got tighter. Higher lows and lower highs created a triangle shape. Technical analysts studying chart patterns could see the final corner drawing near. Hitting that apex as time rolled by, silver would either shoot higher or, they guessed, sink hard. But then Janet Yellen spoke...coughing about how maybe the
Fed won't actually ever
, y'know, raise interest rates from zero...and the precious metals shot right where the silver shorts hoped they wouldn't.
Having started with a record large speculative short bet against silver, June saw the fastest swing in bullish betting on silver, net of bearish contracts, on record. The so-called spec net long rose 150%...swelling over $2bn by value...and growing faster than any week since at least 1986 as prices jumped.
Speculative gold betting was similarly dramatic in the week-ending last Tuesday. Faster than January 2012, the jump in net bullish betting totaled some $7.3bn. That jump is beaten only by mid-July 2011, when the
US debt downgrade and Eurozone debt crisis
sparked that summer's record peak in gold prices.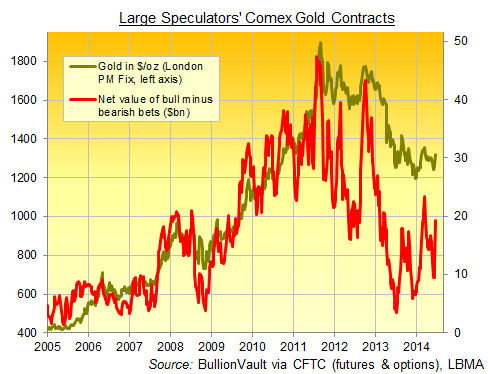 All told then, June 2014 saw $13bn-worth of speculative bets jump onto the long side of gold and silver contracts at the US Comex exchange. So like we suggested to Bloomberg's Alix Steel last week, the hot money has run to the other side very fast.
This has proven a welcome dose of good luck for physical investors in
silver bars
wanting to pocket a tidy gain for the summer. But further ahead?
Volatility in silver prices has jumped from early June's 7-year low. But options contracts will still look relatively cheap to hot-money players wanting to find action somewhere...anywhere...in financial markets which have turned distinctly boring everywhere. Pushing silver prices north by taking the other side of the bet will surely appeal;
Industrial demand looks solid. Added to silverware demand, in fact, it's likely to match silver mine output for the first time since 2011...and mine-supply growth is set to flatline from 2015 according to French investment bank and London market maker Societe Generale;
Physical investment meantime remains strong, defying long-term industry experts as private buyers just keep on stackin'. But ETF trust fund traders are no more immune to a little profit-taking that BullionVault users. The big SLV trust fund has shed 1.3% of its holdings since Friday 22 June, some 140 tonnes.
With silver up 12% in 4 weeks, why not?
Bottom line, silver is volatile enough without needing to borrow money...and multiply your risk of ugly losses as well as profit...to play the futures or options market. Let the hedge funds set themselves up for a fall if they wish.
As for choosing silver over gold, that's a tough call. But when silver moves in the same direction as gold (some 75% of all trading days since 1968) the cash price moves very much faster.
Three to four times as fast in fact. That cuts both ways remember. Up and down.