Silver Comex Stocks "Show Improvement" in Broader Demand
Tuesday, 11/12/2013 22:41
Stockpiles of silver in US Comex warehouses are finally stabilizing, not growing...
SILVER COMEX stocks held ready for delivery against futures contracts have started to stabilize, according to a market analyst, suggesting that the broader market is looking "much more positive".
Falling stocks of silver
bullion
in Comex vaults point to rising demand from industrial and other users, who draw metal away from warehouse storage by bidding higher prices, explains a recent special report from David Jollie at the precious metals division of Mitsui, the Japanese conglomerate.
But "when premiums shrink and demand is weak," explains Jollie, "more metal finds its way into Comex warehouses."
Unlike gold, more than 60% of silver use annually comes from industry.
"We therefore see the trend in these Comex stocks," says Mitsui's report, which includes this chart, "as generally indicative of the health of the silver market" for industrial use.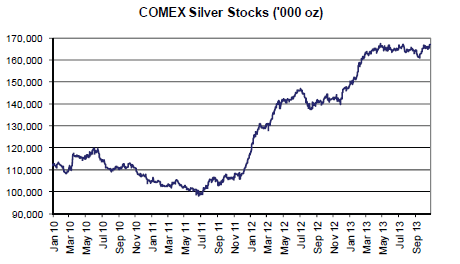 In the United States, the world's largest market for physical silver, apparent
consumption of silver
fell sharply in 2012, according to data from the US Geological Survey, down by 25% after growing 8% on average over the previous 3 years.
Comex warehouse silver stocks also rose, extending the trend from mid-2011.
"Rising Comex silver stocks signify weak demand," Mitsui's Jollie goes on. But "since the middle of the year these have been fairly stable, something that fits with a more stable silver price."
However, he adds, "while this is an improvement, it does not suggest that silver's current market fundamentals support a higher silver price just yet."
Comex gold stocks
, in contrast, have been falling in line with prices in 2013, as gold owners found better premiums away from the US futures exchange, particularly in Asia, where investment and jewelry demand has jumped in response to the price drop.