UK Savers to Carney: 'I Forgot the Safe Word!'
Friday, 5/11/2018 19:00
Household bank deposits +39% since crisis as rates plunge...
TWO YEARS of sin, ten years of purgatory, and a $4.9 billion balloon payment to reach contrition, writes Adrian Ash at BullionVault.
This week's full and final
settlement with the US Department of Justice
over pumping out crappy mortgage-backed bonds between 2005-2007 means the Royal Bank of Scotland is finally drawing a line under the financial crisis which followed.
Privatization could even turn a small 'profit' for taxpayers at current share prices – albeit minus the billions in
other fines and settlements
made by RBS out of shareholder funds over the last decade.
But while RBS has found the nice kind of "closure" with this final penalty for helping create the global banking collapse, UK savers look set to keep on paying and paying for that bubble and bust.
Taxpayers must, after all, pay the interest on the UK's sovereign debt mountain. Now
totalling £1.8 trillion
– almost 90% of the UK's annual economic output – that debt has doubled since the financial crisis blew up in late 2007.
But maybe UK households are also enjoying the pain. But just as costly for savers, cash in the bank has now lost value in real terms for the second-longest stretch in history. And inflation only looks set to push higher again as Sterling falls and oil prices surge on the worsening Middle Eastern crisis.
Measured against the ONS's long-run price index in fact, interest rates have now lagged annual inflation in the cost of living non-stop since the start of 2010. As we noted in yesterday's
London Gold Market Report
, that's the longest unbroken stretch of negative real returns to bank savers since the Great Depression, war-time and post-war crises of 1938-1951.
This supression of interest rates for UK savers also keeps a lid on the money paid in interest on the UK's government debt. Which just happen to total an all-time historic record outside of war-time and post-war crises, too.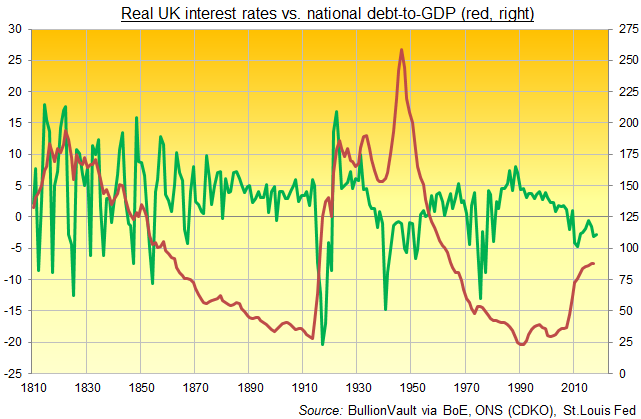 Unless Mark Carney stops hurting savers soon, the jail-break could see a rush out of cash and into hard assets, perhaps led by gold bullion.
It must. One day. Surely?
But not so far. UK savers, like UK Gilt investors, continue to play gluttons for punishment. Instead of pulling cash out of the bank, in fact, household money in current accounts, savings accounts and cash ISAs has now swollen by 39% since RBS was nationalized (and interest rates slashed towards zero) in autumn 2008.
And even as the Bank of England now refuses to raise interest rates from a wicked 0.5% – way below inflation – those UK households who have bought a little gold are increasingly selling it down, most
especially bullion coin and small bar
.
Because gold represents the classic inflation hedge however, and because it also
tends to rise when real interest rates fall
after you account for the cost of living, it's no surprise to see wealth managers raising their allocations to the metal.
Bullion-backed ETFs worldwide had their strongest inflows in 14 months in April. Larger customers of BullionVault are also growing their holdings, buying what smaller investors sell by taking profit with gold near its highest Sterling prices since last summer.
As for the mass of household savers, perhaps Carney's
dashing good looks
...or his growing
"bad boyfriend"
reputation...is what's keeping them from remembering their safe word.
Maybe one syllable, maybe starts with a 'G'...?