Investors 'Swing Behind' Platinum with Record Bullish Bets as 2020 Begins
Thursday, 1/09/2020 16:55
Sentiment 'swings behind unloved' platinum...
INVESTING sentiment towards platinum has turned positive according to leading analysts, helping the precious metal price re-test September's 18-month high prices near $1000 per ounce as 2020 begins.
"Sentiment has swung behind a previously unloved asset," agrees Rhona O'Connell at brokerage
INTL FCStone
, "[thanks to] the correct belief that the diesel [auto] market" – the single largest
industrial use of platinum
, needed for catalytic converters to cut harmful engine emissions – "is by no means dead and is certainly alive and kicking in China in particular, [despite] all of the rhetoric in Europe."
On top of platinum's stronger price, says O'Connell – joint winner of bullion trade body the
LBMA's 2019 gold forecast
competition – proof of the switch in platinum investing sentiment is clear from end-2019's surge in speculative betting on Nymex futures and options contracts.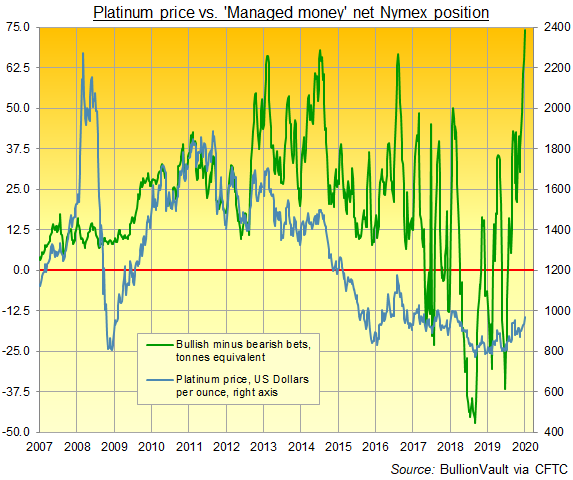 Traders in the Managed Money category of hedge funds and other speculative players ended 2019 as a group with the fewest bearish bets against platinum since mid-2017, plus the most bullish bets on record.
Together, that drove the Managed Money's net speculative long position in Nymex platinum derivatives up to a record high, equivalent to 74.1 tonnes of metal.
Over 3 times the last decade's average net spec long in futures and options, that bullish betting equated to around 4.5 months of global platinum mine output as of New Year's Eve.
"Tactical rallies [in platinum prices] are increasingly outsized," says strategist Nicky Shiels at Canadian bullion bank Scotia, "given the disconnect between strong investor inflows versus the size of the market, in large part due to continued availability of liquidity and lower [interest] rates."
Without such speculation and investing in platinum – which surged in 2019 to the highest level in over a decade on data compiled by consultancy SFA (Oxford) – the metal's surplus supply over demand has risen sharply, Shiels goes on, rising by four-fifths last year.
"However, this year likely represents peak surplus," she says, pointing to likely mining-supply declines from South Africa, plus a "rebound" in demand from the automotive sector.
South Africa's state-run electricity monopoly Eskom said Thursday it will extend power cuts into the weekend, hitting the country's energy-intensive mining sector and continuing
a run started last month
by a series of faults at its coal-fired generators.
But "fears about large-scale [mining] labour actions in South Africa have dissipated following the signing of three-year wage deal in late 2019," says
Metals Focus
, and the relentless rise of platinum's sister-metal palladium – used to cut emissions from gasoline engines – means the country's miners are trying to grow, not cut, output.
Just no stopping in #Palladium, sky really seems to be the limit. Up another 19% since xmas(!) to yet another high USD 2,150/oz. When do car makers openly admit enough is enough and significant substitution to #platinum occurs? #eikon #gfms #refinitiv #pgm #preciousmetals pic.twitter.com/jlA21pKCts

— Johann Wiebe (@Johann_Wiebe) January 9, 2020
Talk of "substitution" from using palladium to platinum by gasoline autocat manufacturers "has died down from arguably peak chatter over [London's] May Platinum Week" in 2019, says Shiels at Scotia.
Data crunched by independent analyst Matthew Turner still
doesn't see "any [evidence]
of price-related substitution" in platinum-group metal imports to Macedonia, where PGMs' sole use is in making autocats.
With
platinum investing
demand included, the global market was "in balance" and actually showed a small deficit on the updated 2019 data from SFA – the first time demand has outstripped supply since 2016.
Publishing the data, last year's "
significant increase in investment
more than offset lower automotive, jewellery and industrial demand compared to 2018," said the mining-industry backed World Platinum Investment Council in November.