Investing Drives 'Remarkable Run' in 'Oversold' Platinum
Wednesday, 4/24/2019 11:21
Premium for sister-metal palladium 'may have peaked'...
A SURGE in platinum investing demand has led to a "remarkable" rise in the white metal's price this month, according to a leading analyst, coinciding with a sharp drop in the price of sister-metal palladium after it nearly doubled inside 7 months.
"Platinum has had a remarkable run so far this month," says the latest weekly analysis from Jonathan Butler at Japanese conglomerate Mitsubishi, noting how "a leading indicator of platinum's rally" so far in 2019 has been movements in exchange-traded trust fund products backed by physical bullion holdings (ETFs or ETPs).
With the "major periods" for 2019's platinum ETF growth coming 2-3 weeks before "major price hikes" on Butler's analysis, the sector's total holdings "have risen by close to...the equivalent of more than 10% of annual global mined supply" since January, he adds.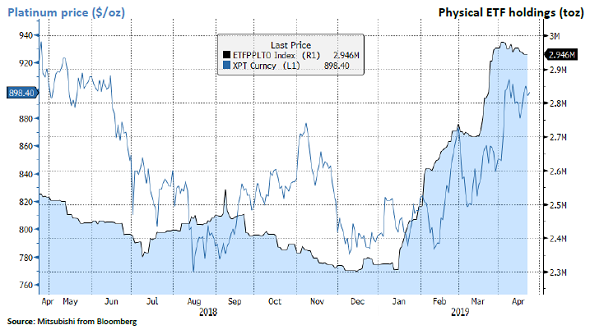 With gold and silver falling to 4-month lows this week,
platinum prices
have held firm above $880 per ounce, slipping just 3.0% from April's 11-month highs.
Sister metal palladium is also holding firmer than gold or silver, spiking briefly above $1400 early Wednesday but failing to extend its rally from this month's near-18% plunge below late March's new all-time record highs.
"The palladium price might have peaked relative to platinum," says a note from German refining and technology specialists Heraeus, pointing to a drop in the ratio of US equity price vs. US gross domestic product.
"The
ratio of US stocks to US GDP
reached a high point in Q3'18," Heraeus explains – "higher than the peak in Q4 1999" which preceded the last peak in palladium prices above platinum.
"If US stocks turn down again that may confirm that the Pd:Pt ratio has peaked."
So-called Nymex futures and options contracts traded on the CME derivatives exchange "have seen a similar surge of speculative interest" to platinum ETFs adds Butler at Mitsubishi, and while these bets "represent generally much shorter term investors...the speculative 'froth'...[they] have the potential to move markets in the near term."
For the first time since November 2016, net speculative betting on Nymex platinum contracts now outweighs bullishness on palladium according to positioning data for the Manged Money category of hedge funds and other speculators collected by US regulator the CFTC.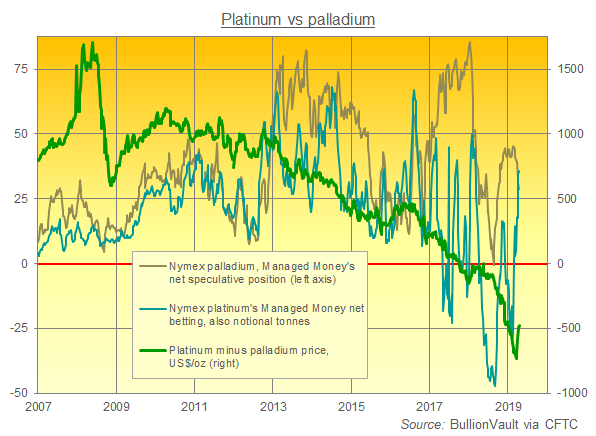 Starting this time last month, palladium sank 17.8% inside 3 weeks, wiping nearly $300 off its new record peak of $1612 per ounce after almost doubling inside 7 months.
"Many investors, viewing platinum as oversold on a relative and absolute basis, will have been mindful of the potential for labour disruption emanating from [No.1 producer nation] South Africa amid threats of strikes," says Mitsubishi's Butler, "as well as possible electricity supply disruption from the state utility Eskom.
"In addition, tighter vehicle emissions legislation around the world bodes quite well for platinum demand, especially in the heavy duty sector."
Platinum finds two-fifths of its annual end-use in autocatalysts, needed to reduce harmful emissions from diesel engines. That's less than half the proportion of palladium going into gasoline-engine autocats.
"Automotive platinum consumption set a 5-year low in 2018," says the latest
PGM Market Report
from technology specialists Johnson Matthey (LON: JMAT), but that figure "should stabilise or even rise over the next few years [as] platinum use in the light duty diesel market is expected to flatten out over the next two to three years [and] heavy duty demand is forecast to rise sharply over the same period."
India will from next year impose its strict Bharat VI legislation on diesel cars, while China also imposes China VI emissisions standards, resulting in the addition of "platinum-containing after-treatment systems to all trucks sold in China and India, compared with fewer than half in 2018."
Looking at palladium's recent price decline however, "poor car sales data in China and the US have clearly weighed on investor sentiment," warn bullion-market consultants Metals Focus.
"Palladium's recent weakness can also be attributed to less marked supply tightness...evidenced by a fall in indicative leasing rates" for borrowing metal.
"Indeed," Metals Focus go on, "it is important to note that palladium's rally through to mid-March was far more fuelled by genuine market tightness than speculative forces...[with] speculative longs having remained restrained" at the top of the market while "redemptions in palladium ETPs have been modest" during the price drop.
Global demand to
buy platinum for investment
fell to its lowest in 12 years in 2018 according to Johnson Matthey data, with a rise in bar and coin demand offset by heavy outflows from platinum-backed ETPs as prices fell to their lowest since 2003.