Platinum Beats Gold Price at Last
Tuesday, 1/15/2013 13:10
Platinum just rose above the gold price for the 1st time in 10 months...
SO, TO MARK the demise of the Trillion-Dollar Coin idea, platinum just did something it's not managed in almost a year, writes Adrian Ash at BullionVault.
Its price rose above the price of gold Tuesday morning for the first time since mid-March 2012.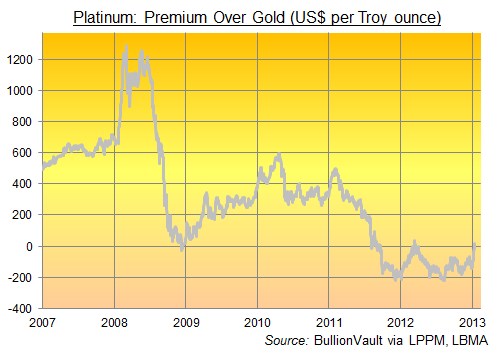 Now, comparing today's London AM Fixes for the Gold Price and platinum, we could offer all kinds of metal-market reasons for the switch. Platinum production, for instance, faces no end of trouble, being mostly based in South Africa. Last year's murder and strife above the Bushveld Igneous Complex knocked almost 7.5% off world annual output. Just yesterday, major producer AmPlats said it is closing two sites and selling another, cutting output by some 5% of global annual demand and putting perhaps 14,000 miners' jobs at risk.
Platinum's primary use meantime – in catalysts for petrol engines – is meantime enjoying something of a bounce back. German auto-giant VW reported on Monday that its sales rose 11% last year. Claiming that "the cyclical recovery in global auto sales that began in mid-2009 remains intact," analysts at Scotiabank now forecast "Record global car sales for 2013".
So on the best estimate (ie, Johnson Matthey's Platinum Interim Review of November), "The platinum market [was] forecast to move into a deficit of 400,000 oz in 2012. Severe disruption to platinum group metal mining is expected to reduce supplies from South Africa by over 600,000 oz. With demand firm at 8.07 million ounces and a decline in recycling, the balance of the platinum market [would] look very different to last year."
In a market of 251 tonnes, in other words – barely a pimple next to gold's 4,300 tonnes over the last 12 months – platinum supply lagged demand by 12 tonnes in 2012, some 5%.
But hang on – that hardly explains "little silver" trading at a discount to gold all through last year, however. Did platinum traders only just catch up on 2012's news? If so, then rather than internal metal-market forces short term, why not take a look at the very big picture of gold vs. platinum, running back as far as Google'd records will take us?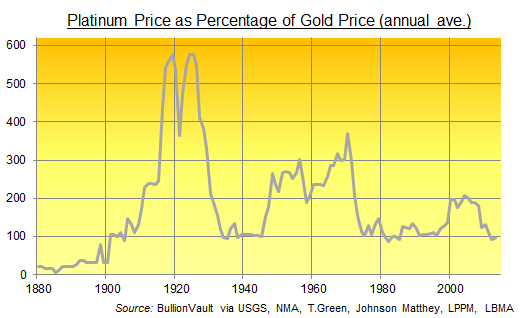 "When first discovered [in the mid-18th century]," says a dusty old book for coin collectors, "platinum was highly prized because it could be produced only in small quantities. [Yet] less than a century later it became so plentiful many mines were abandoned because they produced too much platinum."
For the handful of countries which bothered to mint platinum coins – most notably Russia in the mid-19th century – "Counterfeiting became a major problem," our old tome goes on. But only because, in fact, "platinum pieces were plated with gold and passed off as the then more valuable gold coins of the same size."
Fast forward to around 1904 – when Spain finally abandoned its platinum coin production, begun in 1747 – and it was platinum's industrial uses which took over. And how. You can see what being harder and more difficult to work than gold did for platinum as the 20th century's early taste for platinum jewelry was followed by wartime lock-downs of supply as a "strategic material".
By the 1950s, the new science of catalysis – changing the rate at which chemical reactions occur – saw platinum break away once again from gold as a "useful" rather than merely "pretty" precious metal. Gold still retained its economic use, however. Then as now it is social rather than industrial, and the big swoons in platinum's premium over the Gold Price you can see on our chart above coincide with periods when storing wealth became more urgent than developing new engines for fast-growing automobile markets.
Whether or not platinum now holds or extends its re-found premium to the gold price depends on the underlying outlook for growth vs. depression. So place your bets! Leveraged traders in the futures pits surely will.