Platinum Auto Demand 'Robust' vs 'Hostile' Diesel Headlines
Friday, 9/08/2017 17:45
Loadings on new diesel engines heavier on 'low NOx strategy'...
PLATINUM DEMAND for use in autocatalysts held firm in the first half of 2017, according to new data, defying continued negative press about diesel vehicles – source of the metal's single largest use today.
Rising 4.1% by weight from the second-half of 2016, global demand for platinum to help reduce toxic emissions from diesel engines slipped 2.4%
"Autocatalyst demand for platinum has remained relatively robust through the first half of 2017," says Paul Wilson, CEO of the mining-backed World Platinum Investment Council, reporting the latest
platinum supply and demand figures
, compiled by independent analysts SFA Oxford.
This, says Wilson, was "despite the somewhat hostile press coverage to which the internal combustion engine continues to be subjected, especially diesel."
A key part of global efforts at the turn of the millennium to reduce carbon dioxide – a 'greenhouse gas' emitted by gasoline engines typically using palladium catalysts – diesel engines have
come under attack
since 2015 for emitting potentially deadly nitrous oxides.
Several Western and Asian cities have this year proposed outright bans on older diesel vehicles in a bid to cut NOx, but manufacturers and auto traders have pushed back, noting that Paris Climate Change targets for CO2 simply can't be met if existing fleet is replaced by gasoline engines.
Looking ahead, SFA's full-year forecast for 2017 automotive platinum demand "is down just 2% on 2016," says WPIC, "and very close to overall automotive demand in 2015 and 2014" even as the market share of diesel against gasoline vehicles falls in the historically key region of Western Europe.
Western Europe accounted for 45.9% of automotive platinum demand over the last 3 years on SFA's figures, equal to almost one-fifth of the metal's total end-use worldwide.
In total this year, SFA expect automotive demand to grow from 41% to 43% of total global platinum demand, holding firmer than other segments such as investment and especially the petro-chemicals industry.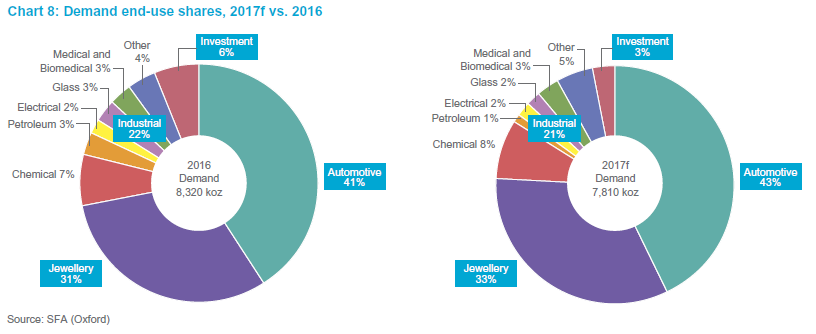 "The outlook for platinum demand in the autocatalyst sector continues to be clouded by changing preferences towards diesel cars," says the latest Precious Metals Weekly Update for clients of Japanese auto-maker and industrial conglomerate Mitsubishi.
On the one hand, new "scrappage schemes" for owners of older, more polluting cars have been launched in Europe, says Mitsubishi Corp. strategist Jonathan Butler, and "the negative publicity surrounding diesels may lead drivers to scrap older diesel cars in exchange for gasoline models" as happened in 2009 when a similar UK scheme found "a marked preference for smaller, cheaper gasoline vehicles [leading to] a sharp drop in the diesel share of new vehicles."
Offsetting this, however, the quantity of platinum used in new diesel autocats is "considerably greater than in pre-2009 cars," says Butler – and these loadings are "a key question" according to Wilson at WPIC "in the wake of
Daimler's momentous revelation
" that its new family of low NOx diesel engines took €3bn to develop.
"It is difficult to be precise about the extent of the increase in platinum loadings taking place," Wilson says, particularly as "it really isn't in the interests of [auto] manufacturers to shine a light" on the extra precious metal now being used.
"Nevertheless, a welcome, low-NOx strategy has emerged amongst carmakers...with positive implications for the future of clean diesel and platinum demand."