Feeling Lucky? How to Roll 3 Eights with John Law of Lauriston
Tuesday, 11/12/2019 18:19
Meet the world's most valuable company...
FIRST his family pleaded for his life, writes Adrian Ash at BullionVault.
Then, when the court rejected that, they begged instead for a private execution...
...perhaps by a sword-stroke to the neck...
...rather than the very slow torture of being broken on the wheel for all to see in the centre of Paris.
But even for a peasant, never mind a nobleman, the young comte de Horn, Antoine-Joseph, had shown "exceptionally bad character".
What's more, Horn's awful crime...of inviting a stockbroker to meet above a bar off a narrow lane in a rough part of town, only to stab him to death and steal today's equivalent of perhaps $10 million in banknotes and shares...demanded public revenge.
Violent theft was becoming all-too common for Horn to escape a commoner's death. Killing him would set an example. Because feeding the thievery was a frenzy in share trading that had to keep running.
It centred on the Rue Quincampoix (still a 15-minute stroll across the River Seine from Notre Dame, just around the corner from the Pompidou Centre).
That narrow lane was packed with servants and aristocrats, thieves and escaped labourers fighting to buy and sell stock in the Compagnie de l'Occident...
...renamed the Compagnie du Mississippi in 1718...
...and re-financed by a government-backed flotation which proved so successful, it became (and remains) the most valuable company in history.
By late 1719, and renamed again as France's own East Indies Company, the enterprise was worth perhaps twice the national output of France,
then the biggest economy
outside the giants of China and India.
The man behind that bubble was the richest private citizen in the world.
Yet its promise of untold riches relied on a fly-infested swamp of unworkable land, colonized only by the thieves, vagabonds and unwary passers-by kidnapped and shipped out of Paris and Marseilles to the Mississippi Delta by the French Regent's increasingly vicious regime at home.
300 years ago this week Monday, and pumped up by the gap between that reality and the investing public's madness, Law paid today's equivalent of maybe $13m to buy an estate at Roissy, north-east of the French capital.
John Law had already bought 6 other estates in France that year. He would buy another 3 before Christmas 1719...
...plus another 10 over the following 12 months...
...even as his Mississippi Scheme peaked and burst, ruining its investors and destroying Law's career, along with the credit he had managed to revive for France's young king.
If you're in need of a long, demanding but very rewarding read, James Buchan's new biography of John Law: A Scottish Adventurer of the Eighteenth Century is now available in paperback.
Behind its dense history, packed with detail dug from the archives and a cast of thousands, lies a gripping tale of ambition, gambling, murder and folly so grand that it's barely believable.
Just how did Law, son of an Edinburgh goldsmith, become the most powerful man in Europe's most powerful nation...albeit for fewer than 150 days?
A ne'er do well who broke his widowed mother's heart (and threatened to spend all her money) as a teenager, Law went on the run from the gallows in London after killing a nobleman in a duel aged 22 in 1694.
He then married his sweetheart under an assumed name...escaped to the Netherlands, then Italy, and then France...and made a killing all the way by beating unwary aristocrasts at cards.
But as well as a gambler, John Law also fancied himself as a philosopher of money. Lots of minor gentlemen did as the 17th Century turned into the 18th...dreaming up
schemes as cranky
then as quantitative easing or even Bitcoin today.
300 years ago the aim was to solve the shortage of silver then hitting north-western Europe as Spain's initial flood of Latin American metal slowed to a mere torrent.
In 1705 Law published a pamphlet called
Money and Trade Considered
. It noted, correctly, that money "is not the value for which goods are exchanged, but
the value by which they are exchanged
.
"The use of money is to buy goods, and silver while money [as opposed to, say, goblets or plate] is of no other use."
As the supply of money increased, said Law, the disadvantages and inconveniences of barter would be removed; the poor and idle would be employed, more of the land worked, the national product increased, manufacturing and trade improved, and the rich would live better because the poor (now being less poor) would have less dependance on them.
Law was of course smart enough to see the problem.
"When 6 pence is raised to 12 pence, the 6 pence is worth 12 pence; But the value of the pence is lower'd to Half-pence."
In other words, inflating the money supply only creates inflation.
So to give his new money real value, Law said, wealthy men could issue the paper money and back it with the annual rents from their land...very much like a mortgage.
Back with John Law in the early 1700s meantime, he spent his years before reaching Paris in Genoa, continuing to plead for a pardon at home, and also getting involved in Britain's overseas politics...
...arranging, for instance, the delivery of silver coin to pay Queen Anne's troops in Spain...
...while also staying close to her opponents, the Stuart dynasty which had lost the united English and Scots crown twice, then holed up in Paris.
Britain's wannabee King James III had a network of spies and supporters across Europe. So too did his Hanoverian replacements in London.
So to cover their tracks, the Jacobites...in their letters and reports...used a secret code instead of names when talking about key figures.
James himself was sometimes called "Mr Knight" or "Mr Banks"...and at other times went by a long string of letters and numbers.
Under this cryptograhic system, John Law of Lauriston was in 1719 known as "888"...
...a very apt name for a gambler today, given what a lucky number 8 is in Chinese culture...
...and luck was what Law relied on, whether at play or in politics or finance.
"John Law was not an operations man," writes Buchan.
"He had but one system, at cards and in business, which was to bet his winnings...
"...betting seven and the stake, then 15 and the stake, then 31 and the stake."
Yet again, this chancer's run of luck echoes loudly 3 centuries later today...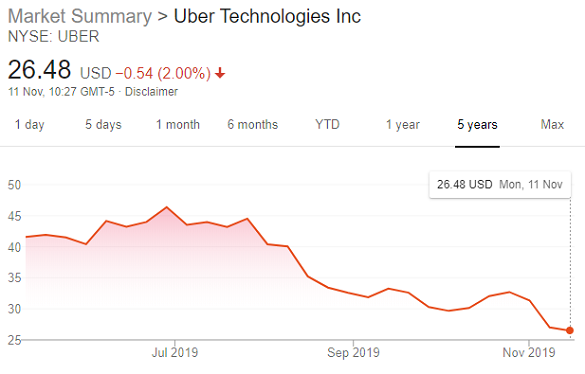 ...because whether it's
WeWork
or Uber or
TheRealReal
, the raw fact remains that making a profit from a lettings agency...or a taxi service...or even selling old handbags online...is much harder than raising the money from investors wanting to believe you have somehow overthrown the laws of financial physics.
Between May and December 1719, Law's share price rose 20-fold. But that only made the annual returns he promised even more impossible as the Mississippi project continued to fail.
Betraying France, its young king, and his friend the Regent...the Duc d'Orleans...with his unworkable scheme, Law fled Paris as financial chaos took hold. He ended his days gambling for coin at card tables in Venice.
As for the wicked comte de Horn, murderer of that poor stockbroker, he and an accomplice were tied to an X-shaped cross, had their chests and limbs smashed with a hammer, and were then hung upright in the Place de Grève before a howling mob.
It took Horn an hour to die.
The third murderer? He had fled the scene and escaped. So the Regent's soldiers made a dummy to represent him...an effigy like a 'guy' burnt on English bonfires each November 5th...
...and they maimed that in his place.
WeWork's co-founder Adam Neumann is apparently in line for
a $1.7bn payout
after being forced out of the boardroom for "running the company into the ground."
Good luck to them, say we.
Such companies only exist because of his salespitch and his investors' folly. So take 'em for all you can, while the getting is good, before the mob turns angry.
Maybe that way they'll learn a valuable lesson! Because apparently no one ever writes this stuff down in a book for investors to read in advance.