India Gold Hits Record Discount on Summer 2019's Bull Run
Thursday, 8/22/2019 13:23
Summer lull, duty hike and NBFC credit crunch also weigh...
GOLD PREMIUMS in India, the No.2 bullion consumer nation, have sunk to record discounts against global rates as the seasonal summer lull in household buying conspires with 2019's bull market and new higher taxes to crush demand.
Data compiled and published by the mining industry's World Gold Council
show gold in India
, after accounting for the country's heavy import duty, trading at a discount of more than $60 per ounce on average last week, well beyond the
previous record discount of mid-2016
.
India's bullion and jewelry industry was shocked this July when the BJP government of Narendra
Modi raised gold import duty
from 10% to 12.5% after winning a second term in office.
Here in August 2019, "Everything is
hitting us at the same time
," complains N.Anantha Padmanaban, chair of the All India Gem & Jewellery Domestic Council, forecasting a retreat in India's full-year demand to the lowest levels of this decade.
Specialists analysts Metals Focus, in contrast, this month repeated their full-year forecast for a 5% rise to the strongest Indian demand since 2015.
"A 5% or 7% jump [in global prices] itself was very difficult," Padmanaban tells Bloomberg.
"But with a 20% hike in just 30-40 days, it is going to be hell for the next one or two months."
Indian gold demand typically goes quiet in late summer, because Hindu calendars show few or no auspicious days for weddings or investment until the key autumn festival season of Diwali begins, culminating this year on 27 October.
"But prices have to settle down," Padmanaban says. "Even if we do a festival, at these prices customers won't react immediately."
The government has repeatedly tried to curb domestic gold demand, only relaxing post-WWII controls in the early 1990s and continuing to
ban any exports of bullion today
.
That means any internal excess of supply over demand must depress domestic prices.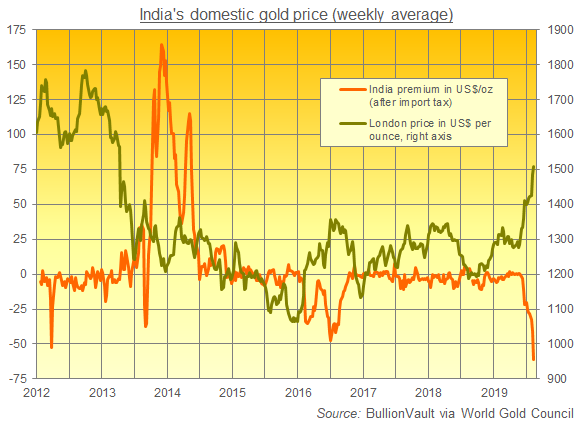 India's gold demand had previously risen by almost one-tenth in 2019 compared with the first half of last year, "boosted by the [spring] wedding season, festival buying [and] local gold prices moving lower from the levels seen in February and March" according to the mining-industry's World Gold Council, "
before slowing sharply
as the gold price rallied in June."
After bringing the most Hindu wedding days since at least 2014 in the first 6 months of the year, 2019 will see the most auspicious days for Hindu weddings since 2016 between July and December according to the WGC's analysis of calendars from
Drik Panchang
.
Wedding gifts and dowries
account for half
of India's annual gold demand, the WGC believes.
But instead of buying gold this summer, a growing number of Indian households are taking advantage of today's high prices to
pledge some of their existing jewelry
and bullion holdings – estimated at perhaps 25,000 tonnes in total, one-eighth of all the gold ever mined in history – against low-cost bank loans, Reuters reports.
Rising prices make pledging gold more attractive to borrowers," says George Muthoot of the largest non-bank gold-loan provider, Muthoot Fincorp.
"We have seen healthy demand for gold loans."
Business consultancy
KPMG last year forecast
that India's formal gold loan market would expand to some $50 billion annually by 2020, but it's
already worth $90bn
according to fast-growing online provider Rupeek.
Outside the gold loan market, India's
non-bank financial corporations are struggling
, reducing the availability of NBFC loans to households. The number of licensed NBFCs has
shrunk to the lowest in a decade
,
Business Standard
reports, as central bank the Reserve Bank of India clamps down on higher-risk players and the sector's model of raising short-term funds from the money markets hits a credit crunch similar to the Western banking sector's 2007-2008 crisis.
Formal bank credit is also tightening, with annual growth in bank lending slowing from 15% to 12% so far in 2019 on RBI data. Shares in India's formal banks have meantime slumped by almost 15% since the
Nifty Bank Index
set fresh all-time highs this spring.
"Indian gold consumption will depend on the current monsoon progression," says the latest data analysis from specialists GFMS at Refinitiv, "although elevated gold prices may keep demand in check."
The rebound in monsoon rainfall has created ideal conditions for agriculture for the rest of the year with accelerated planting and much more water in reservoirs, which officials said would lead to record food production this year.
"Rainfall in August has been
35% above normal so far
," reports the
Economic Times
, saying that the rebound "has further improved crop planting and filled up major reservoirs with 25% more water than the 10-year average."
Some 60% of India's gold demand comes from rural areas.
"There will come a point when the [consumer] market adjusts to higher prices," says brokerage INTL FC Stone's market analysis chief Rhona O'Connell, "but that may be some way off yet."