LBMA 2019: Silver Prices 'Not Healthy', Gold Ratio to Stay High
Thursday, 10/17/2019 18:02
Gold-silver ratio boosted by central banks and weak GDP...
The RATIO of gold to silver prices is likely to hold near 2019's three-decade highs according to analysts and investment managers speaking at this week's LBMA conference in Shenzhen, China.
The precious-metal market's premier annual event, this year's conference of the London Bullion Market Association met with the price of gold trading at 85 times the price of silver, making gold more than 50% more expensive than its half-century average against silver.
This year's highs in the ratio came after
silver prices
fell by $2 per ounce over the 18 months to July 2019, but gold held steady.
Silver prices then surged by 30% to peak at 3-year highs of $19.65 in early September, and that crushed the
Gold/Silver Ratio
from a near all-time record of 93 – its highest since March 1991 – to dip below 80 less than 2 months later.
But the ratio has since reversed half of this drop, and guest speakers on Day Two of the LBMA's 2019 conference in Shenzhen saw little cause for it to fall steeply, meaning silver is unlikely to outperform gold.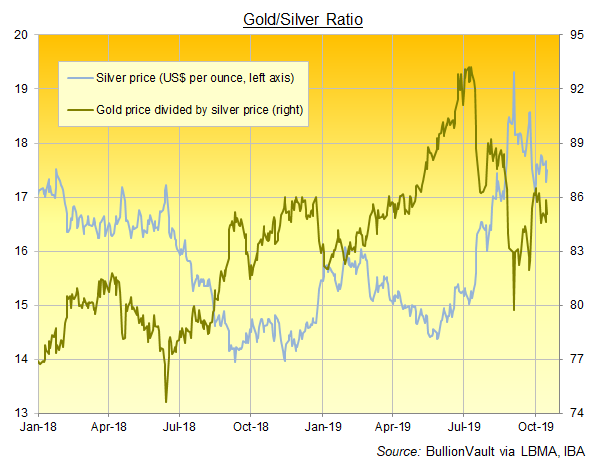 Over the last 30 years, said James Luke of Schroders, the Gold/Silver Ratio has only contracted when either global economic growth has been accelerating or world central-bank gold buying has been weak.
Official-sector gold demand last year set a half-century record, and looks set to match or beat it in 2019. Global GDP growth is meantime forecast at 3.2% this year and 3.4% in 2020, down from 3.5% in 2018.
Yan Wei of Elephas Investment also said he see little chance of silver catching up with gold's percentage gains, because the yellow precious metals is more like a currency, whereas a much bigger component of silver demand comes from industrial use.
"Inventory keeps building," Wei went on, and that's "not healthy" for silver prices. What gains silver has made in 2019 look less sustainable than gold's, he suggested, because they came on a surge of short-term speculative trading rather than long-term investment. For instance, Wei said, silver trading through the Shanghai Gold Exchange has exploded, most likely driven by retail investors.
Average daily silver volumes on the SGE had doubled by October, reaching $7.5 billion the Friday before this year's LBMA conference and overtaking the US Comex derivative exchange's volumes by value. This jump has come from private investors trading on leverage, said Cai Zhenwei from Bank of China's Trading Center (Shanghai), making it a "short-term volatility trade" driven by speculators, rather than long-term holders.
However, SGE gold volumes have also reached all-time records in 2019, added the World Gold Council's John Reade, chair of
this year's investment panel
at the LBMA conference.
Indeed, this is the first time that Chinese
gold investing
has participated in a global rally for the yellow metal, Reade said.
For silver, China's technological demand remains strong, most notably in solar energy. The world's second largest economy suffers the worst pollution, said James Kynge of the Financial Times, and so Beijing is driving the most aggressive "green revolution" policies.
China in 2019 became the first country in the world to achieve "grid parity" for solar power, Kynge told the LBMA conference, with the cost of electricity generated by photo-voltaic panels – in which
silver is currently a key material
– falling as low as the most common existing source of energy. For China, that means coal-powered electricity plants.
Even so, silver still lacks any compelling story attracting investors, said Suki Cooper of Standard Chartered, speaking on this year's price forecast panel at the LBMA conference and saying that it's difficult to find a strong reason for investing in gold near term.
Yes, a high Gold/Silver Ratio has encouraged some investors to think that the white metal is under-valued, Cooper went on, and when the GSR has risen above 80 in recent years, the following drop has come from silver prices rising rather than gold falling, because the cheaper metal played "catch-up" with gold's underlying trend.