Gold Prices Killed by Not-So "Super" Dollar
Wednesday, 10/01/2014 12:03
Gold prices have been hammered by the rising US Dollar. What might October hold...?
DOLLAR UP, gold down, writes Adrian Ash at BullionVault.
That's pretty much the lesson for precious metals investors looking at any long-term rise in the US Dollar since exchange rates began floating in 1973.
And now in late 2014, says former chief economist at Swiss bank UBS, George Magnus "It looks as though
the third US Dollar uptrend of the post-Bretton Woods era
may be underway." Just so long as you also ignore his warning against "extrapolating" short-term noise into long-term forecasts...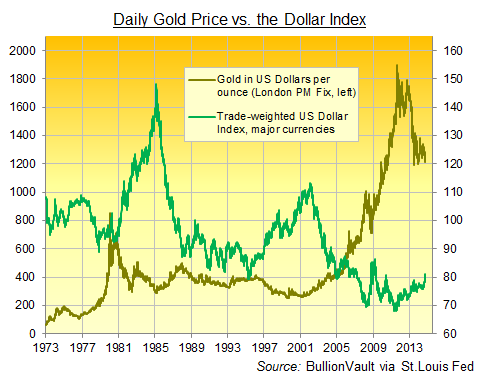 Might Magnus be right? For gold prices, as the chart shows, it's less the absolute level than the Dollar's direction of travel that counts. Starting from all-time lows in spring 2011, today's greenback hardly matches the "Super Dollar" of the early 1980s. Yet the background rhymes...
Commodities glut after a long bull market? Check...
Disinflation in consumer prices? Check...
Weak competitor economies in Europe? Check...
Over-borrowed emerging markets? Check...
Strong US monetary policy, raising rates on the Dollar? Well, no. Not by a long way.
Even with the Federal Reserve still sticking however to its "considerable" delay for raising rates from zero, the third-quarter of 2014 proved ugly for Dollar investors holding non-US assets.
Gold for US investors marked the end of Q3 by hitting new 2014 lows, losing 5.8% on the London PM Fix for the month of September alone. Silver fell to the lowest Dollar price since May 2010...down more than 12% from the end of August.
Yet gold priced in Euros, in contrast, remains near the top of its 12-month range. Even in the British Pound...flattered by
Tuesday's GDP revisions
...gold has held 3% higher from New Year.
Gold's recent drop, in other words, is entirely relative. And this split between Dollar and non-Dollar gold prices might widen in October.
First there is the European Central Bank's meeting concluding Thursday. Mario Draghi and his team have long hinted at some kind of QE-style money printing. The latest inflation print of just 0.3% per year across the 18-nation union will loom large.
Then, in the last week of October, the US Federal Reserve will face the opposite problem. It is set to taper the last $15 billion of its monthly QE printing. That leaves rising inflation, and strong GDP, begging for an end to the "extended time" promised for zero US interest rates.
Before then, we've got US jobs data Friday (with an early look in ADP's private-sector estimate mid-week). Then, mid-month, the European Court of Justice will hear a legal challenge to the Eurozone central bank's Outright Monetary Transactions (OMT)...the 2012 plan which finally stemmed the single currency's debt crisis.
Mario Draghi hasn't actually fired any OMT money at weak-economy bonds yet. But if the Court decides the plan is illegal (insomniacs will enjoy
reading the arguments here
. Or better still here) it could spark fresh panic...out of Greek, Spanish and other debt-heavy markets...pulling the Euro lower again.
Analysts are of course aligned with the Euro bears betting against the currency in the forex market. Barclays Bank today cut its 12-month forecast for EUR/USD from $1.25 to $1.10 – a move which, if matched by the Dollar's other major crosses, would take the trade-weighted index to a decade high of 90 or so. Gold prices in 2004 were trading below $400 per ounce. So a blunt analysis, never mind the momentum in gold futures and options betting, says a fall in the Euro must push bullion prices lower again as the US Dollar surges. After all, it worked like clockwork in the other direction.
"
Gold up, Dollar down
" was so solid between 2002 and 2008, it became a no-brainer trade for no-brain hedge funds. The US currency fell 30% against its major trading peers on the forex market. Gold meantime rose 160% in Dollar terms. But this relationship broke down during the financial crisis. Because gold kept rising...and rising...while the Dollar whipped higher.
What are the odds today? Playing the averages, and reviewing the last 40 years (
daily data, 12-month change
), gold has been twice as likely to rise when the US currency is weakening on the forex market than when the Dollar Index is getting stronger. And when gold drops hard...down 10% or more from 12 months before...the Dollar has been rising 91% of the time.
No-brain traders are betting this rule-of-thumb will hold firm as 2014 ends, and gold will keep falling in Dollar terms as the US currency gains versus the Euro, Yen, Pound and the rest.
But watch out. Because since 1974, gold and the Dollar have also moved in the same direction some 30% of the time. And when gold rises as the Dollar also goes up (21% of the last 40 years), its gains have been markedly better on average than when the Dollar is falling.
Yes, really. When gold has risen against a background of Dollar strength, gold priced in Dollars has gained 24% year-on-year on average. It's averaged 18% gains when the Dollar's been falling.
Of course, investors tend to buy gold and the Dollar together when crisis hits. Not only, but not always either. You could cite any number of crises where gold failed to rise with the Dollar, and pitch them against the gold price surge of Soviet Russia invading Afghanistan in 1979, the 2008 Lehmans crash, or the 2010 Eurozone meltdown.
Never mind if those events sound at all familiar here in late 2014. Ignore the fact that a rising Dollar...plus rising gold...adds up to 30% more fun for non-US investors trying to defend their money against crisis. Financial markets have avoided seeing any trouble ahead all year. So far. As an investment banker puts it to the
Financial Times
today...applauding this year's surge in global mergers and acquisitions..."I have
never seen a market more resilient
than it is today, in terms of absorbing geopolitical and financial risk."
Such complacency is the reason gold investing exists, whatever the outlook for the Dollar (and "Everything seems to be Dollar positive," says another forex strategist...also tempting fate).