Interpreting the Sideways Gold Price
Friday, 3/23/2012 11:00
Gold has delivered zero net gains over the last six months. That may point to one rather useful property...
OVER the last six months the Gold Price has gone essentially nowhere. Yes it's been choppy, but this week gold has been pretty much where it was on Friday September 23 2011, writes Ben Traynor at BullionVault.
That week saw the Dollar Gold Price, which earlier that month had set a new intraday record, drop from $1826 to as low as $1631 on the spot market. Today, on Friday morning in London, it sits around $20 above that level – having also hit a 10 week low at $1628 within the last 24 hours.
While six months of sideways action is frustrating for investors who bought gold last summer, it is by no means unique in the history of this bull market. Gold's average price in May 2006, for example, was around $675 an ounce based on PM London Fix prices. Six months later, the November 2006 average was $627. This is a highly selective use of data, but it illustrates a point: gold sometimes delivers no net gain for months at time. One day that may well signal the end of gold's run, and perhaps that time is now. But perhaps it is not. Sideways and sometimes volatile trading is nothing new for gold.
There is no screamingly urgent reason to buy gold right now, and we can see that in recent gold price action. If the economic picture darkens once again, that may benefit gold, but it is not clear cut. Gold is a double-edged safe haven play. While gold demand often benefits from a flight to safety, so too does Dollar demand, and Dollar strength usually weighs on gold.
The chart below shows the monthly average Dollar Gold Price (yellow line, left hand axis) against the US Dollar Index between November 2007 and October 2008 – a whole year during which gold 'went nowhere':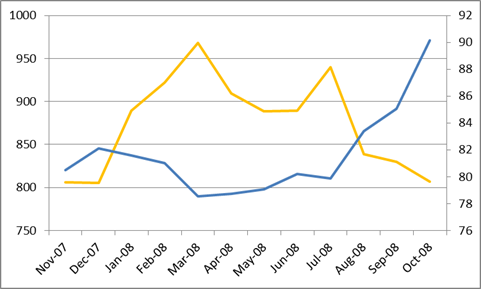 Note the rise in the Dollar, and its impact on the Gold Price. Compare that with the period to September last year: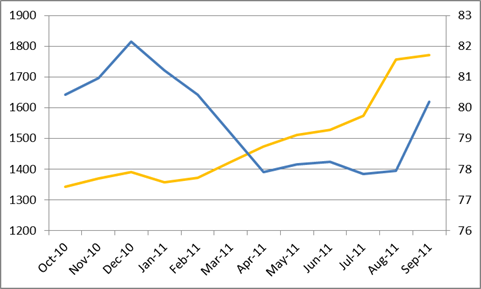 We have seen a similar dynamic play out over the last six months, with a strengthening Dollar tending to coincide with a falling Gold Price.
This may seem trivial; after all, gold is priced in Dollars, so a more valuable Dollar ought to mean a lower Dollar Gold Price. However, it is not that simple. When the Euro strengthens, for example, this has tended to be associated with a higher Gold Price in all currencies, including the Euro itself. This is because for most financial market players the opportunity cost of holding onto gold is the Dollars you could get for it. Not Euros, Pounds or Yen. Dollars.
So while Dollar strength may frustrate gold investors in all currency areas, gold's properties as a hedge against the US currency would appear to be as strong as ever.
Get the safest gold at the lowest prices with BullionVault...