Gold Mining: Corporate Costs Up, Capex 'Chronic'
Tuesday, 12/06/2016 13:35
'Dramactic' fall in gold mining exploration spending, but drillings near 3-year high...
GOLD MINING companies worldwide have cut capital expenditure to "historic lows" in 2016 according to leading analysts, but their overall spending has turned higher, led by a 25% jump in corporate costs.
With gold prices averaging their highest in more than 3 years, the third quarter of 2016 saw the cash cost of mining and procesing the metal slip 2% from Q3 2015 according to specialist consultancy
Metals Focus
.
So-called
'all in sustaining costs'
in contrast – which include all 'life cycle' costs such as exploration, infrastructure and closure, plus corporate costs such as headquarter offices and hiring – rose for the second quarter running, adding 3% from Q3 last year.
After the
huge cost cutting of 2013-2015
, this contrast between cash costs and AISC "highlights that mining companies seem to have now loosened their collective belts in regard to spending on non-mine site items and sustaining capital expenditure," Metals Focus says.
Corporate costs look to have risen by 25% on average from the third quarter of 2015, Metals Focus' analysis suggests, whereas "project capital expenditure remains at historic lows" amongst 12 of the world's largest producers – led by No.1 Barrick (NYSE:ABX) and No.2 Newmont (NYSE:NEM) – accounting for one third of global output between them.
Calling the drop in capex and exploration spending since the 2013 peak "dramatic", Metals Focus estimates that Q3 2016's solid gold prices saw the miners enjoy the strongest net operating cash flow since at least 2008.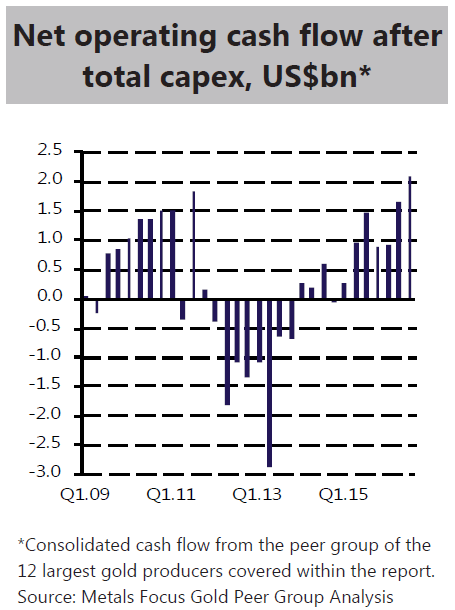 For investors and mining bosses, "I would caution [against] the rally we are seeing right now," said UK fund giant M&G portfolio manager Jamie Horvat at the annual Mines & Money conference in London last month.
Other investors as well as mining executives from base-metals producers "also cautioned the industry not to repeat the mistakes of the past," says SNL.
With base metals like copper and zinc rising with gold and silver in 2016, "speakers and delegates repeatedly voiced concerns that mining players may return to sluggish investment strategies and management styles," it goes on, "as recovering commodities prices diminish the pressure on their balance sheets."
"They've got a little bit more breathing room this year but not much," says US fund manager Fidelity's Joe Wickwire,
speaking this week
to the
Financial Times
, "and the market is very discriminating about giving capital to these companies until they can demonstrate returns on investment relative to the risk."
Struggling to raise debt for investing in new projects, capital expenditure amongst the 16 largest gold miners tracked by rating agency Moody's "has fallen to less than half its $25bn peak in 2012," the FT goes on.
"There is a chronic shortage of exploration money," says Peter Hambro, chairman at the London-listed Russian miner Petropavlovsk (LON:POG), now shrunken 92% from its peak market capitalization of $3 billion in 2012.
POG last week agreed the re-financing of all its $530m in bank debt, owed to Russian lenders Sberbank and VTB.
But despite the drop in exploration and capital expenditure, "Global drilling activity [across the entire minerals sector] held steady in October," says the latest update from rating agency S&P's specialist SNL Metals & Mining division, showing a 27% rise from the same month last year "mainly due to gold."
October saw the highest number of gold-drilling projects report assays of mining samples since at least the start of 2014 says SNL, when it began that current database.