LBMA 2016 Singapore: Gold Market Preview
Friday, 10/14/2016 16:52
What next for the global gold market, now meeting at LBMA 2016 conference in Singapore...?
DISBELIEF
in Montreal, fear in Hong Kong, panic in Rome, and then gloom and sheer doom in Lima and Vienna,
writes Adrian Ash at BullionVault.
After the five stages of near-$2000 gold grief, what mood will prevail at the London Bullion Market Association's 2016 conference, starting this weekend in Singapore?
The assorted miners, refiners, assayers, shippers, vault operators, fabricators, central bankers, traders, investors, promoters, analysts and occasional shills gathering for drinks, new business and insider info will already know that gold rallied hard in the first half of 2016.
Surging over 30% from end-2015's new 6-year lows and touching 2-year US highs, gold reached the highest Euro and British Pound prices since before 2013's big crash in the aftermath of June's
Brexit referendum bombshell
.
How come? Just like the previous surge in gold and silver prices ending a half-decade ago, it was fund managers who drove January-July's price jump in 2016 – the strongest half-year since 1980. Because suddenly they decided they DID want some financial insurance after all, choosing to return to ETFs, some allocated physical holdings, but most especially to derivatives bets after turning net bearish for the first time in over a decade immediately after 2015's LBMA conference in Vienna.
This year's first-half surge has now ebbed back as fund managers' pulses calm down. But away from these tourists and their hot-money betting, how different is the physical market today compared with the 2011 price peak?
The path to gold's big top at $1920 had changed the market almost beyond recognition from a decade earlier, said mining legend Pierre Lassonde to the
LBMA conference at Montreal
's Le Centre Sheraton that September. Speaking less than 3 weeks after what has since proved the peak, the former Newmont and now Franco-Nevada chief said
"tectonic shifts" had shaken
the gold bullion industry from its shape at the miserable bear-market lows of 2001, when Lassonde had spoken to LBMA delegates at its conference in Istanbul:
2001 to 2011: "Central banks have turned from heavy sellers to net buyers"
...and as a group since 2011 they've bought 1 ounce in every 12 sold worldwide...
2001 to 2011: "Forward sales by gold mining producers are now deader than a doornail"
...the corpse has made a few twitches, but total hedging still below 10% of 2016 output...
2001 to 2011: "Recycling sales have risen from 17% of supply to 39%"
2001 to 2011: "Gold investment has gone from 4% of annual demand to 37% of the physical market"
...and since 2011 investor demand equals 27%, despite ETF trust funds dumping 2013-2015...
2001 to 2011: "Jewelry sales have fallen from 84% to below 50%"
...and it's held that historically low half-share of world gold demand in 2011-2016.
Seen from 30,000 feet, in short, today's global gold market faces a world that looks very much like 2011.
Yet prices have sunk in the meantime, dropping 45% to their lows versus the Dollar and now struggling to hold the 2016 rebound around $1250 per ounce.
But is that 'yet' or 'therefore'...? Or does the shape and nature of physical demand simply not touch the price either way?
One straw in the wind, perhaps, is that never before have so many strangers got in touch in advance to ask us for a meeting – a nice change we'd humbly accept as a sign of BullionVault's own profile, but which a cynic might say just shows how no-one has got much else going on, and they're starting to grow desperate.
In particular, the collapse of India's legal import demand – amid continued tariffs, taxation, and the Modi administration's
'black money' clampdown
– means that the formal transport business, whilst not quite sucking wind, is apparently twiddling its thumbs as often as not.
One bullion conference in the world's ex-No.1 consumer nation recently heard that two-thirds of gold inflows to India are now smuggled. No doubt a wild over-estimate. But it does chime with both the halving of reported deliveries in 2016, plus the rising tide of smuggling news reaching India's media.
Even the crooked are now getting scammed if
this 'iron bar' story
is to be believed. And after 3 full years of 10% tariffs on legal bullion, the black marketeers have had plenty of time – and incentive – to build their own illegal supply chains.
This year's price rally presents another big block to India's gold demand (consumers like lower prices; see 2013). Fears have also resurfaced that Indian households might at last start choosing iPhones and equities instead of bracelets and bangles. Hence the title of this year's LBMA conference session on the sub-continent's massive gold market, entitled "Redefining Gold: the Shift from 'Savings' to 'Luxury'..."
The question-mark over China's world-beating gold demand also looms large as its runaway GDP growth struggles under the burden of debt and bad loans. Broader macro concerns for the global economy will lead Monday's sessions, but only once members and other attendees have learnt quite what the
London market's new trade reporting system
and rules will mean for them starting in 2017.
Regulation retains its bull market, and the physical metals market shall not escape. See the death and rebirth of the Gold and Silver Fixings for instance. See also the death (and now likely rebirth) of the
reference-rate Forward Curve
too (handy for valuing gold-miner hedges, for instance), plus other
unintended outcomes
from the regulators' dread grasp.
Gold-mining issues will get a good airing this year as well, with presentations on price-risk management (ie, that hedging Lassonde disdained yet again in 2011) and also 'responsible gold' (with a panel including chip-maker Intel's director of Global Supply Management as well a senior copper from Interpol). That's because this market – like any other – needs to serve its customers if they're going to buy or sell. So bullion bankers would love to help revive finance for miners through forwards and options. Regulatory pressure and law has meantime made cleanly-sourced gold the only kind that stockmarket-traded US manufacturers can use. For that, the
LBMA's Good Delivery List
of approved and closely-monitored refiners has become the true global standard, just as it is for central banks, gold ETFs, cost-conscious traders and the very smartest investors.
And what of the biggest question of all? No one in fact goes to the London Bullion Market Association's annual conference just to get a price forecast. Which is lucky...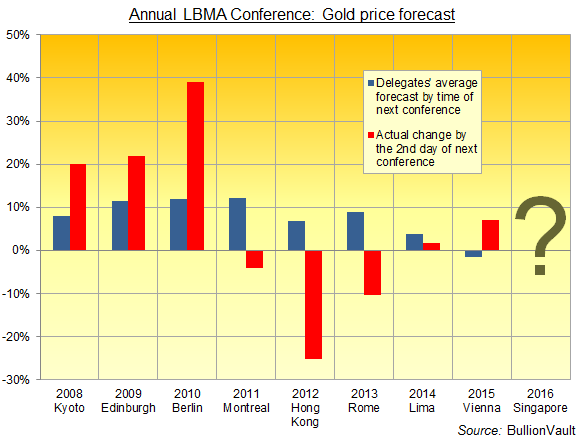 But as far back as LBMA 2013 in Rome, one panel discussion agreed that $1050 per ounce looked an important floor for gold prices, both on technical analysis but also because that was where the Reserve Bank of India had bought a big chunk in 2009.
Gold did indeed bottom at $1045 per ounce on the US Fed's first rate-hike in 10 years as 2015 neared its end. So it can pay to pay close attention.
What's more, attendees of the world's premier precious metals event – the annual LBMA conference, held this year in Singapore on 17-18 October – do also offer a nice angle on where the price of gold might be heading.
Because for as long as we've been attending, LBMA conferences have got it consistently wrong on average when delegates gave their 12-month price predictions.
Overly cautious and forecasting on average a series of 10% annual gains, attendees badly lagged the previous decade's bull market as gold prices leapt 20%, even 40% per year.
LBMA conference-goers then stuck with that same range even as prices sank from 2011's big top. It took 4 hard years and the heavy-weather gloom of Vienna 2015 to turn the crowd bearish on gold prices. And it worked like a charm.
"It's only when patience wears thin," as
we wrote as LBMA 2015
wound down in Vienna, "and big players throw in the towel, that the true lows, the real nadir, might be in."
Gold prices have since risen some $100 per ounce, fixing in London this Friday afternoon at $1251 per ounce for a 7% rise since last time the global bullion market got together.
So which will it be – too much gloom for the trade, or too much excitement over prices too soon?
See you in the lobby...