Central Banks "Prioritizing Other Assets" Over Gold Investment
Monday, 10/07/2013 16:37
Emerging-market attitudes "definitely changed" by gold's 2013 volatility...
GOLD INVESTMENT is no longer a top priority for central bank reserve managers as it was during the peak of the financial crisis, according to a panel of senior staff gathered last week at the London Bullion Market Association conference.
"Central banks need to diversify more," said Terence Keeley, head of official institutions at the $3.8 trillion asset management group Blackrock, introducing the debate on gold investment at the
LBMA's meeting in Rome
.
As a group, central banks were net sellers for almost two decades until 2009. Gold investment has since held steady amongst European central banks, with emerging-market governments growing their position, Keeley noted. But as a group, that means central banks acted to "sell low and buy high," he went on.
"That is not the way to diversify your portfolio."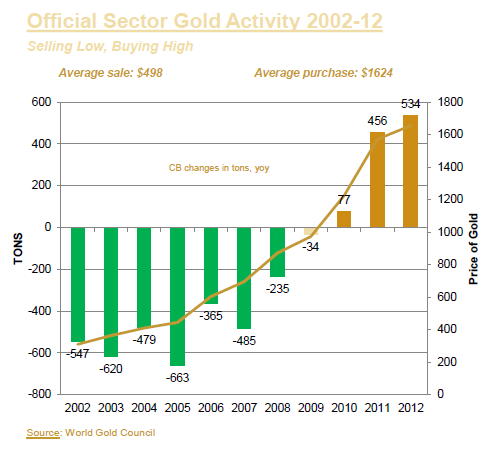 Selling down its gold reserves from 120 tonnes to near zero in the late 1990s, Argentina has bought almost 62 tonnes of gold for its central-bank reserves in the last decade, adding the last 8 tonnes at record-high prices between July and October 2011.
Despite the drop in prices since then, gold investment remains constant however as a proportion of Argentina's total foreign reserves,
holding around 6.5%
thanks primarily to its selling other currencies in a bid to buoy the Peso on the international markets.
"We don't feel comfortable with gold's volatility," said Basco, "even though it's only a small part of the portfolio."
Noting that the price falls in gold investment prices earlier in 2013 represented "greater than two standard deviation" moves, "We're using options to smooth volatility," he went on, adding that "We have to do something."
Later summarizing the discussion chaired by Blackrock's Keeley at the end of the two-day conference, "Marked-to-market losses and volatility are not the only problem with gold," said Edel Tully, precious metals strategist at Swiss investment bank and London market maker UBS.
"Other asset classes – like inflation-linked bonds, equities, real estate and even cash – have superior diversification and liquidity benefits," Dr.Tully quoted the central-banking panel debate.
"For these reasons, many central banks are now prioritizing other assets over gold."