Gold Investing Working as Hoped, Part 1
Tuesday, 8/20/2019 18:15
Two charts for gold's sumer 2019 bull market...
WE'RE NOT known for getting over-excited about gold, silver or platinum here at BullionVault, writes Adrian Ash, sporting what he'd like to think isn't a deathly pallor for once.
If you want hype and hyperbole about gold, urging you to invest in precious metals as a magic talisman against the end of the world, you'll find plenty of clowns and charlatans elsewhere on the web.
But "you seem more excited than usual about gold's outlook" noted a friend reading
comments I made
before I left for holiday at the end of July...
...just before gold broke higher to fresh 6-year highs in the Dollar...
...jumping only €10 below its record peak in the Euro...
...and hitting a run of new all-time record highs against the Pound, the Aussie, the Rupee, and a host of other emerging-market currencies.
Daring to take a holiday from the 2019 bullion market felt a lot like trying to escape in August 2011. Only without a decade-long bull market preceding it.
Back then...amid the US debt downgrade, Eurozone debt crisis, and the worst rioting across England since the Industrial Revolution...we found "le gold rush" and "La crise! La crise!" chasing us down dirt tracks and mountain paths in the Pyrenees.
...highs which proved the top of that decade-long bull market in gold.
Here in summer 2019 the Eurozone banking sector has slumped back into crisis, while the bond market again rates the debt of any country you can name as a raging 'buy' (well,
outside Argentina
that is), and the civil unrest has moved from London to Hong Kong.
Nor could we get away from the UK's fast-shrinking Pound when tangled in
seaweed on Yucatan's beaches
(comes to something when you find the Peso too strong)...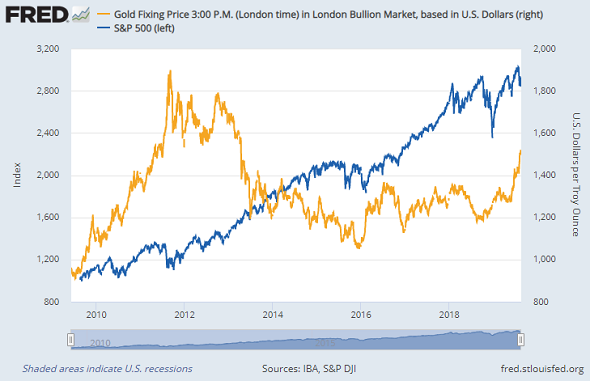 By last week's finish, the US stock market had dropped 4.5% from late-July's new all-time record high on the S&P500 index.
Gold meantime rose 6.7% in Dollar terms, doing just what money managers and other investors would wish...
...and pulling in new "insurance" demand from Comex traders, ETF buyers and (smartest of all) BullionVault users new and old alike.
Glancing back to look forwards, this summer's new buyers might hope gold performs to type in the months and years ahead.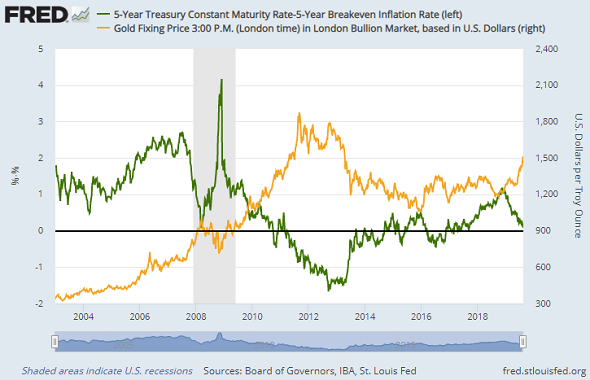 Week-to-week it's happened 60% of the time, in fact, on the 15 years of available data for 5-year US inflation-adjusted Treasury bond yields.
That has risen to 79% so far in 2019. You can see the summer's plunge in real yields reflected by gold prices all too clearly in the chart above. But the big move began last fall.
Allowing for the market's inflation outlook, gold has now risen $300 per ounce since last November – some 25% against the otherwise all-conquering Dollar – as the real yield offered by 5-year US Treasury bonds has sunk from a decade high of 1.2% to barely 0.1% per annum.
Again, that's just what an investor might wish. Because while gold pays no income, it looks an increasingly vital asset to own next to debt investments which actually cost you money to own.
Enough recent history. What happens next?
More gold charts and investing analysis to come in Part 2...