Ex-Dollar, Gold's Back to 2012 Crisis Highs
Friday, 2/01/2019 19:55
G20 ex-US gold price quietly hits crisis peak...
SO IS THAT it for QT? asks Adrian Ash at BullionVault.
The US Fed pretty much said on Wednesday that it's set to stop shrinking its balancesheet – and end quantitative tightening almost before it began.
More mainstream pundits, however, just can't find a Magimix big enough for all the metaphors they want to mix together to show how "wow!" this week's news was.
"This is what it sounds like when Fed doves cry," says ex- Financial Times columnist John Authers, now showing his age with a stab at tabloid-style punning for Bloomberg.
"Powell
now owns
the Fed's balance-sheet problem," garbles the
WSJ
...
Caving or not, Powell also stuck $10 per ounce on the price of gold with Wednesday's post-meeting press conference.
That took old yellow up to new 8-month highs above $1320 per ounce as the Dollar edged back on the currency markets.
But that surge in gold isn't just about the Dollar's retreat. Not yet.
For 6 of the world's Group of 20 leading economies in fact, gold has quietly climbed within 5% of its all-time high...
...setting
new all-time highs
against two G20 currencies already in 2019 (the Australian Dollar and Indonesian Rupiah)...
...and becoming
as expensive as ever
for private savers in another (the world's 2nd most populous country and 2nd heaviest gold buyer, India).
Hence this little shocker, unnoticed by Dollar-obsessed analysts, traders, pundits and headline writers worldwide.
Because gold is in fact back to levels only ever seen at the very peak of 2011-2012.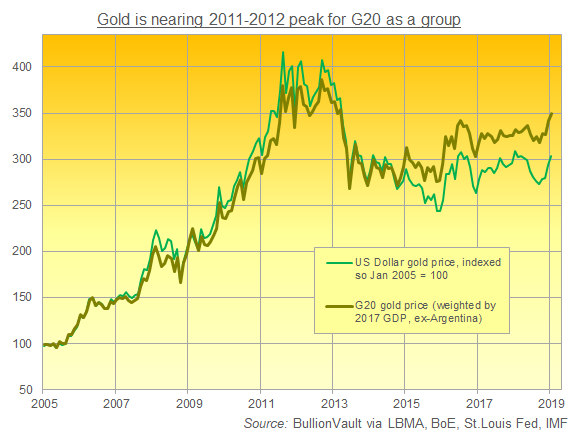 Yes, this index of gold prices for the Group of 20 leading economies – minus the almighty USA – includes basket-case currencies the Turkish Lira and Russian Ruble.
(Not the Argentian Peso though; its collapse means we can't find reliable data either for its exchange rate or the country's GDP to weight it by.)
But the TRY and RUB don't get too much say in our G20 ex-US gold price. Because Turkey and Russia account for only 2.0% and 3.6% of this group's economic output, so that's all the shout their respective gold prices get.
Leading the pack is in fact China (over 28% of G20 ex-US GDP), now with Yuan gold prices at more than 2-year highs. Next comes the Eurozone (specifically Germany, France and Italy getting 19.3% of the index), currently watching bullion tick around its highest Euro price since April 2017.
And there's the kicker. Because Chinese banks, wholesalers and investors – like their counterparts using Euros – have rarely seen prices this high before.
Trading at €1150 in fact, gold priced in the Euro has only been higher on just 535 of the 5,035 days since the single currency offered a new cross for old yellow to trade in.
Now add Japan (11.5% of our G20 ex-US index), the UK (6.2%) and Brazil (4.8% apparently. Who knew?). They each find gold hitting the top-end of its historic range if not fresh all-time highs.
Hence the metal's quiet recovery. For everyone in the G20 outside the USA in fact (and Argentina), bullion has now erased the infamous
$1 trillion 2013 gold crash
, taking it towards its peaks at the very peak of the global financial crisis.
Maybe this is simply inflation working its way into the gold price. After all, China keeps adding stimulus as the ECB vows to keep re-investing its QE holdings, Japan keeps adding, and the UK stands ready for another fat dose just as soon as Brexit arrives.
Or maybe this is as high as gold gets. Or maybe the Dollar price now plays catch up, seeing how the US Fed has rejoined the rest of the world's policy makers, rolling over on positive real rates of interest and no longer daring to try unwinding QE.