3-Decade Low in World Gold Jewelry Demand
Friday, 1/27/2017 17:42
Down 20% on 2016's price rise, weak currencies and political stress...
GOLD JEWELRY demand sank to its lowest level in almost 3 decades last year, falling by one-fifth worldwide according to new data, as the rise in bullion prices coincided with economic and political stress for many consumers in the key markets of Asia and the Middle East.
All told, the 20% plunge in global gold jewelry sales – down to the smallest weight since 1988 on Thomson Reuters GFMS's data series – pulled 2016's total gold demand down to its lowest level since the economic depression of 2009, spurred by the global financial crisis starting in US and European banking.
Gaining 9% against the rising US Dollar in 2016, gold prices rose sharply against many key consumer market currencies including the Yuan and Rupee of China and India – the world's No.1 and No.2 gold-buying markets respectively.
Gold priced in Turkish Lira ran to a series of new all-time record highs as the world's fifth largest consumer nation faced an attempted coup, the continued refugee crisis from war-torn neighbor Syria, and the mass sacking or arrest of journalists, teachers, and opposition figures by the
elected government of President Erdoğan
.
"While Western investors were clearly vital to gold's rally in 2016," say specialist analysts Thomson Reuters GFMS, launching their latest report on Thursday, "Asian demand was lacklustre at best.
"Should demand from Western investors ebb or even reverse," they warn in their new Q4 2016 Gold Survey, "gold prices could be derailed."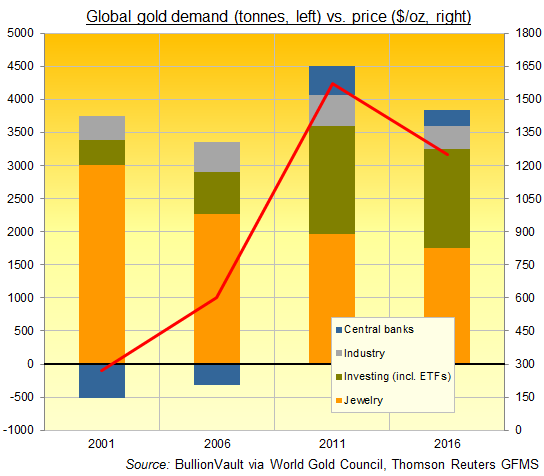 Jewelry accounted for 80% of private-sector gold demand in 2001,
falling to 67% in 2006
and now dropping below 50% over the last 5 years according to data from market-development organization the World Gold Council.
Gold investment in contrast has surged from below 10% to more than two-fifths, with industrial demand holding around one-tenth.
Central-bank activity has meantime flipped in the 21st Century from a source of supply – led by Western European governments selling their "legacy" holdings from the post-WWII monetary gold standard – to a significant source of demand, led by China and Russia.
2016's drop in the Chinese Yuan's exchange rate helped gold prices rise more than 50% by mid-year, worsening the third consecutive decline in China's household jewelry demand on GFMS's data.
"Most industry insiders continue to be wary of the outlook," the consultancy says, "and expect another year of declines" in 2017.
China's private gold investment demand meanwhile rose notably in the last 3 months of the year, GFMS adds. But amid the Yuan's continued weakness "other alternative assets have drawn attention", notably the globally traded crypto-currency Bitcoin, which "has stolen some love away from gold."
More dramatic in 2016 was the plunge in both jewelry and investment demand in India. Total demand fell by more than one-third on GFMS's data, sinking to a 13-year low as high Rupee prices combined with government action to cut imports almost in half.
"Frenzied gold buying" followed
November 8th's shock demonetisation
of India's highest-value banknotes, GFMS says, as consumers holding 500 and 1,000 Rupee notes raced to spend them before the midnight deadline.
In cancelling 86% of India's existing currency supply however, the Modi government moved to "checkmate black money and counterfeit currencies," GFMS believes, creating "panic" within the country's gold industry as tax inspectors investigate possible money laundering through
sales made after the November deadline
.
Uncertainty over the government's gold policies is set to retreat in coming months, GFMS notes, as the Union Budget due in February confirms the General Sales Tax rate and possibly cuts India's high 10% import duty on bullion.
The second half of 2017 will then "likely see a strong recovery" in India's gold import demand.