India's Covid Crisis Sees Gold Loans Boom
Saturday, 5/22/2021 19:14
Pledging gold for cheaper bank rates +80% since March '20...
INDIA's worsening Covid Crisis is seeing households and small businesses in gold's 2nd largest consumer nation borrow against their jewelry, coins and other gold objects like never before.
Privately-owned gold in India may total 20,000 tonnes on some estimates, around one-tenth of all the gold ever mined in history worldwide.
Pledging gold as collateral cuts the borrowing cost dramatically compared with unsecured personal loans, and enables poorer households to access credit they might not otherwise raise.
"Almost anyone with [gold in] possession can apply for a gold loan."
While the sector is increasingly dominated by non-bank financial corporations (NBFCs) – a fact already causing concern among India's policymakers
a decade ago
– gold loans from regulated banks have leapt by more than four-fifths since the Covid pandemic went global in March 2020 according to data from the Reserve Bank of India.
Despite a drop in other household borrowings, that has taken the banking sector's overall holding of household debt 10% higher over 12 months, with the outstanding total of loans against gold rising from the equivalent of US$4.4 billion to $8.3bn.
With new demand vanishing as India went back into lockdown, the last week of April saw domestic gold prices fall below comparable London quotes for the first time in 2021 according to data from Reuters.
Data on
the Gold Hub site
from the mining industry's World Gold Council says that India has traded at a discount to London on 75% of all business days since the start of 2012, plunging to its historic peak of $70 per ounce twice during the Covid Crisis so far, but
also in midsummer 2019
as global prices rose steeply on widespread downgrades to the economic outlook.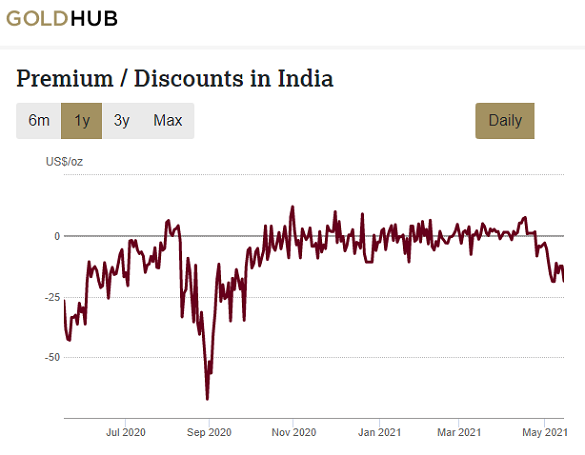 Here in spring 2021, "Banks are not sanctioning new agriculture loans, [so] many farmers are also mortgaging their gold items to raise money for their agricultural investments," says Thomas Franco, former general secretary of the All India Bank Officers' Confederation (AIBOC), speaking to NewsClick.
"Borrowing money through gold loans is the easiest option available for many people...The pandemic triggered financial distress and loss of livelihood for lakhs [hundreds of thousands] of families due to frequent lockdowns...pushing them into debts."
The boom in gold loans
helped cap outright sales of family holdings in 2020
, analysis from specialists Metals Focus said last year, finding strong appeal amid the pandemic and lockdown's economic stress because "selling back gold is usually regarded as a last resort."
The pandemic is
causing "unprecedented challenges"
for India's non-bank finance sector, says Krishnan Sitaraman, senior director at Crisil Ratings, "[with] a marked increase in overdues across certain segments and players. Nevertheless, gold loans and home loans should stay resilient, with the least impact among segments."
Banks took
all of the top 10 cheapest gold loan rates
collated by BankBazaar last month, with Punjab & Sind Bank charging just 7.0% on 3-year loans of INR500,000 (around US$6,800) and another public sector bank, Bank of India, asking 7.4%.
Giant NBFC Muthoot Finance was in contrast asking 11.9%, and Manappuram 12.0%.
"NBFCs are highly active in this space, though interest rates are comparatively on the higher side," says Crisil in Mumbai, part of the S&P Global ratings agency
"
One out of every three
loan queries is about gold loan," New Indian Express quotes one State Bank official, because "low income and lack of collateral have forced many people to opt for that."
While demand for gold loans was already high in 2020, "we saw fresh demand from April onwards," the source goes on. "The surge in gold loans is likely to go up further."