First Against the Wall in Corbyn's Revolution? Your Savings
Monday, 12/02/2019 09:56
Buying a little gold overseas might help. If you're quick...
"GOLD PROMOTER says 'Buy Gold'!" doesn't offer much insight at first glance, writes Adrian Ash at BullionVault.
The need to insure against a Labour victory might also appear small as this month's UK General Election draws near. Because the odds of Jeremy Corbyn overcoming himself to win over the electorate look slim.
But that also looked true of both the Conservatives' solid win in 2015 and Brexit's narrow victory in the 2016 referendum, as well as Labour's comeback versus Theresa May in 2017.
That's why the 'super-rich' are apparently taking no chances. The big money, according to its advisors, is planning a mass exodus if Jeremy Corbyn walks into No.10 on December 13 after bowing and mumbling "Your Majesty" through gritted teeth.
No doubt the super rich fear long-term damage and decline from Corbyn's "radical plan" for the economy. After all, "It entails
such a fundamental shake-up
of property rights, contracts, working practices, and the role of finance, public capital, and the state," as Ambrose Evans-Pritchard puts it in
The Telegraph
, "that it is impossible to 'cost' in any meaningful sense."
Where 'cost' can't be quantified, you can bet we're all set to pay for it. Even those who think they come in the lower-half of taxpayers.
But "the rich", like the rest of us, should beware of an instant hit to the UK's wealth if voters upset the pollsters yet again...
...because come the revolution, the Pound will be first against the wall – just as it was when the Brexit shock dawned 3 years ago – closely followed this time by the bonds and shares in your retirement fund, and the value of your home.
No cigarette, never mind a last meal, and no time to hedge against a crisis which will have already struck.
A little gold, owned safely overseas, might protect at least some of your savings.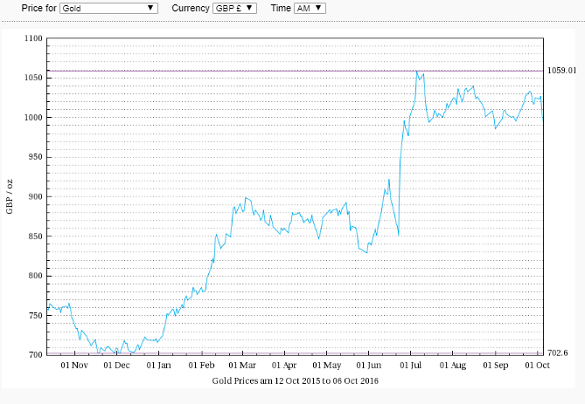 Should Labour scrape a win in GE2019, "There would be a major outflow of high net-worth individuals and families," says one tax-haven specialist.
"Billionaires and multi-millionaires are
preparing for 'Corbygeddon'
," agrees
The Sunday Times
, "moving family trusts and other assets offshore or their businesses overseas.
"Transfers of wealth are already arranged,"
adds a lawyer
. "In many cases, all that is missing is a signature on the contract."
You don't need a billionaire's wealth to share their concerns. But then, you won't need their money to feel the pinch either.
Labour's impossible spending plans are at least partly matched by "certainly progressive" taxation, says the independent (and widely respected) Institute for Fiscal Studies. But it's
"clearly not the case"
that the £80 billion per year of extra spending would be covered by raising tax rates on just the top 5% of earners.
Labour's own maths show personal taxes are set to rise for households well below the top. For lower-rate earners there's plenty of devil in the proposed details, too.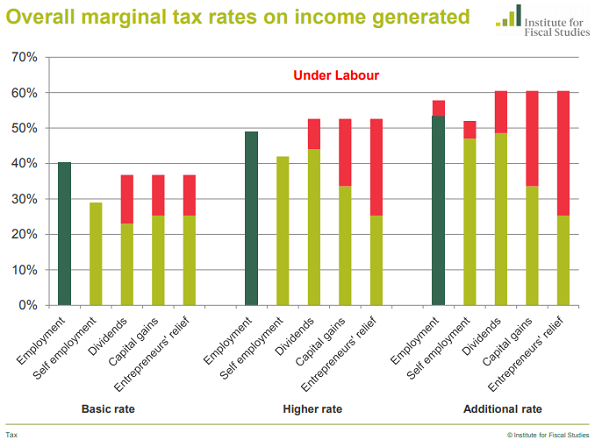 Abolishing the married-person's tax allowance, for instance, would hit the 1.8 million couples who claimed it last year for £250 a piece –
a trifling sum, perhaps
, to top 5% earner Jeremy Corbyn or his gold-plated pension, but
a taste of the penny-pinching
set to hit everyone else
The reality will prove worse, says the IFS' analysis, because only £1 in every £8 of would-be Chancellor John McDonnell's proposed tax hikes actually look "plausible". The rest will either raise "probably less" than he thinks or prove "difficult to achieve".
Again, that puts taxpayers well outside the "obscene" category right in the frame, alongside a deluge of new Treasury debt that, given the market's antipathy to Labour, it will no doubt refuse to finance at anything other than sharply higher interest rates.
Worse still, that exodus by the super-rich would only worsen the hit on everyone else stuck in Corbyn and McDonnell's socialist state. The wealthiest 1% of the population already pay around
28 pence of every Pound raised by HMRC
. So with the very rich gone – taking all or some of their loot to a sunny beach with more welcoming tax rates – the burden of
McDonnell's "radical plans"
must fall harder on the rest of us.
What to do?
You might not have access to the tax havens or lawyers used by the 'super rich'. You might not have their kind of money to worry about either. But that doesn't mean there's nothing to learn from their preparations.
To repeat: Many of the UK's top 1% of earners are planning to move assets if not themselves overseas in the event of a shock Labour win.
That will of course mean moving some or more of their wealth out of the Pound Sterling as well, and that's where you can get ahead of the super-rich today. Because they are being poorly served by their advisors if they haven't already moved at least some of their loot overseas, out of Sterling, given the risks they think a Corbyn government presents.
Would-be Chancellor John McDonnell has said as much himself, announcing as far back as 2017 that Labour needed a "scenario plan" for
halting a run on the Pound
and the FTSE when it won.
"I want to make it explicit that we will not introduce capital controls."
Laws blocking you from buying certain assets or moving money overseas don't usually come with advance warning like this. You might want to get ready, just in case.
Yes, it's over half-a-century since a Labour government last began
prosecuting gold-coin investors
who kept their bullion at home, in the UK – part of its bid to stop people trying to protect their savings from runaway spending, inflation and devaluation – and it's 40 years since Margaret Thatcher's first Chancellor, Geoffrey Howe, did away with exchange controls entirely.
But the radicalism of 2019's Labour manifesto threatens to take us straight back there again, because it's got the super-rich so spooked, their exodus would surely bring down the shutters on everyone else's financial freedoms.
It's worth noting too that such controls also survived until almost the year 2000 in other parts of Western Europe, they
made a return during the financial crisis
of 2008, and they continue today in many major economies led by China. Meantime your right to pay with cash is being curtailed in the name of anti-money laundering law.
Bottom line? The risk may be small but time is tight ahead of the election. Opening a foreign bank account now means more time, paperwork and interrogation than East Germany's Stasi could have imagined. Buying a tangible asset instead – say,
a little physical gold in a specialist vault in Switzerland
– can take a matter of minutes. It then makes you a low-yield target for any potential legislator.
Time and time again, people have ensured their liberty to cross borders and retain their wealth by keeping some of their money in a foreign jurisdiction which respects foreigners' property. Travel is rarely subject to total prohibition. What tends to keep people in countries descending into monetary chaos is the inability to quit because their life's work and savings are bound up in the jurisdiction of the country they live in but would sooner leave.
During crisis it is capital flight which tends to be prevented, not people flight. People who have been smart enough to shift money offshore tend to find it easy to sell gold abroad and repatriate amounts of usable if devaluing cash. The fact that they have prepared to leave tends to mean they don't have to – at least not for financial reasons.