Gold Bars and Oil Hit by US-China Trade War
Thursday, 10/04/2018 20:52
US-made gold bullion bars blocked by tariffs...
GOLD BAR and crude-oil exports from the United States to China are plunging amid the two superpowers' trade war, according to industry experts.
China's tit-for-tat import tariffs on US gold bars have "the potential to wipe out" such shipments, worth $4.5 billion last year, say leading bullion-market analysts Metals Focus.
US shipments of crude oil to China have already "
totally stopped
" said Xie Chunlin, president of China Merchants Energy Shipping Co, this week.
Already the world's heaviest importer of gold bullion, China last year overtook America as the world's largest importer of crude oil
according to
the US Energy Information Administration, taking in 8.4 million barrels per day compared with the former No.1's 7.9mmbd.
Primarily taking
gold bars
with a fineness of 9,999 parts per 10,000, China in 2017 accounted for one-in-every-four kilobars exported from the US, says specialist consultancy Metals Focus, totaling some 115 tonnes.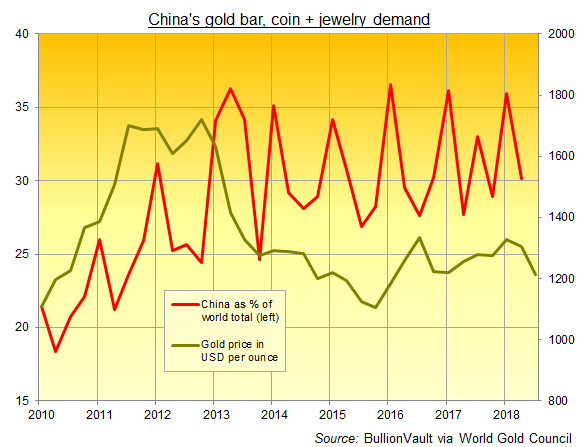 That flow now risks drying up, the analysts believe, thanks to Beijing imposing stiff tariffs on imports of precious metals from the United States as part of its retaliation against the Trump White House's heavy US trade fees on Chinese goods.
"To put the 10% tariff into perspective," says
Metals Focus
, ".9999 kilobar premiums have in recent months typically been measured in basis points [ie, a fraction of 1%]" above the price of larger wholesale bullion bars weighing 400 ounces (12.5kg).
Ahead of US president Donald Trump's speech lambasting China to the United Nations last week, what's at stake goes beyond "tariffs and the terms of trade," said his national-security adviser John Bolton.
"It's rather a question of power...China's [behavior] in the South China Sea [is]
very dangerous, very aggressive
, something that the administration has confronted.
"And I think all of this goes to what will be the major theme of the 21st century, which is how China and the United States get along."
As US exports of gold bars to China "come under pressure" Metals Focus predicts, "US refiners will likely target other key export markets, such as India, the Middle East and South East Asia.
"They may also be forced to manufacture more low-margin 400oz bars to deliver into London. Although this option provides a vital outlet, it is unlikely to compensate for the loss of revenue from kilobar exports to China."
China now has nine gold refineries approved to produce and deliver Good Delivery bars into the London market – center of the global bullion trade.
The US has just four active refineries making London Good Delivery gold bars, with 24 production sites moved to the "former list" of refiners no longer producing such bars or whose new product is no longer accepted.