Gold Bar & Coin Demand Hits 4-Year Low
Tuesday, 5/20/2014 09:15
Gold bar investing fell hard in Q1, ETFs flatlines, jewelry hit 9-year high...
GOLD BAR and coin demand amongst private investors globally fell to its lowest level since early 2010 during the first quarter of this year, says the latest report from market authority the World Gold Council.
Global gold jewelry demand, in contrast, rose to its greatest Q1 weight since 2005, the new
Gold Demand Trends
says, as "Consumers generally made the most" of the intervening drop in world prices, down 30% across 2013 as a whole and losing 25% in spring last year alone.
"A strengthening economic environment," says the World Gold Council, "was further supportive for [jewelry] demand."
Gold investing was "significantly weaker" than early 2013's elevated levels, reports the mining-owned market development organization, which says the drop in gold bar and coin demand amongst private households came thanks to disappointment that world prices didn't fall further from New Year's dip below $1200, plus local currency weakness in some major demand cenetrs.
Bar and coin demand in No.1 gold buyer China and No.2 India – where import restrictions to try and boost the Rupee's value have forced inflows to the less visible "grey market" – more than halved in Q1 2014, dropping 54% and 55% by weight respectively and falling well over 60% by value from Q1 2013.
India's year-on-year drop in legal gold imports then worsened in April, notes the latest Precious Metals Update from gold bar refining giant Heraeus, dropping 74% from 2013's record levels, sparked last spring by the
2013 crash in world gold prices
and finally leading the Congress-led government – defeated by a landslide in this month's national elections – to impose
a de facto gold import ban
from July.
No.3 consumer the United States saw Q1 gold bar and other retail investment purchases fall one-third by weight and some 45% by value. Turkey's weak Lira currency pushed local gold prices higher, with the fourth largest consumer market losing 59% of household bar and coin demand year-on-year by weight, down two-thirds in Dollar equivalent terms.
Professional investor demand was meantime neutral, with holdings amongst exchange-traded trust funds steadying after 2013's liquidation. ETF stocks of large wholesale
gold bullion
bars, vaulted with major bullion banks to back the value of the trusts' shares, were flat in Q1 2014.
That compares to outflows of 177 tonnes in the first quarter of last year.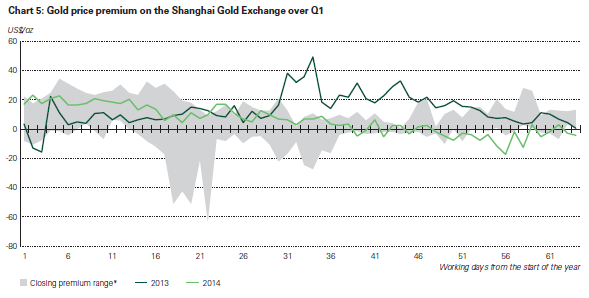 "Flows of gold from Western vaults to satisfy the demand of eastern consumers," says the World Gold Council, "have slowed as global gold markets have gradually returned to a more 'normal' state of affairs" – evidenced by the drop in
Asian gold premiums
over and above London's prevailing large-bar price, taken as the benchmark by bullion dealers worldwide.