LBMA 2019: Big Numbers, Big Gold in Shenzhen
Monday, 10/14/2019 10:30
World's bullion market meets in gold No.1 China...
IF YOU LIKE
record numbers, you would have loved Monday at the LBMA's 2019 conference here in Shenzhen, writes
Adrian Ash of BullionVault.
Held in China for the 3rd time – more than any other country in its 20-year history – the annual conference for members and guests of the London Bullion Market Association brings together the wholesale market's global supply chain, from miners to refiners, logistics to mints, jewellers, chip-makers, retailers and all steps between.
And for that industry, the biggest market by far is now China. The number one miner, it is also the No.1 consumer, importing more gold than any single nation produces.
China also now accounts for a quarter or one third of PGM demand, depending on which platinum-group metal you look at according to refining-tech specialists Johnson Matthey's Rupen Raithatha. And just today brought the launch of a new price benchmark for silver in China, where $7.5 billion-worth of the metal already trades each day.
Opening this giant to the global market – or rather onto it – is a key aim of both China's official bullion agencies speaking Monday. Word of the day from the
Shanghai Gold Exchange
and the China Gold Association was "cooperation", with the SGE wanting to "align with the international markets while building China-specific markets at home," said vice-chair Song Yuqin.
It's not like integration hasn't begun. Two-fifths of China's gold imports now come through the SGE's international board, where foreign banks can trade metal stored in the city's "offshore" free-trade zone. Chinese-owned banks also now occupy two seats on the LBMA's board of 7 directors, with Raj Kumar of ICBC Standard joined from today by Wenjian Fang of Bank of China.
But deregulated in "incremental steps" over the last two decades, China's domestic market has really seen the "leapfrog" growth, as CGA chair Xin Song put it. The SGE's gold trading volumes have risen 46% per year since the LBMA held its 2004 conference in Shanghai.
Such breakneck growth of course reflects China's importance to the global economy more broadly. Ten years ago, the global financial crisis saw Beijing unleash the biggest economic in history, and today "The panda is still carrying the world," said the Financial Times' James Kynge in his keynote speech to LBMA 2019. China accounts for a staggering 32% of global GDP growth.
LBMA host city Shenzhen itself has gone from fishing village to Pacific-Asia's 5th largest city by size of economy in just 40 years, and this technology and jewelry hub today sees 59% of all SGE gold deliveries.
It's no secret however that China's huge gold jewellery demand is struggling in 2019, thanks to a slowdown in household incomes and a drop in consumer confidence, spurred by the economic risks from China's argument over trade with the US. But that same trade war – and the uncertainty it's causing – is doing wonders for gold investment demand, noted Li Tao of Ping An Bank. And China's young personal finance industry can only add to that demand as it grows, because the case for gold – as a safe haven, hedging the risks across your savings – means asset managers and advisors are sure to recommend some level of exposure.
China is now fast-tracking its personal pensions market, said ETF provider Bosera's Weng Deying, pretty much starting from scratch in the world's most populous nation. Gold has not yet been named as a qualified asset for pension funds to include. But on Li at Pingan's maths, just 2% allocation to gold would equal 4,500 tonnes of bullion – pretty much the world's entire annual demand in 2019.
More urgently for China's economy – now second only to the US in Dollar terms – Beijing is also fast-tracking a slowdown in new private credit and debt. Year-on-year growth, reported Kynge of the FT, has struggled in 2019 to get back above the longer-term baseline of 10%, thanks to new rules and attitudes working to shrink the mountain of "shadow bank lending".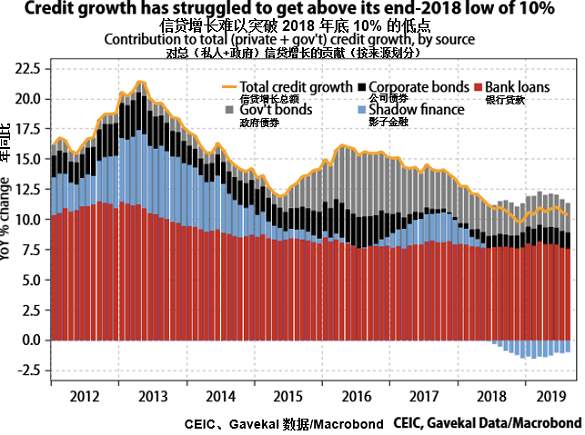 Chart of China's private and government debt growth. Source: James Kynge, FT.com
Shadow banking is where non-bank players lend and create credit outside the formal regulation of financial services. But as the blue bars show, that's gone into retreat since the middle of last year, slowing the overall growth in credit (yellow line) and reviving worries of a credit-led slowdown in the China's economy.
So after its massive 2009 spree, will Beijing launch big stimulus to counter this? No, reckons Kynge, because of another record number in China: the price of property.
Residential real estate across China is so expensive – a massive 11.9 times average income for the average house – that it's equalled only by Sydney worldwide. Spewing out cash or dramatically easing monetary policy would only send that figure higher.
What to do instead? Technology looks the answer according to Min Zhu of Tsinghua University's excellent presentation. With average incomes now hitting the $10,000 level, Beijing knows higher standards of living will need the services sector to outpace the giant manufacturing base. But productivity in the services sector is 30% lower than across industry, meaning that GDP loses 0.3 percentage points for every 1% of the economy where doing things replaces making things. And that's a problem, because China risks falling into the 'middle-income' trap which claimed former emerging-market darlings like Brazil, Malaysia and Mexico.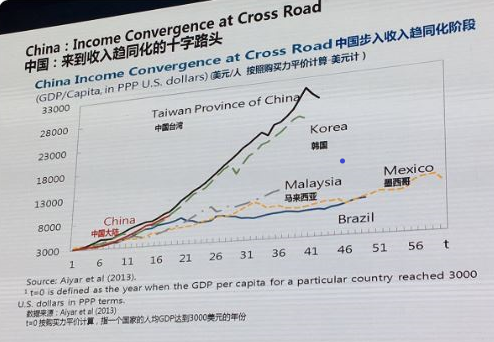 Chart of GDP/capita in PPP US Dollar. Source: Min Zhu, Tsinghua University
"China's next 5 years will define the next 50 for domestic growth and the next 25 for the global economy," Zhu says, and breaking through $10,000 of GDP per person looks critical.
Where does the tech come in? More to come in Part 2 of our LBMA Shenzhen reports...