Western Households Buy Fewer Gold Coins, Sell Less Scrap
Saturday, 5/05/2018 09:00
Recycling flows defy price rise because jewelry holdings 'already depleted'...
GOLD COIN and small-bar investors in the West have begun selling metal while household sales of 'scrap' jewelry have fallen to 10-year lows according to new data.
Net of this investor selling,
gold bullion coin and bar
demand worldwide fell between January and March 2018 to its lowest first-quarter total since 2010, figures from the mining-backed World Gold Council said this week.
"Demand for freshly minted coins was particularly weak in Europe," the group reports in its
quarterly analysis of gold trends
. That marks a stark contrast with Europe's strong gold-coin demand over recent years, led by private investors in Germany.
Jewelry owners, in contrast, have trimmed their sales of 'scrap' gold despite the metal's rising price, World Gold Council figures show.
Globally, "Depleted volumes of near-market stocks choked this source of supply" in January to March, the report says.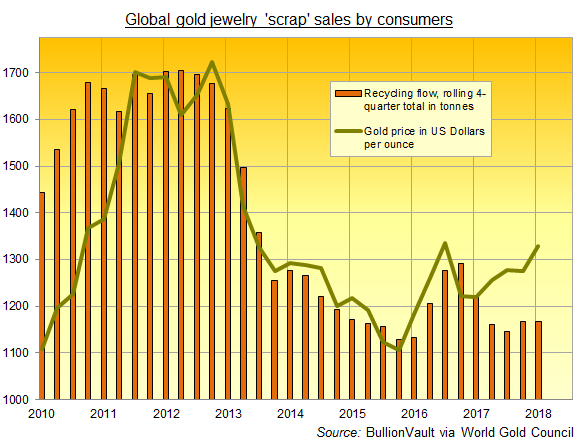 "The general level of recycling in both Q1 2017 and Q1 2018 was at its lowest since 2007," explains the latest edition of Gold Demand Trends, because "the impact of a higher gold price, which tends to spur recycling activity, was offset by stronger global [economic] growth," reducing the need for cash-strapped households to sell existing holdings of jewelry.
Looking at Europe and North America, 2017 was already "a familiar story of near-market depletion," says the latest annual
Gold Focus
from specialists
Metals Focus
– the consultancy researching and compiling the World Gold Council's data – making scrap supplies from these markets "less sensitive to the gold price."
A "dearth of demand" for new coins in the United States meantime reflected buyers switching to existing coins sold by other investors on the "secondary market", the Council's new report says – a trend which has continued into the second quarter of 2018.
The US Mint last month reported its weakest April sales of new gold coins since 2007.
"The liquidation of metals in the secondary market was [already] massive," in 2017 according to Terry Hanlon, president of wholesale distributors Dillon Gage Metals.
Moving from 12th to 4th place in the league table of gold-consuming nations over the past 20 years, Germany saw almost 92% of its total household demand come for investment coins and bars between 2013 and 2017. The global average was barely 33%.
On the new World Gold Council data, 2018 has now seen Germany's weakest net first-quarter demand for gold bars and coin since 2013, just before the metal hit its sharpest price drop in three decades.