Chinese Buy Less Gold, But with Near-Record Spending
Tuesday, 1/21/2020 13:32
Tonnage down, value up on CGA data...
CHINA's household gold demand fell by weight but rose by value to a near-record in 2019, according to data released Tuesday and analyzed by BullionVault.
Reporting its full-year estimates in Beijing this morning, the China Gold Association said household gold buying fell 13.7% to 902 tonnes of fine bullion, the lowest weight since 2012 according to previous data released by the officially-mandated trade body.
World No.1 since
overtaking historic giant India in 2013
, that would put last year's private Chinese household gold demand 50 tonnes below its average over the last decade according to separate data compiled for the mining industry's World Gold Council by independent analysts Metals Focus.
In cash terms, however – and judging each calendar quarter's figures against average Chinese Yuan prices – consumers actually raised their spending on gold in 2019, up 4.4% to the largest-ever total in Yuan terms outside of 2013's all-time high, when gold's steepest price drop in three decades unleashed record demand.
Today's CGA figures show that, by weight, the last 3 months of 2019 saw the weakest fourth-quarter demand – typically a strong period ahead of Chinese New Year – since 2016.
But again, those data mean that China's Q4 household gold spending grew as prices rose sharply, setting the largest-ever quarterly value in Chinese Yuan outside the peaks of 2013, when gold's historic price crash unleashed the heaviest household gold purchasing on record.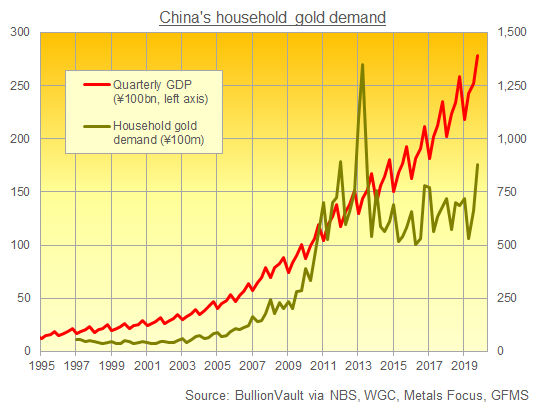 "Affected by factors such as increasing downward pressure on the economy," says the China Gold Association's press release, "domestic gold consumption was weak in 2019, especially as the price of gold continued to climb in the second half of the year."
Looking at household demand to buy gold by weight, jewelry consumption "declined significantly" the CGA says, snapping the prior two years' uptrend.
"The gold jewelry processing industry continues to reduce inventory," today's news goes on. "The high price of gold has [also] led investors in physical gold to be cautious," with their 'wait and see' attitude in 2019 means that sales of gold bullion investment bars "also fell sharply".
Looked ahead, "Muted physical support from India and China as higher prices in local terms defer purchases" could act as a drag on gold's 2020 gains for US Dollar and other Western investors, said a note earlier this month from Canadian bullion bank Scotia, noting how gold prices have recently set new record highs in Rupee terms and 7-year highs versus the Chinese Yuan.
Given gold's recent price surge, "Large dishoarding from [those] traditional physical gold countries" could also add to global supplies,
says Scotiabank
, as existing household owners of jewelry or investment products sell to take profit.
But driving 2019's strong price gains worldwide, the China Gold Association says, central banks "continue to increase their gold reserves" as a group overall, led by Russia and China and
encouraged to buy gold by "the context of increasing global economic and trade frictions, increasing downward pressure on the world's major economies, intensifying global monetary easing, and intensifying geopolitical crises."
"At the same time," says the CGA, "the gold market has also attracted the attention of more and more investment institutions," with trading volumes on the Shanghai Gold Exchange rising 15.7% by value in 2019 while the value of gold derivatives traded on the Shanghai Futures Exchange jumped by 238.9%.