BBC Hit by Inflation Shocker
Thursday, 7/17/2008 14:18
Just how bad is UK inflation – meaning the devaluation of Sterling – on the Consumer Price Index today...?
"INFLATION at 11-year high of 3.8%," reported the BBC online this week.
Which isn't true.
"The annual rate of inflation is at its highest level since 1997," Auntie goes on, "when the Office for National Statistics started using its current methodology to calculate the figures."
Which is fair enough.
"However, inflation is still way below levels seen in the early 1990s," the Beeb concludes...
...which is just an out-and-out howler.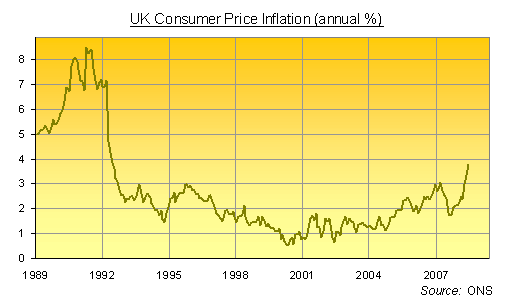 Wherever the BBC got its data from, it certainly wasn't the official data series from the Office for National Statistics – the agency that actually announced the 3.8% increase in UK consumer prices in the 12 months ending 30th June, 2008.
Funnily enough, few other major sources checked that data series either. (If you're interested, it's D7BTCPI INDEX 00: ALL ITEMS – estimated pre-97, 2005=100, Not seasonally adjusted 2005 = 100, updated on 14/ 7/2008.)
So however the Beeb arrived at that 11-year figure, the same shocker hit the London Stock Exchange, Bloomberg News, The Daily Express, The Herald, and even professional finance magazines including Investment Week and the artfully named Debt Management Today.
That left only The Telegraph, Mail and Guardian to get it right, noting that growth in the cost of living – which we'd rather call a sharp devaluation of Sterling – is running at a 16-year record, beating the levels of July 1992 on the official CPI measure.
The Times, bizarrely, managed to call it a 10-year high. Which might just be wishful thinking. In June 1998, annual CPI inflation in the UK ran at barely 1.6%.
Still, at least the monetary destruction now hitting UK savers, consumers, earners and investors (meaning you, me and everyone else) remains "way below levels seen in the early 1990s" as the BBC puts it.
Except that it doesn't.
On the old Retail Price Index, year-on-year inflation has now held above 4.0% on its three-monthly average – or as near as damn it – since the start of 2007.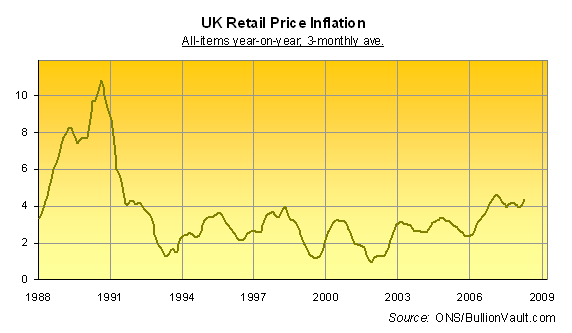 That's the ugliest destruction of Sterling purchasing power in sixteen-and-a-half years.
But hey – other than anxious savers, consumers, earners and investors watching the Gold Price, who's counting?