Great Britain, Great Depression
Tuesday, 5/15/2012 15:51
Economists agree things look bad. They're wrong...


LOTS of people think the UK economy is doing terribly. They're right, of course. But Britain isn't doing anywhere near as terribly as it will likely do yet, writes Adrian Ash at BullionVault.

"This is a far longer period of depressed output than the Great Depression," reckons Jonathan Portes, director of UK think tank the National Institute of Economic & Social Research (NIESR) and previously chief economist under the former New Labour government at the Cabinet Office in Downing Street.

Portes knows an economic disaster when he sees one, in short. Albeit in the rear-view mirror. Now Portes' analysis is quoted by Brad DeLong at the University of California, Berkeley...only a week after Professor DeLong quoted the very same idea, that time from Menzie Chinn, professor of Public Affairs & Economics at the University of Wisconsin.

"The UK is in the first double dip recession since 1975," says Chinn. "This recovery is in fact worse than that of the Great Depression," he adds, citing Reuters – who were in fact channeling the UK's state-paid beancounters, the Office for National Statistics no less, who were actually channeling Paul Krugman who was – Christ no! – in fact repeating Jonathan Portes of the NIESR, who first made the Great Depression comparison back in January!

Confused? No matter. Because circular as the meme's route might be from one would-be legislator to another, it's starting to stick. The data prove it after all. If you chart UK economic output from 2008...and compare its real path with that starting in 1930...you find that this recession is now longer-lived that the Great Depression. Meaning 1929 to 1934, of course. But only in the United States.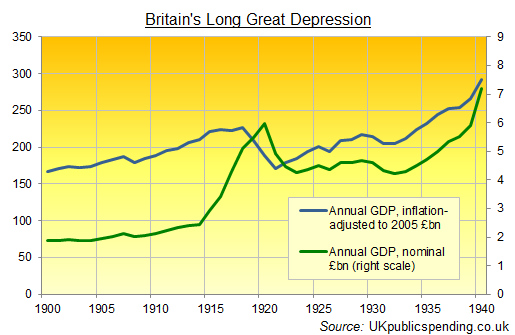 Terms of reference matter. And by the time of the Great Crash on Wall
Street, the UK still hadn't got out of its post-WWI depression starting
1920.

Neither in nominal nor real terms did Great Britain's domestic economy recover its WWI peak before the late 1930s. Whereas the US got stuck on Walton Mountain only in 1930, the Great British Depression was very much longer and very much greater.

It could now prove very much worse again. Economists on both sides of the Atlantic agree. But whether they get to reverse what passes for "austerity" or not, they're likely to get a surprise. Because fixing our post-war bust will prove very much worse for very much longer than they fear. The war being that war between debt and depression fought by ever-easier credit since the late 1990s, and still in its sniper's nest firing zero rates at savers and debtors today. A war which expert economic advisors have only just spotted.

Buying Gold today...?