$666 and rising
Thursday, 5/31/2007 22:08
The gold price just recorded its fourth highest month ever...
THE LAST DAY of May 2007 saw a 1.5% bounce in the spot gold price. The action "was driven by the exchange rate," reckoned Michael Widmer, head of metals research at Calyon.
"The renewed weakness in the Dollar could encourage some buying of gold overseas," added Stephen Platt, an analyst at Archer Financial Services in Chicago.

But both analysts failed to spot the 1% rise enjoyed by British and European gold owners that day. Japanese investors saw the metal rise 1.3% inside one week.

And for US investors wanting to buy gold now? Gold bullion just completed its fourth-best month on record.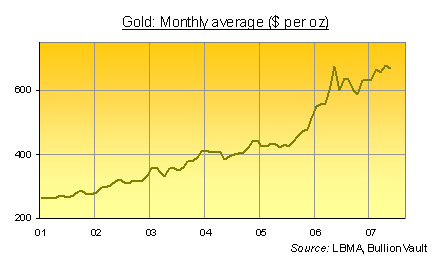 At the apocalyptic price of $666 per ounce, May's average PM Fix in London was $13 shy of April's all-time record figure. But it stood 5.5% higher than January, and lagged the peak hit in May '06 by less than $10 per ounce.

Gold's competition, on the other hand, continues to scrap over which paper promise can lose most value the fastest.

The Ministry of Finance in Tokyo won't allow the Bank of Japan to raise interest rates above the current 0.5%. But sensing inflation, bond investors just demanded the highest coupon on two-year Japanese government bonds in more than a decade – a whole 1% per annum.

In Europe, the M3 measure of money supply rose 10.2% in April from one year before. The three-monthly average rose to 10.4%, said the European Central Bank this week – the fastest rate of growth in Europe's money supply since March 1983.

Over in London, the Bank of England offers higher rates than even the almighty Dollar at 5.50%. But the interest-rate premium now priced into Sterling has failed to stall domestic inflation. Prices are rising at their fastest clip in well over 15 years. The supply of Sterling (M4) has now risen at double-digits year-on-year for the last 25 months.

And the US Dollar? First-quarter GDP growth came in at 0.6% – less than half the Commerce Department's first and second estimates, and one-fifth of a per cent below Wall Street's average forecast. Last time the US economy grew this slowly, back at the end of 2002, the Federal Reserve was on its way to cutting interest rates down to 1% – an "emergency low" to fend off the threat of recession followed by deflation and depression.

That's why the Dollar bears merrily got back to selling the Greenback again today. But no sooner had the Euro spiked than it fell yet again; because the Fed's fears about inflation are coming true even as the economy grinds to a halt.

The Chicago Purchasing Managers Index showed prices paid by US industry rising sharply this month. The index gained 8%, in fact, a huge leap reflected by comments that "manufacturers are using any excuse they can to increase prices" quoted by the Purchasing Managers report.

"Prices are not coming down," adds another respondent. "Fuel surcharges are staying the same, not lowering."

Indeed, the only portion of the US economy that seems to be "enjoying" lower prices right now is real estate. Countrywide, the largest mortgage lender, reported quarterly profits down 37% on Thursday. IndyMac Bancorp, a major competitor, saw its profits drop 34%.

"I don't think the housing correction is over yet," said one economist to Bloomberg. Both S&P and Moodys reckon average home prices will drop 8% by the end of next year. Given the trouble to GDP growth that static home prices have caused so far, what might 8¢ in the Dollar knock off US consumer spending during the next 18 months?

"It does seem clear from yesterday's Fed minutes that the Fed is downgrading its outlook for the economy," reckons Michael Woolfolk, currency strategist at Bank of New York, "which is not seen returning to trend growth until 2008."

"We could see some further Dollar weakness," he adds – and as ever, the Dollar is the United States' currency, but it's the world's problem.

Some 80% of US government bonds due to redeem in the next 3 to 10 years are now owned by foreigners, reports Lawrence Dyer, a New York- based strategist at HSBC Securities USA Inc. Alan Taylor, a professor of economic history at the University of California, says the United States has not been so beholden to overseas investors since the 19th century.

Foreign holdings of US securities have doubled since 2002, and no wonder. All those cheap Dollars that the US sends abroad to pay for its yawning trade deficit "need to go somewhere," as Charles Comiskey, head of US-bond trading at HSBC said earlier today – "and the natural place to go to is Treasuries."

"Treasuries aren't bought for fundamental reasons but for necessity," says Comiskey.

Anyone wanting to bet on a cheaper Dollar – or simply hedge themselves against the grinding decline in all currency values – might do well to avoid Euros, Sterling and Yen.

Gold remains the only world currency not open to debasement, competitive devaluation, or the excessive promises of overspent governments.

And at $666 per ounce on a monthly basis, the physical gold bullion market also remains within spitting distance of the highs for this bull run so far.