Little Boots, Small Hands
Friday, 1/20/2017 15:49
Whatever will the new emperor say or do next...?
SO ENTIRELY
by coincidence, I've been reading a biography of
Roman emperor Caligula
,
writes Adrian Ash at BullionVault.
But turns out, Gaius Julius Caesar Augustus Germanicus
wasn't as mad or bad
as everyone thinks. Well, bad maybe. But that went with the job when you ruled over ancient Rome and its empire.
As for the madness, it looks more like politics – again, ancient Rome-style – given that "Little Boots" (Caligula was his childhood nickname from dressing up as a soldier, which
apparently he hated
) fought to break the power of the Senate...and the corruption it spawned...amidst a series of conspiracies to overthrow and murder him.
The horse thing, for instance. By appointing Incitatus as a consul – the very highest rank of society, and the level all senators strived and fought for – Caligula was actually making a joke.
Anyone could become a consul. But only if the emperor said so. All power came from him...even the power to meet and plot his murder with other senior figures.
So becoming a consul meant nothing. Even a horse could do it.
Funny ha-ha! And you had better laugh. Or not. Depending on the emperor's mood.
Fast forward 20 centuries, and celebrity playboy-billionaire dealmaker Donald Trump today takes up the imperium, becoming the commander-in-chief of today's ruling superpower.
But alliances, friends and enemies are changing fast as Trumpus Maximus issues
new decrees via Twitter
. The only certainty looks like absolute uncertainty over what the emperor will decree next.
Ban foreign car imports? Build that wall? Ban all Muslims? Recall his legions from the Rhine?
Little wonder that, in trying to read the future, over a third (36%) of gold and silver investors responding to our
Weekly Update's
New Year 2017 survey thought geopolitics will remain the single biggest factor influencing precious metals prices this year.
Europe meantime faces a raft of divisive elections, while the UK aims to trigger Article 50 by end-March,
Turkey slides
towards dictatorship, and China tussles with Russia over who gets to tussle most with the new US president.
Financial volatility and fragility could well worsen as a result. Especially with inflation rising as major Western stock markets hit all-time record highs.
So the other big concerns for BullionVault users when looking at 2017 gold and silver prices include monetary policy (22%) and the direction taken by world stock markets (10%).
With these risks in mind, four-in-five Update readers responding to our survey predict prices will rise further in 2017, with 80% predicting higher gold prices, and 76% foreseeing higher silver after 2016's strong gains.
Almost a quarter (24%) expect gold to rise by 30% or more. Over one third (36%) foresee that kind of gain in silver.
Both would of course represent a devaluation of official currency...something the US Fed tried to achieve under the current president, Barack Obama...
Many US money managers bought hard into the Obama-as-end-of-the-Republic idea. Most have since turned tail, cutting their gold positions and silver bets and buying into America's
second longest-ever stockmarket rally
.
Last week they showed a little doubt, but only just. Having surged in the first half of 2016 at the fastest pace since the global financial crisis of early 2009, holdings for the giant GLD ETF have now risen just once in the 47 trading days since Trump won the US election – the worst stretch since gold prices hit 6-year lows at the end of 2015.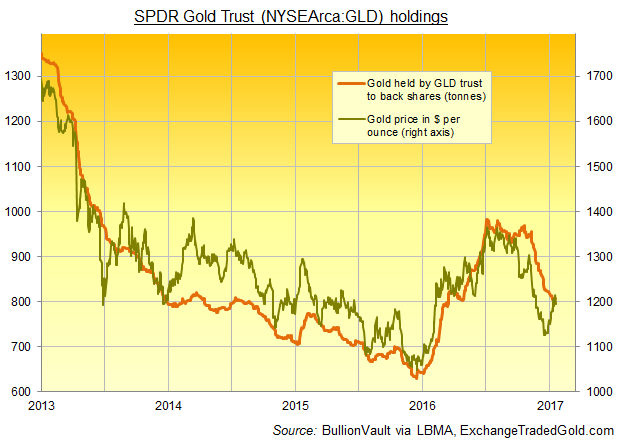 So with their man in the White House, the
"smart" money continues to sit out
this New Year 2017 pop in gold and silver. Bearish short-term perhaps. But it means there's much more scope for cash to flood back into precious metals if the broader financial markets get decimated.
The auguries look good, in short, for gold as crisis insurance and silver as a defence against inflation.
Here's hoping we won't need it.