Thatcher, Gold & the Freedom to Save
Tuesday, 4/09/2013 18:48
Abolishing exchange controls, Margaret Thatcher also abolished the need for savers to seek an escape...


DIVISIVE doesn't cover the half of it, writes Adrian Ash at BullionVault.

Quoting Francis of Assisi on bringing "harmony where there is discord" as she first entered No.10, Margaret Thatcher had already split the playground at my primary school. We knew little then beyond the football-club squabbling of red versus blue. But her political sons have since mixed it into a deep purple mess. Imperial under Tony Blair's high-spending Labour, it's now deeply patrician and scarcely meritocratic under David Cameron and his Con-Dem coalition.

Thatcher's big free-market victory – squashing the unions, the entrenched vested interest of the 1970s – brought another ironic consequence. Because thanks to Big Bang and deregulation, we are now captured by the bankers instead, an equally swollen, morally bankrupt power bent on dragging us all into its inevitable but protracted decay.

Whatever your view of Thatch and her legacy, she was at least a sure friend of gold. Long before she abolished exchange controls in 1979, she had barked against the Gold Coins Order of 1966 in Parliament, calling it "the final indignity" of the then-Labour government's economic mismanagement.

"Making it an offence for anyone who did not hold sovereigns on 27th April, 1966 to buy as much as one sovereign," she said in the Commons debate. "What an indictment of the Government! It was a ridiculous Order."

Friend of gold-owning freedom, however, the Iron Lady proved no friend to diehard perma-gold bugs. Those who switched in contrast to higher-yielding investments as the 1980s began enjoyed the strongest real returns on UK equities in two centuries or more. Even cash in the bank paid four and five per cent over inflation for most of the '80s.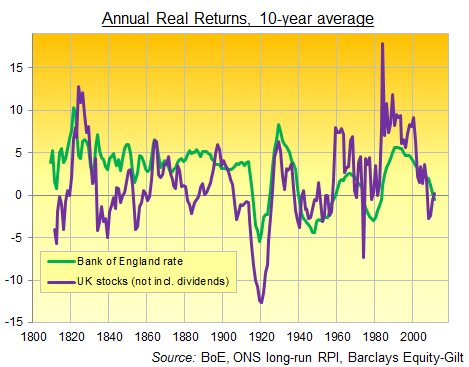 Judged on a rolling 10-year average, real returns to UK equities (excluding dividends) were higher in the 1980s than any decade since at least 1800. Cash interest rates meanwhile surged from minus 3.05% per year during the 1970s to 4.95% above and beyond the cost of living.

That peaked at more than 8% per year in 1990 – the highest level since Britain lost its fight to stay on the Gold Standard half-a-century before. Truly, to defend the value of Sterling, strong real rates of interest worked where exchange controls and bans on gold coins had failed so badly during the decline of empire and "financial repression" of the post-WWII years. So just when they could buy all the gold that they wanted, British savers no longer needed so much.

Abolishing capital controls, the Thatcher administration also abolished the need for private savers to seek an escape. Whereas today, three years into fresh "financial repression" via sub-zero real interest rates, savers in the UK and elsewhere may well wish such a champion of household thrift would return. And the about-turn on exchange controls begun last month by Cyprus – a member of the single Euro currency whose birthing pangs played a big part in her downfall – adds a final irony to the Iron Lady's legacy.

Economic freedom looks in retreat. The private individual's ability to save what they've worked for may be next to recede.