Return of the Super Dollar!
Friday, 9/05/2008 11:07
The Super Dollar's big bounce is either a fake-out, or the start of a genuine deflationary slump...
"THE MARKET is super-bullish of the Dollar right now," notes Steven Barrow, currency analyst at Standard Bank in London.
The question is, why on earth why?
Our take here at BullionVault is that the markets, as always, are doing whatever it takes to screw the most people the most. Given how crowded the oil-and-Euro trade had become in spring 2008 – and given how badly the United States needs a weak Dollar to start filling the chasm between imports and exports – most people wielding power and/or leverage were betting the greenback would keep sinking.
Hence the bounce in the Dollar...just to spite logic, history and everyone else. It's sparked the strongest turnaround versus its peers in well over 17 years.
Hence the collapse in commodity and US share prices, too. A flood of money back into...well, back into money...is undoing the Fed's latest reflation play. What the next move from Ben Bernanke will be depends on whether the slump in raw imput prices spooks him into spying deflation ahead.
You know, the "it" he's sworn to make sure won't happen again.
Back on the currency desks, meantime, the new Super Dollar stands "ready to jump on any slide in oil prices," Barrow avers. "But more importantly, while US employment might be falling, productivity is rising fast."
The latest data proves it. Productivity at non-agricultural US businesses – the value of what came out for every dollar of labor going in – leapt during the April-to-June period. On the Labor Dept.'s second estimate, in fact, it rose twice-as-fast as first thought...rising by 4.3% annually.
Economists were expecting a 3.3% improvement, says a survey from Thomson Reuters IFR Markets.
"This means that GDP is not suffering as much as some other countries," Barrow goes on – countries "like the Eurozone and Japan, where productivity growth is much lower."
Hence the fresh surge in the Dollar against its currency cousins, or so everything thinks, even as manufacturing activity remains stuck on hold and US unemployment rises still faster. This week's Productivity Report added to the strongest bounce in the US currency since March 1991.
On a weekly basis, its trade-weighted exchange rate just put in the fastest gain in three decades, slaying foreign currencies, commodities, Gold and even US equity prices.
Only US Treasury bonds are keeping pace with the Dollar, achieving a gain of their own – and therefore pushing bond yields lower – as the almighty Dollar destroys all other comers.
That only confirms our suspicion here at BullionVault that the new Super Dollar lacks a certain something. Namely, it lacks strong interest rates.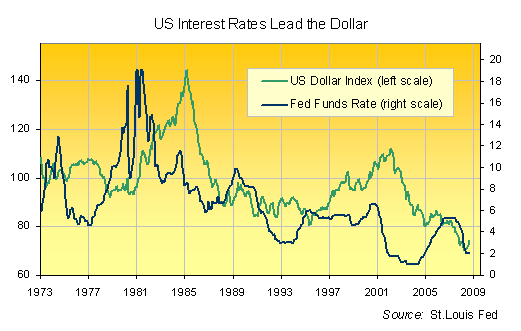 The phrase "Super Dollar" was coined to describe the US currency's 50% surge of 1980-1985...a surge that came alongside a bull market in US equities, bonds and real estate.
You'll note from our chart how it came after the highest-ever US interest rates. Every other significant turn in the Dollar's trade-weighted value likewise followed a turn in US interest-rate policy as well.
This is hardly surprising. Strong rates-of-return tend to push an asset's price higher. If that rate-of-return consistently outstrips inflation – and by a wide margin, too – then its real value will continue to rise. Quite literally, in the case of money, the price bid tomorrow is determined by the price that's offered today.
Right now, however, the Bernanke Fed is bent on keeping US rates more than 3.5% below the pace of consumer-price inflation. History and logic dictate, therefore, that this new Super Dollar lacks the one heroic power needed to continue leaping tall buildings.
The power to hold more value tomorrow than it holds today.
Whether this burst of "screw you!" from Mr.Market proves to be just a blip...or it turns into a genuine deflation, with T-bonds and cash the only assets bid higher as the jobless soars and US exports collapse...we'll continue to Buy Gold.
It doesn't promise a pay-off, or even try to keep pace with inflation via coupons or dividends. Yet it rose eight times over in the last three years of the '70s. It doubled its purchasing power during the Great Depression as well.
There's trouble with money. Taking shelter in what preceded the "almighty Dollar" might just get you through.