Silver Mining at Record, But Thrifting Hits Scrap Supply
Tuesday, 5/12/2015 13:20
Silver output grows 5%, led by one primary mine in Latin America. Industrial thrifting now hurting scrap supply...
SILVER MINING output hit a new record in 2014 says authoritative market data, growing for the 12th consecutive year.
But for the global market, according to figures in the new World Silver Survey from Thomson Reuters GFMS, that 1,300-tonne growth in silver mine output was more than halved by another drop in scrap flows, with the recent 'thrifting' by industrial users of the metal starting to hit the supply chain of recovered and recycled silver.
Total supply to the market grew 6.1% to 27,300 tonnes on GFMS data, published for the mining, refining and dealer-backed
Silver Institute
in Washington.
Scrap metal as a share of that total – recovered from electrical and electronic waste, or recycled from old jewelry, bars and coins – fell below 16% from the previous 5-year average of 22.5%.
South America led the growth in mining output, with the continent's silver mine production jumping 17% as Guatemala alone tripled its output thanks to the start of
commercial production at Escobal
, a high-grade deposit – and the world's third largest silver mine – owned and operated by Tahoe Resources (NYSE:TAHO).
Tahoe's stock price fell 15% across 2014 as silver bullion prices lost another one-fifth, extending the one-third plunge of 2013.
Primary projects such as Escobal – where silver is the major output, rather than a byproduct of mining other metals – led the more global growth in 2014 silver mine output, says the GFMS report, growing 8% from 2013 to account for almost one ounce in every three produced worldwide.
Of last year's 650-tonne growth in primary silver output, Escobal delivered 87%.
Scrap silver supplies, in contrast, dropped by 750 tonnes last year – one-eighth below 2013's level – to hit the lowest tonnage on Thomson Reuters GFMS's records since 1996.
India saw a big fall in re-sales of silver jewelry, with households detered from selling both by the economic recovery and by the continued plunge in world silver prices. But the largest drop by weight came from the world's largest scrap supplying nation – the United States – which saw a drop of more than one-quarter. This marked "a stark change from prior years," because where electronic waste had previously fed a growing recovering and recycling trade, 2014 saw "the impact of substantial...aggressive thrifting activity among electronics manufacturers amid rising precious...is now starting to feed through into markedly lower silver content recoveries."
Industrial and technological silver use accounts for some 55-60% of annual demand on average. Following the surge in silver prices from $10 to nearly $50 per ounce between 2008 and 2011, a study by David Jollie at Mitsui Global Precious Metals earlier this year, looking at certain keywords in patent abstracts and allowing for a 2-year delay between the start of research and patent application, found that scientists were targeting industrial cost-savings by reducing silver use.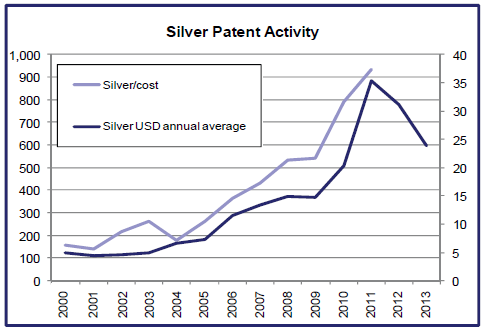 Thrifting of silver has been most dramatic in the solar (or 'photovoltaic') sector, cutting the quantity used in each cell by 80% compared with 5 years ago and "perhaps going as far as it can,"
according to a 2015 silver outlook
from Canadian bullion bank Scotia Mocatta.
Given a 2-year lag between changes in underlying silver prices and new patents seeking to reduce use, "It seems likely that thrifting of silver use in current applications should continue for some time," Jollie concluded, "albeit at a slower pace."
The impact of current thrifting on future scrap supplies back to the market will also likely be limited. Because while the United States is the world's No.1 generator of electrical and electronic waste, silver recovery from that e-waste "accounts for only a single-digit share" of the country's total silver scrap supply.
Meantime in silver mining, cost-cutting since the price crash of 2013 means the recent surge in new-project output is set to end in 2015, GFMS says, with total production flat-lining from last year's new record high.