Silver Price to Drop for Record 4th Year, Gold Steady Says LBMA 2015 Forecast
Friday, 1/30/2015 16:55
Silver and gold price analysts forecast 12% and 4% drops for 2015...
SILVER PRICE losses will extend to double-digits for a fourth year in 2015 – the longest such run in at least four decades – but gold will "consolidate" according to the average forecast from professional analysts in trade body the London Bullion Market Association's annual competition.
Every January, leading analysts from bullion banks, brokers, trading houses, consultancies and refiners are invited to
share and explain their Dollar-price forecasts
for the coming year's high, low and annual daily average in gold, silver, platinum and palladium.
The winning forecast for each metal is nearest to the annual average at the end of the year, with predictions of the year's high and low used as a tie-breaker.
Gold prices will average $1292 per ounce in 2015, a rise of 2.0% from last year's $1266, says
2014's best gold forecaster
, Frederic Panizzutti of Swiss refining group MKS.
Silver prices, in contrast, are seen plummeting to average just $13.00 per ounce by Robin Bhar – who correctly called the 2014 average around $19.00 – at French bank and London bullion market maker Societe Generale.
Bhar was knocked into second place for 2014's silver prize by better high/low predictions from consultancy Thomson Reuters GFMS chief Rhona O'Connell – who now forecasts a price drop to average $16.50 – and Barclays Bank analyst Suki Cooper, who sees silver averaging just $15.20.
"The fundamentals point to further price weakness," says Cooper, explaining her outlook in the LBMA's 2015 Forecast report.
"We believe silver's lows for the year could test levels not reached since 2009" at $12 per ounce.
Overall in the 2015 silver forecast, only 6 of the 29 respondents see prices holding above $15 per ounce at the bottom. Five of those, plus Ross Norman of retail bar and coin dealers Sharps Pixley – who sees the low at $14.50 per ounce – forecast the year's high in silver coming above $20 per ounce.
The average analyst forecast for silver's average 2015 price is $16.76 per ounce, some 12.2% below the 2014 outcome.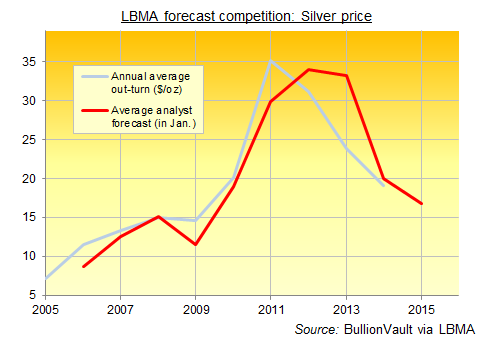 Gold prices on the other hand will average 4.4% less from last year at $1211 per ounce according to the average forecast of 31 analysts in the LBMA survey.
"After a year of wound-licking in 2014," says O'Connell at GFMS, "2015 is expected to be a year of base-building."
Over the last 40 years, since buying gold for investment was legalized for US citizens after being banned during the Great Depression four decades before, average annual gold prices have risen 7.6% per year in Dollar terms.
Silver prices since 1975 have risen 7.9% per year on their annual average.