Shanghai's SGE Gold Trading: Follow the Offshore Yuan
Monday, 4/13/2015 12:59
How falling demand for offshore Yuan could be driving trade in China's new 'offshore gold' contract on the SGE...
WELL DONE if your portfolio is enjoying the latest surge to multi-year and record highs in world stock markets, writes Adrian Ash at BullionVault.
Don't ignore the huge part played by
currency devaluation
. Don't forget to take profits at some point.
And if you, like me, think that the US, Eurozone, Japanese or UK markets look over-excited, then Shanghai's trading
must be on amphetamines
to quote the Twitter-sphere.
China's offshore city-state of Hong Kong has also gone nuts...ready to overtake Japan as the world's third largest market of listed companies by value.
Cheap money and E-Z credit are of course driving this boom, as they always do. And this monetary inflation – even though it still hasn't yet shown up in consumer prices – is helping support precious metals as well.
Silver may have lagged gold last week, but it was the stand-out commodity over the first quarter of 2015. Gold is meantime continuing to track the super-strong Dollar, just as it did in 2014, holding around the $1200 mark where it began the New Year.
But that money gusher in China – the world's No.1 household consumer of gold last year,
beating India for the second year running
according to the 49th annual
Gold Survey
from GFMS, now part of Thomson Reuters – clearly isn't finding its way into Yuan gold prices however.
Contracts
prices on the Shanghai Gold Exchange
closed Friday pretty much unchanged from where they ended 2014. But all that money is, perhaps, changing the shape of the Chinese gold market. Which might matter. Becasue Friday again saw trading volume in the Shanghai Gold Exchange's 'offshore' contract – launched only in September last year – beat turnover in the SGE's main, domestic contract launched well over a decade ago.
That made five days running, a feat the international section of the Shanghai Gold Exchange (known as the iSGE part of the SGE for short) failed to achieve this Monday. But getting there last week really did mark quite a change, as this chart shows. Quite what drove it, no one knows. Not anyone we know, at least.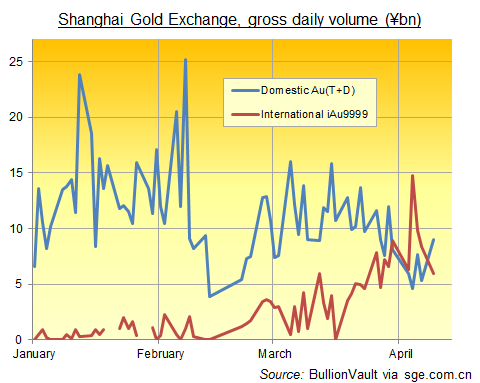 One reason for the sudden leap might be a change in the rules? Word is there's
going to be more flexibility
over trading bullion held inside Shanghai's free-trade zone, where the iSGE contracts are settled, rather than needing to transfer to the main domestic bourse.
Or maybe 2015's sharp drop in foreign demand for the Yuan drove last week's change? Mapping the slowdown in China's economy, and marking the first year-on-year drop in offshore Yuan bonds issused through Hong Kong since that market began in 2007, it has seen the exchange-rate value of offshore Yuan drop below the domestic currency, says Reuters. That decline is forcing leading banks and speculators to seek new uses for all the offshore Yuan they have piled up in offshore accounts. Idle offshore Yuan might be flooding back to help drive at least some of the Hong Kong stock market's stellar new highs. And it just so happens that the SGE's international bourse is open to traders using such money too.
Whatever the reason (or reasons) for last week's burst of activity in Shanghai's offshore gold contracts, we've noted before that China's gold demand and supply
won't freely influence world prices
until the Middle Kingdom opens its gold flows completely, and Beijing ends the ban on exporting wholesale gold bars, rather than staying open to imports alone. But least Shanghai's international contracts are settled with metal stored in the city's 'offshore' free trade zone.
In short, last week's sudden switch in trading volumes – if it proves the start of a longer-term shift away from the SGE's main domestic contract to its newer 'international' offer – could mark a small step towards liberating the impact of China's supply and demand on gold prices worldwide.
Quite what that impact will be, lots of people can guess, and no doubt will. But who can say for sure?