If Gold Were the Nasdaq
Tuesday, 8/23/2011 21:22
Squint hard enough, says Nouriel Roubini, and you can see the future of gold – but at $21,500 per ounce...?!
The GREAT SAGE HIMSELF – seer of the financial crisis, gloom-n-doomster extraordinaire – Nouriel Roubini thinks today's gold investors are "sheep or lemmings", writes Adrian Ash of sheep-and-lemming service, BullionVault.
Gold is a dumb thing to buy, says he. Because it's a bubble, plain and simple and always.
"Since gold has no intrinsic value," says Dr.Doom, "there are significant risks of a downward correction."
Oh sorry – that was him way back in December 2009, not here in August 2011. Gold Prices have very nearly doubled since then, despite having no value to New York University economists. But no matter. It's what happens next that counts.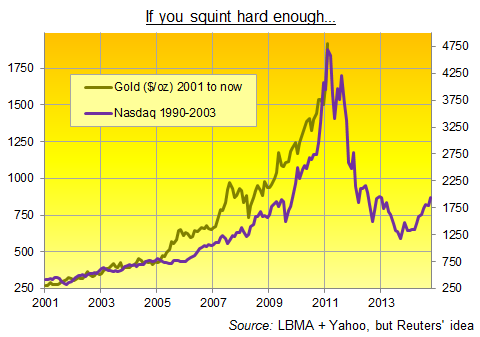 Hence this chart, conceived by a Reuters staffer, apparently, and linked approvingly by the great sage on Roubini's @nouriel feed on Twitter today.
Sharper minds than the Doctor, however, might note that this chart is more than simply "time-adjusted" (as he claims) in mapping the "gold bubble" onto the "Nasdaq bubble".
Note, for instance, that its vertical axes show nominal prices (Dollars per ounce for gold, index value for the tech-stock Nasdaq). That overplays gold's relative gains, now running at 6-fold since the chart's starting point. The Nasdaq, at its top of only a few months earlier, you'll recall, towered more than 10 times higher from a decade before.
And that choice of starting point is significant, too. Because 2001 saw gold's lowest monthly average in more than two decades. Whereas a decade earlier, 1990 was a long way from kick-off for tech...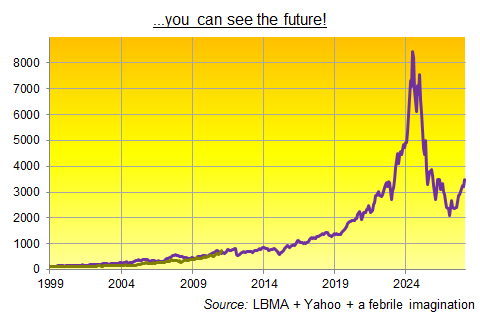 Look – there's a dip ahead! And then another! But see where we're headed, tracking the percentage gains on the vertical axis? Gold $21,500 in January 2025 here we come!
Yes, if we also roll the tech-stock index – as with gold – back to its last historic low (Sept. 1974), then the true "bubble" ahead would become clear, if only on the laziest, most dim-witted analysis. And here comes Roubini again.
"Question for gold bugs," asks the scourge of sheep-and-lemming alike, also in a Tweet: "How much of gold long positions are financed now, as Nasdaq was in late '90s, with leverage? Do CME data show that?"
Hmm, well, yes. The CME's very existence shows what proportion of the gold derivatives market is leveraged. All of it, in fact, as you might suspect of futures and options. Even since the CME raised the margin downpayment required of gold derivative traders by one-quarter early in August (widely reported, but hey, pundits take holidays too) leverage across-the-board in New York gold futures stands at 25-to-1. But fair's fair, and for what Roubini claims to seek (the leveraged speculative position, we guess) then the CFTC data are nearer, as anyone with a professorship in this kind of stuff might suspect.
The "net long" position in Comex Gold Futures and options, held by structurally unhedged (ie, speculative, non-mining, non-refinery and non-bullion-bank) traders was equivalent on the latest data to 802 tonnes of gold bullion by value. Bubblicious? That's nearly 50% above the 5-year average (whoah!) but it's also below the peaks of spring, then summer and then autumn 2010 (ah). It's also less than half the fully-cash paid bullion exposure held in exchange-traded trust funds (ETFs) around the world. And it's barely half the daily turnover in London's professional wholesale gold bullion market – heart of precious metals dealing worldwide, and with a handy association website signposting the latest data just here. (It needs sizing up by 3 or 5 times, depending on activity, to account for netting. Ask a professional.)
Still, let's not be hard on the professor. He hasn't got a clue, after all, about what he's saying. That never got in the way of a good PR-grabbing, sheep-baiting headline of course. And it is, after all, precisely what Twitter is for.
Sheepish enough to Buy Gold today? Don't get fleeced; get the safest gold at the lowest prices instead using world No.1 online for physical gold, BullionVault...