Forced Risk from Low Rates
Thursday, 4/08/2010 09:09
Speculate to accumulate? Try gambling, collectibles, diamonds, condo flipping, junk bonds...


THE LONGER that interest rates stay below inflation, the more people will be forced to take more risk to defend what money they've got.
Just look around you...
Deutsche Bank says it grew the number of retail clients using its dbFX platform to trade foreign exchange by 40% in 2009. New users are invited to choose from 50:1 or 100:1 leverage;
IG Group's Nadex subsidiary just won regulatory approval for offering "binary bets" to US investors, starting in April. The London-listed bookmaker, founded in 1974, grew its profit margin from 47% to 56% in the six months to Nov. Global revenues rose by 14%;
Christie's Asian Art Week in New York just drew record attendance, pulling in nearly $60m over four days. January saw Alberto Giacometti's L'Homme Qui Marche I go from its £18m estimate to a world record £65m ($103m) in eight minutes of bidding. But that record may fall to JMW Turner in July, experts whisper. His Modern Rome watercolour "could certainly" set a new record for Turner's work, says one Sotheby's specialist;
Junk-bond investors swallowed a record $64bn of higher-risk debt between Jan. and end-March, says Fitch Ratings, because "Investors are looking for yield in a low-rate environment," in the words of one bond-fund manager.
Currency speculation, high-end collectibles, junk bonds with junk-bond default risk...we've been here before – and not that long ago. Yet from retail investors looking to juice their savings with a little 100-to-1 leverage...to ultra-rich art buyers bidding by phone...and onto institutional managers hoovering up anything that pays better than zero...it's like the crash never happened.
This is only to be expected. Coutts private bank – bankers to the Queen of England, no less – announced in a quiet little advert in the Financial Times last week that it's cut the rate of interest it pays. Cash deposits of £3 million and above now earn 0.55% annually. Anything below that ($4.5m) gets 0.40% per year before tax and inflation.
And people still need to ask "Why is gold going up?"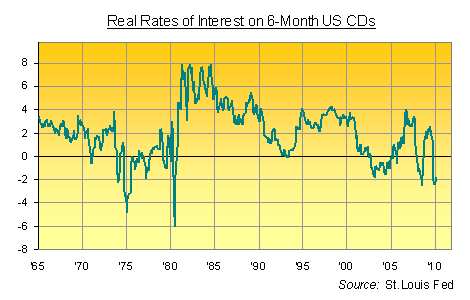 Cash savers in the US have been underwater – after inflation – for 46 of the last 90 months. So to repeat: It's no wonder that cautious people, risk-averse people...the kind of people who never inhaled and who now check their tire-pressure before driving 3 miles to work...are choosing to Buy Gold and silver, open a forex account, or scout local foreclosure sales for a bottom-picking bargain in bricks-n-mortar.
They'd choose cash-in-the-bank if they could (it's what we all mean by "savings", remember). Because cash-in-the-bank is supposed to be the nearest thing to "risk-free" you'll find. Northern Rock, Bear Stearns and Kaupthing gave the lie to that con, of course. And even with FDIC insurance, "risk-free" now means a sure-fire loss instead.
So the longer that interest rates stay below inflation, the more people will in fact be forced to take more risk, pushed out of cash-in-the-bank to speculating in physical assets, leveraged betting and "high risk-reward" contracts. Ever more brokers, shysters and shills will look to help them, too.
In our own market here at BullionVault, we've seen more "me too" gold dealers set up shop in the last 12 months than in the previous seven years' combined. Over in Washington, regulatory plans to cap retail forex leverage at 10-to-1 have drawn a massive 10,000 objections from the industry, says EuroMoney. The Financial Times reports on a new attempt to commoditize the diamond market, targeting investors with spot-market dealing in those not-so-rare lumps of carbon. Hell's teeth, real-estate seminars and flipping schemes are back, at least here in Britain, and barely two years after the jokers behind them went bust!
If you're looking to spin the wheel of forced-risk – and let's face it, we'll all join that fairground queue unless interest rates rise sharply, and soon – just take a moment to pause. Because whether you calling "speculating" or "investing", there's no sense exposing yourself to anything other than price-risk if you don't need to.
Know what you're buying. Check your counterparty's standing, credit and default risks. And check to see how deeply you can cut costs – keeping hold of more of your gains, should you pick the right speculation – rather than just boosting profits for the low-rate racketeers.
They made enough money in the last "reflation rally" of 2002-2007.
How best to Buy Gold and silver today? "If there's an easier way, I've yet to find it," says one BullionVault user...