UK QE and 0.5% Interest Rates, 5 Years On
Thursday, 3/06/2014 17:42
UK interest rates have never been lower. But they have been stuck low for longer. Much longer...
FIVE YEARS
ago, writes Adrian Ash at BullionVault, "It is fair to say
nobody predicted
this record low [in UK interes rates] would last as long as it has," reckons the Economic Research Council.
Not so. History said otherwise and very loudly. We
coughed it
too...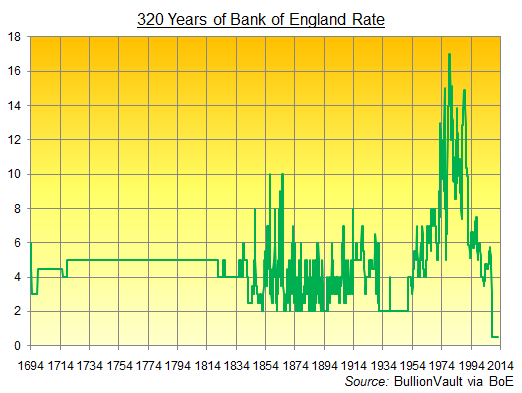 As you can see on that chart, the last 5 years paid the lowest rate since the Bank of England was founded in 1694. The previous floor was 2%. But this hasn't been the longest stretch of inactivity. That came in the 18th century, when the Court left Bank Rate at 5% for 100 years.
Bondholders ruled the country, after all. Being paid in gold, cash needed a decent rate of interest to deter savers from swapping it for bullion, too.
More pertinent, the Great Depression of the 1930s saw the Old Lady throw Bank Rate into the bin for 20 years. Boxing policy into that corner...way down at 2%...meant impotence was the only choice until sharply rising inflation forced the Bank from its stupor.
But too little, too late. The collapse of Sterling and the 1970s' wipeout were already baked into the crust.
What the Bank didn't do during the 18th century, the Great Depression, nor the 1970s was print enough money to buy one-third of all UK government bonds in issue. And seeing how the Bank of England has now imagined £375bn of QE cash into reality since 2009, what's most remarkable about the last 5 years is that gold and silver did so much better before money-printing and near-zero rates began.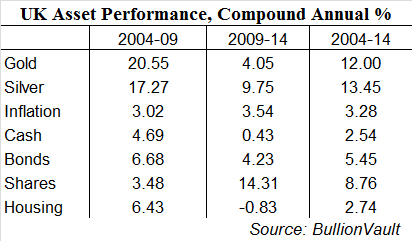 Two thoughts...
First, precious metals offer savers and investors financial insurance. Waiting until your house has been flooded makes buying cover expensive, if not impossible. Prudence acts early. Gold and silver remain the best performing assets over the last decade by a country mile over.
(Note that back in 2004 the Bank of England had just slashed rates to 3.5%...a half-century low...to stem the DotCom Crash in the stock market. Cheap money didn't begin in 2009.)
Second, QE hasn't been inflationary. Not yet. But currently stuck at Threadneedle Street as banking reserves, those frozen billions will melt back into the economy, either written off as "debt relief" to the Treasury...or forced into reality at maturity.
Savers and investors wanting to insure against that flood of financial meltwater might want to get in a few sandbags early. Avoid the rush.