Platinum Price Jumps as Nymex Bears Wake Up to Mining Output Cut
Thursday, 8/02/2018 16:37
PLATINUM PRICES jumped in London trade Thursday afternoon, adding 2.5% inside two hours after South African miner Impala (JSE:IMP) announced steep output and job cuts in a bid to reduce costs and return to profitable production of the beaten-down precious metal.
The No.2 platinum miner in the No.1 producer nation, Impala will quit 5 of its 11 current mines over the next two years – ceasing operations at its "end‐of‐life and uneconomic shafts" in Rustenburg – cutting 13,000 of its current 40,000 jobs.
"Future mining activity [will be] focused on profitable, lower-cost, high‐value, and longer‐life assets," Impala told investors.
Reuters broke the story late Wednesday, reporting one source as saying that "up to 1,500 jobs could be affected."
South African media
covered the official news
release at 9am in Johannesburg, with international refining giant Heraeus then alerting its client-base with
a quick analysis
of the news at lunchtime in Europe.
The
platinum price
began moving higher at the start of New York trade, gaining $20 per ounce – some 2.5% – inside 2 hours while gold, silver and palladium held flat.
Speculators in New York-traded platinum futures and options have recently built a record short position, betting against the metal recovering from its
recent plunge to 14-year lows
beneath $800 per ounce.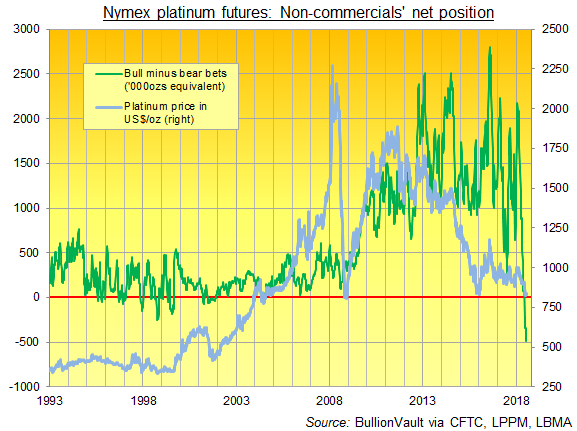 "The only option for conventional producers today," said Implats CEO Nico Muller, "is to
fundamentally restructure loss‐making operations
to address cash‐burn and create lower‐cost, profitable businesses that are able to sustain operations and employment in a lower metal price environment."
Impala's revised plan looks to cut 2022's platinum output by 230,000 ounces per year versus previous expectations, says
the Heraeus note
.
"This supply reduction could put the [overall] platinum market into fundamental deficit in 2023, one year earlier than forecast," according to analysis by consultancy SFA Oxford.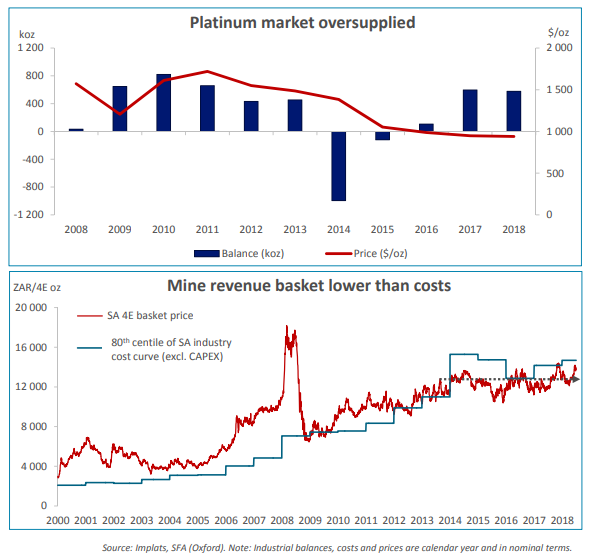 "Even though South Africa faces growing margin pressure," said a note from specialist analysts
Metals Focus
in mid-July, "we do not expect to see a meaningful cut in production this year.
"Many investors are disappointed by the lack of apparent production discipline. [But] the South African industry" – source of 70% of annual mine output – "would need to contend with political headwinds should it look to implement a significant drop in headcount."
Unemployment in Africa's second largest economy
rose above 27%
in the April-June period according to official data.
Impala's projected drop in output will move it behind current No.3 producer Lonmin (LON:LMI), now the subject of a takeover bid by Sibanye-Stillwater (JSE: SGL).
Sibanye's proposal would cut 12,600 of Lonmin's 32,000 jobs.
On an all-in sustaining basis, South Africa's platinum production was already loss-making in 2017 on Metals Focus' maths, costing around $27 per ounce at last year's annual average price of $1080.
Platinum prices have fallen 15% further in 2018 to date, averaging just $913 so far.
"After a six year downswing we expect the price of platinum to finally start a recovery this year," forecast specialist analysts Thomson Reuters GFMS in May's new Platinum Group Metals Survey 2018, "but only a gradual one."
Predicting a "small deficit" of supply to demand, "We think this will be fuelled...by a contraction chiefly from South African mines...due to the sustained reduction in capital expenditure in recent years combined with closures from some marginal operations."