Platinum Market 'Swings into Deficit' on Record Investing
Tuesday, 2/18/2020 19:48
Platinum investment never greater on JM data...
PLATINUM demand outweighed supply worldwide for the first time in 3 years in 2019 says new data from refining and technology specialists Johnson Matthey, driven by record-high investing in the precious metal.
"The platinum market swung into deficit in 2019," says the FTSE100 company, "as a resurgence in ETF buying lifted physical investment demand to a record."
Offering to track the price of platinum for investors, exchange-traded trust funds backed by the metal grew to need an additional 30.7 tonnes last year.
Together with direct purchases of platinum bullion bars and coin, that took investment demand – net of investor selling – up to 35.2 tonnes, greater by nearly 30% than the 2013 peak.
It also took platinum investing to a 32-year high of 18.2% in terms of the metal's total net demand.
Among
platinum's industrial uses
, net demand meantime fell in each of the autocatalyst, electrical, petroleum and glass-making sectors, as well as for jewelry.
But overall the market saw total demand exceed supply by 6.4 tonnes – equal to 3.4% of global mine output – after stockpiles had grown in both 2017 and 2018.
JM's historic data
show no consistent relationship between platinum prices and the metal's global market balance.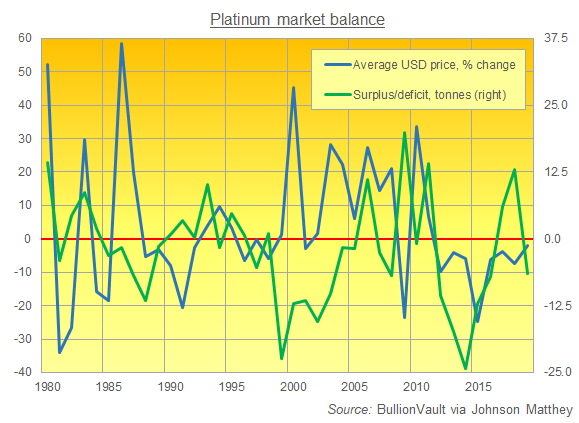 "Platinum's attraction as an investment asset," says the mining-industry's
World Platinum Investment Council
, "arises from [its] relatively constrained supply...[a] price near all-time lows relative to gold and at record lows relative to palladium [while] market balance and price mismatches argue for substitution" between the two white metals.
Betting that platinum prices will rise has also jumped on the Nymex derivatives exchange, with hedge funds and other money managers building a record-large bullish position as a group since New Year 2020.
The shift comes after
the price of platinum
– which finds around two-fifths of its end-use in autocatalysts for reducing harmful emissions from diesel engines – has now fallen for 8 years running on an annual average basis in US Dollar terms, losing halve of 2011's record peak at $1725 per ounce.
Sister-metal palladium, in contrast – finding four-fifths of its use in gasoline-engine autocats – has more than doubled over that time, gaining 110% to average $1539 in 2019 and setting fresh all-time highs in Tuesday's trade above $2,500 per ounce.
"Although palladium has seen dramatic gains," says Johnson Matthey's market research team, "the platinum price has remained subdued and range-bound. This has led some investors to conclude that platinum is under-priced, especially in view of its future potential to substitute for palladium in some autocatalyst applications."
Despite platinum's widening discount to palladium however – driven according to analysts and traders by a severe shortage of available metal to meet demand – the "thesis" that substitution in favour of platinum in autocatalysts is imminent "is misplaced," said a recent note from specialist analysts Metals Focus.
"No material substitution will emerge any time soon" in gasoline vehicles, it says, "though we continue to allow for some shift within diesel systems in the years ahead," with higher platinum loadings possible in some and palladium and rhodium combinations.
As it turned out in 2019, says Johnson Matthey, total platinum demand in autocatalysts fell by only 2% "despite significant headwinds from falling world vehicle production and diesel share.
"However, demand for platinum in its other major market, jewellery, appears to be facing much more serious challenges" – most especially in the key consumer market of China, where current fashions mean gold enjoys a "competitive edge" on color and style according to Ricky Lian, chief financial officer at Long Jia Jewelry Industry Co. Ltd, presenting last October to global precious-metals trade body the
LBMA's 2019 conference in Shenzhen
.
Even before the current coronavirus shutdown, last year's economic slowdown also
dented Chinese household appetite for jewelry
more broadly, Lian explained, while a critical issue remains platinum's failure to hold its premium to gold over recent years.
"[But] with a muted outlook for supplies and potential upside in autocatalyst demand," says the new report from Johnson Matthey (LON: JMAT), "platinum could see further interest from investors in 2020, especially if economic uncertainty continues to support the gold price, and platinum's discount to gold remains at record levels" – inviting more 'bargain-hunting' by active investors.
Over the last 3 decades, global demand for platinum has outpaced annual supply by 2.1 tonnes on average.