Platinum Industrial Demand Set to Rebound, But Analysts Split Over Market Balance
Tuesday, 5/18/2021 21:28
London's Platinum Week gets 3 different views of surplus/deficit...
PLATINUM market analysts remain split over the precious metal's supply/demand balance, with 3 new reports giving 3 different pictures.
Timed to coincide with what would have been Platinum Week in London - now forced online for a second year by the Covid pandemic and restrictions - two of the 3 reports forecast a small surplus of supply over demand in 2021, but they disagree about the market balance for 2020.
"Our current forecast sees platinum remain in a surplus this year," says Wilma Swarts,
Metals Focus
' director of Platinum Group Metals (PGMs), launching the consultancy's new
Platinum and Palladium Focus 2021
.
Refining and technology specialists Johnson Matthey in contrast say that 2020 saw demand outstrip supply by almost twice the level of the previous year in their new PGM Market Report.
But with demand for
platinum investment
expected to increase by 5% in 2021, the market will in fact see a deficit for the third year running, says
separate analysis
by the mining industry-backed World Platinum Investment Council.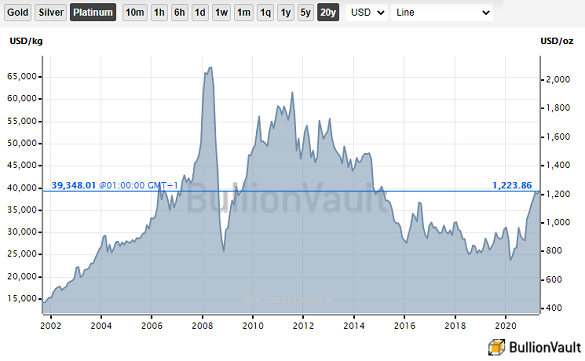 "[After] vaccination rates escalated and once-in-a-generation fiscal stimulus packages were implemented," says WPIC CEO Paul Wilson, "we now see growing momentum...Platinum demand and supply are poised to benefit from this rapid recovery and support."
Most especially, "climate action is now heavily featured on many governments' agendas...[and so] platinum's linkage to the hydrogen economy is driving a number of investors to consider platinum."
"Investment demand has been a key driver of deficits over the past two years," says Johnson Matthey, and while the market "remains theoretically well-supplied, following several years of surplus over the last decade...[it] recorded periods of exceptional tightness in 2020, with ingot shortages in platinum's traditional European trading hubs" amid the first wave of Covid shutdowns last spring.
That of course shut many large automotive factories as well, with the plunge in new car and truck demand seeing auto-sector consumption of all PGMs falling by 13% last year on JM's data.
This year, platinum demand for autocatalysts – formerly the metal's largest single use, helping cut harmful emissions from diesel engines, but overtaken net of recycling by
platinum investment in 2020
– is now forecast to grow both by weight and as a share of total PGM usage in emission-treatment systems worldwide.
"Autocatalyst demand," agrees Metals Focus, "will recover markedly as vehicle numbers, despite semiconductor shortages [now hampering auto manufacturing and sales worldwide] significantly surpass 2020 levels.
"Tighter emissions legislation, especially in the heavy duty sector, will further boost the recovery in platinum demand," the specialist consultancy adds, forecasting "healthy gains" across most other key sources of platinum demand as well.
Demand for platinum as a catalyst in the chemical sector, as well as a component in electronics (led by hard-disk data storage) "should remain robust" in 2021, says JM, with demand from the glass industry – where platinum's high melting point makes it useful for equipment handling molten materials – "could set an all-time record."
Hydrogen fuel-cell demand
is however expected to show the steepest 2021 growth, rising 40% on JM's forecasts and 17% for WPIC (as part of its wider "other industrial" category) but both from the sector's currently low base.
With governments worldwide now setting "net zero" deadlines between 2030 and 2050 for their national carbon emissions, a "relatively conservative forecast" for platinum use in hydrogen fuel cell engines could reach 6-7 million ounces over the next 30 years said Johnson Matthey's principal analyst Margery Ryan in a webinar for members of the London Platinum & Palladium Market on Tuesday – roundabout the level of current annual mine production.
"Investors are increasingly being attracted by the long-term prospects for the hydrogen economy," says Swarts at Metals Focus, forecasting an annual average 2021 price of $1200 per ounce, up by more than one-third from last year's average to the highest since 2014.
"From our standpoint,
the platinum price
will also benefit from further upside in gold and expectations of a wider commodity super-cycle."