Cross My Palm with Silver, LBMA Crystal Balls Edition
Thursday, 10/08/2020 13:18
LBMA conference cancelled, but not its 2021 gold price forecast...
THIS WEEKEND should have found us ironing some shirts, writes Adrian Ash at BullionVault...
...packing our suitcase, maybe a pair of sunglasses...
...and heading to Lisbon, Portugal for the LBMA's 2020 conference.
But this is no world for fun, much less sun, and you cannot have 800-or-so executives from the leading miners, refiners, mints, assayers, vault operators, bullion banks, traders, jewellery manufacturers and retailers gathered together from across the world...
...all shaking hands, exchanging business cards, clinking 'Cheers', holding meetings, agreeing new deals, attending seminars and presentations, and just generally chatting and catching up face-to-face in person.
So the premier event in the precious-metals industry
got cancelled
. Or rather, delayed.
The London Bullion Market Association will meet at the Epic Sana Hotel in Lisboa next September instead.
How might the world of gold, silver, platinum and palladium have changed by then?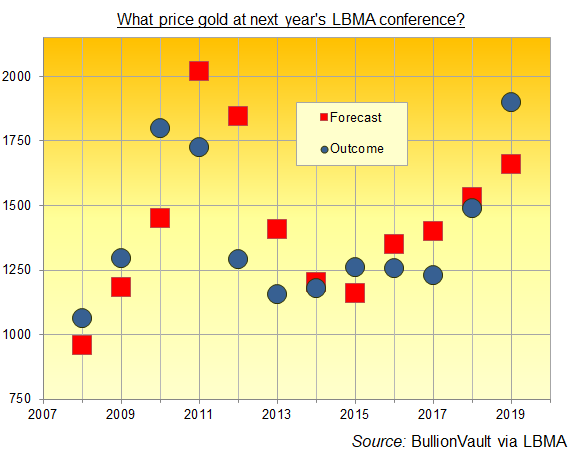 This little parlour game was due to grow a hole where 2020 should go.
But would-be delegates from LBMA member firms are in fact able to throw their gold price forecasts into the mix, just like normal. Only online, not through the conference app. And alone, sitting at home (or maybe the office) rather than from inside the deluge of ideas, outlooks and data of the conference hall.
How might that affect this year's forecast? Follow the red squares and blue circles above.
They show you the average guess from attendees of the LBMA's annual conferences as to where the gold price would trade at the time of the following year's conference...
...plus what price gold actually did trade at when the Association next got together.
As you can see, this gap between the red forecasts and the blue outcomes has over the last dozen years or so mapped at first the industry
casting off its cautious view
during the global financial crisis...
...and then over-excitement once more from 2018.
That pretty much tracks the gold price's actual path, but with a little lag.
So where will the would-be delegates of Lisbon 2020's phantom event see gold trading this time next year?
To be frank, price is usually the least interesting thing about gold, silver and platinum when the LBMA's global membership gets together. And Covid aside, the big themes and issues discussed at the most recent LBMA events will no doubt still loom large when we do meet again in September 2021...
Thankfully, all these subjects and more are being covered in-depth by the LBMA's weekly webinars. You can catch up from home, no mask or hand sanitizer needed, to learn for free how the industry is developing answers to such issues
on the LBMA website here
.
As for those industry "insider" price forecasts, the LBMA stumbled on a sudden "wisdom of crowds" in Boston, USA with
2018's shocking (and bizarrely accurate) prediction
of a 25% rise. But that failed to hold good for last year's forecast for where gold prices would trade this coming weekend.
Last October's delegates at
LBMA 2019 in Shenzhen, China
saw gold rising another 11% to reach $1658 by the time of this year's now-cancelled conference.
But the out-turn? A staggering $1900 per ounce today. Cos, like, who saw 2020 coming?
Maybe plenty of non-attendees at this year's non-event will now predict another 28% gain for this time next year...
...pitching gold up above $2400 per ounce.
That's because most often, people tend to predict more of what they just saw.
But gold may also find some industry bears to offset those bulls, worried that prices have gone too high too fast (or annoyed about it for the jewellery and industrial sectors). Their lower forecasts might help curb the conference's average prediction.
Either way, there is another school of forecasting entirely which investors both private and professional should probably pay closer attention to.
Crystal-ball gazing by central banks.
These fortune-tellers, unlike the crowd guessing gold prices at the LBMA conference, think they can actually do something to make their forecasts come true.
Or at least they used to think that. Now they're admitting – or perhaps pretending – that dictating the pace of devaluation in your savings isn't so easy.
Who might be able to help make their prophecies come true?
More to come in Part 2...