LBMA 2018: Investors Will Buy Gold If...
Monday, 10/29/2018 21:49
...only someone had a good story...
"ANYONE asks, this is no time to reveal we work in the gold market," recalls Adrian Ash at BullionVault.
Boston has a long history of radical demos, protests and outright mobs. Ahead of this year's LBMA conference, we stumbled into one outside City Hall on Sunday morning when out walking the Freedom Trail from the Boston Tea Party museum past key sites of the 1760s' colonial unrest, uprising and then revolution against British rule.
According to the flyers handed out, this new revolution will in fact be televised, streamed
of course on YouTube
. Cos not even US communists dare throw off the imperial yoke of today's robber barons.
"The world today is [actually] richer than ever," noted LBMA chair Paul Fisher Monday morning, opening this 2018 bullion market conference.
"But it doesn't feel that way to many people, and dissatisfaction is leading to populism." That in turn, for right or wrong, threatens the long consensus of deregulation, free capital and labor flows and globalization which got us all here.
Long brewing, this political truth colors the macro economic backdrop. That in turn colors the outlook for investors to return to buying gold in strength. Or not.
"No one's looking at gold's fundamentals," said Shayne McGuire of the Teacher Retirement System of Texas – a long-time gold investor, author and advocate – in today's investing session.
"What matters are the macro [economic] fundamentals."
As it is, only 0.15% of global pension fund assets are held in gold, he estimates. So any growth in that institutional interest will likely be "extremely positive" for prices.
Many consultancies and careers have come and gone however without denting the pension and insurance industries dislike of gold. More possible, if not urgent after the summer's spike down to 21-month lows in the gold price, is more tactical hedge-fund sentiment.
"Gold needs to preserve this month's gains to gather investor interest," said David Chang, commodities portfolio manager at investment group Wellington. Because rallying as it has on a sharp drop in the stock market won't change anything if those gains now fade.
That said, "sentiment is washed out" and could hardly be worse judging by
gold ETF
holdings and especially this month's
record bearish short betting
against gold prices on Comex futures and options.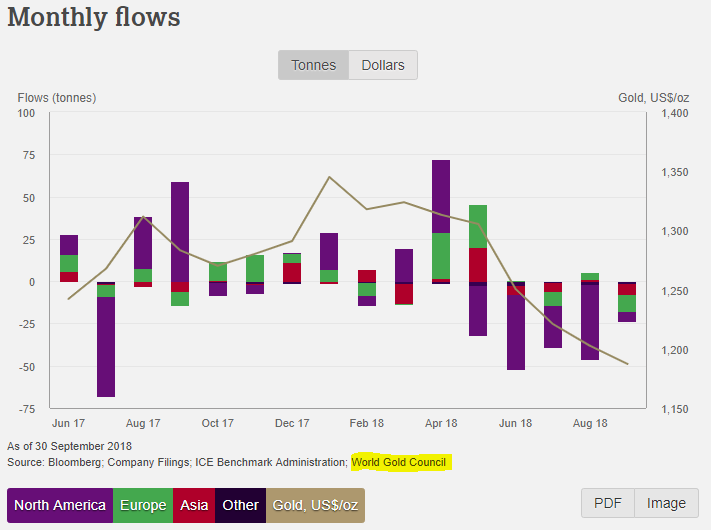 Overall, "apathy" reigns among investors when they look at gold right now. That marks a contrast with gold's decade-long bull market ending 2012, said David Seif, economist at Point72 Asset Management. Back then "You could tell a good story" and make a strong, simple case for adding gold. But even with all today's risks, "a good story is absent."
Maybe cos everyone listening knows (or dreamt up) all the things you could say, today's investment panel didn't rehearse the good stories you could tell about gold right. Diversification. Security. Liquidity. Indeed, with this year's 2 big trades being long Dollar, long US equities, who needed gold for that anyway, as Swiss bullion bank UBS's head of precious distribution Edel Tully noted.
So asked for a 2019 forecast, the 4 panellists struggled to get too excited. Few people see an economic crash or financial crisis hitting this side of the Trump tax cuts starting to drag on US growth – rather than boost it – sometime around 2020.
But even their muted view puts gold somewhere between nought and 10% over the coming year, maybe touching $1325-50 per ounce on Tully's outlook.
If that's what a soft upturn in the market will look like, most LBMA delegates would take it. But in the absence of that clear, simple story, is it enough to become self-fulfilling by pulling in new investment dollars?