India Falls Out of Love with Falling Out of Love with Gold. Again
Friday, 5/31/2019 11:50
So why say otherwise...?
TIME and again, major news outlets claim that India is "falling out of love with gold", writes Adrian Ash at BullionVault.
They say it so often, you wonder who they're trying to convince.
The Times of India said it in 2012, then in 2014 it was Business Today. In 2016 it was the turn of the Financial Times. Last summer it was Bloomberg.
Now it's The Economist. Twice so far this spring, in fact.
"Indians may be falling out of love with gold," said the world's worst cat-litter lining in a mid-March post
on its website
.
That cautious "may be" was gone by this month's re-write.
"Why are Indians falling out of love with gold?" asks a section humbly entitled
"The Economist explains"
...now taking for fact what had seemed moot just 9 weeks before.
"Indian households are reckoned to have a stockpile of gold worth $800bn...Yet the Indian market is not as healthy as it was.
"Purchases of the metal have fallen by around a fifth since their peak in 2010."
How come?
"A weak Rupee, a high gold price and changing fashions all play a part," said the first draft.
"Jewellery fashions are changing," agrees the second version – "[but also] more money can be made on the stockmarket."
True x4.
Alongside that, if not because of it, lighter pieces are reportedly growing more popular among India's jewelry buyers. And the super soaraway
Sensex has hit record highs
– jumping at its fastest in a decade – on nationalist Hindu BJP boss Narendra Modi winning a second term as Prime Minister of the world's biggest democracy.
All that might explain India dumping gold like a hormonal teenager dumping last month's hot crush.
But does it need to?
Because really, does this look like "falling out of love" to you?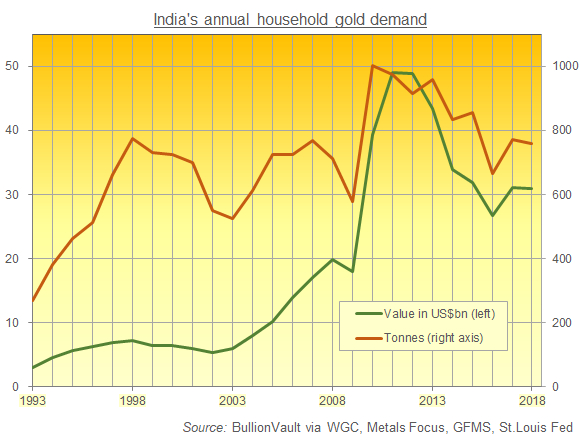 Yes, like The Economist says, household gold demand in India has indeed retreated since 2010 according to the best available data. It comes courtesy of specialist analysts Metals Focus' work for the mining-industry backed World Gold Council.
Peaking just above 1,000 tonnes however, that year's gold buying marked two things:
the start of Metals Focus' and therefore the WGC's current data series;
a historic spike for India, beating even the low-price peaks of the late 1990s as gold coins and bar buying added to the pent-up demand delayed by 2009's global economic crash.
Inded, compared with the turn of the millennium – when the lowest global gold prices in two decades spurred heavy demand from the world's then No.1 consumer nation – India's average annual gold demand over the last 5 years has risen 6.4% by weight. More importantly, it's risen 4.8 times by value in US Dollar terms.
Hardly falling out of love, even against the 6-fold growth in India's USD gross domestic product.
Looking on a per person basis, a similar story. The quantity of gold bought by the average inhabitant of the world's second most populous nation saw a historic spike in 2010 just above 0.8 grams. With India's population rising 10% since then, per capita gold demand in 2018 held below 0.6 grams for the 3rd year running on the WGC/Metals Focus figures.
Yes, that lags the uber-rich mini-states of Hong Kong (7.0 grams), Switzerland (4.4g), the United Arab Emirates (4.0g) or Singapore (2.9g). But they aren't home to 1.3 billion people.
In fact, India's gold demand beat all but 15 other nations in 2018 on a per capita basis, despite India coming at No.164 in the World Bank's table of GDP per head in US Dollar terms. So if you look at household gold demand as a percentage of economic output per person, India led the world – yet again – with a spend worth 1.2%.
That was twice the figure for Hong Kong, 3 times the UAE number, 5 times Switzerland and 6 times Singapore. It was almost 4 times the figure for China.
Again, does that look like India is "falling out of love" to you?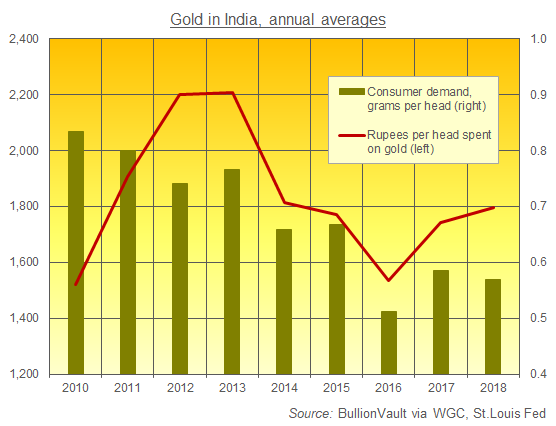 Still, like
The Economist
's simple reading of
the WGC data
suggests, India's per capita demand has fallen since the 2010 spike, dropping by one-third. But the domestic price of bullion has meantime risen by two-thirds, thanks both to gold rallying in Dollars as the Rupee fell, but also to the extra costs added to retail prices.
So again, Indian households' per capita gold buying is stronger than a quick glance might say. Not least because that starting point of 2010 remains almost as extraordinary as the official attack on gold demand since then.
Adding to the underlying rise in Rupee gold prices, and to try and stem India's huge current account deficit with the rest of the world (widened more by oil imports), the former Congress administration
raised import duty 5-fold
on gold bullion to 10% between 2012 and 2013. Then from 2017 the BJP's Modi government aligned GST sales tax, adding another 3%, with India's domestic jewelry prices rising still further thanks to the additional 5% GST imposed on 'making charges' (and increasingly implemented too as the government tries to push ever-more economic activity away from cash and onto digital payments).
The drop in India's gold demand therefore looks a long way from a loss of affection. Last year's spending per head – even if figured just from bullion costs, rather than jewelry – has been beaten only 4 years in history, all at the very top of the global boom and bust in gold prices.
India, in other words, hasn't fallen out of love with gold.
Indeed, India's 3 largest jewelry businesses – Titan, PC Jeweller and Joyalukkas – all come in the world's top 20 fastest-growing luxury brands according to consultant Deloitte's latest analysis, growing sales at annualized rate of 19.7%, 14.5% and 12.9% respectively (albeit on 2015-2017 data in April 2019's report).
Margins look tightest at privately-owned Joyalukkas (at 3.2% barely half what PC earns and well below Titan's 6.8%). Shares in PC Jeweller (NSE: PCJEWELLER) aren't faring so well meantime – down 7/8th from end-2017's high. But how did PC Jeweller
get so high
in the first place? And how long can No.1 brand-owner Titan (NSE: TITAN) – the company behind jewelry brands Zoya and Xylys as well as the monster Tanishq, now with its 7,000 designs and 274 stores in over 160 cities, plus watch brand Nebula – sustain its currently heroic stock-market valuation of 78 times corporate earnings?
Either way, the ups and downs of India's publicly traded jewellers don't seem to reflect the underlyings too closely. And that underlying growth in formal sales comes alongside
relentless reports of a surge in gold smuggling
as the No.2 consumer nation continues to charge 10% duty on legal bullion imports.
So against all evidence, what might explain The Economist's take?
"Start with changing tastes and preferences," says the magazine itself. One-third of Indians are aged between 18 and 35, and the stereotype of the dread 'millenial' everywhere likes to fritter away money on battery-powered trinkets, not bangles and bracelets as a form of investment.
Then take gold's poor performance. It has indeed failed to beat India's domestic stock market, never mind foreign equities boosted further by the Rupee's ongoing decline.
Rural families have meantime been pushed to open bank accounts, both by government policy and better access through mobile phones. That might dent gold's role as a savings vehicle, right?
Politicians have long hoped so.
"This [would] show positive impact on every aspect of Indian economy."
Raising import duty as the Reserve Bank blocked the sale of gold coins, Chidambaram's team also imposed the still-controversial 80:20 rule to try and stem outflows of currency to pay for all those gold inflows. Because as his financial services secretary Rajiv Takru said, buying gold is
just "wasteful expenditure"
.
Maybe the editorial team at The Economist agrees? It wouldn't be alone among journalists if so, either in India or elsewhere.
"Let's be honest about gold," said the
Wall Street Journal
in 2015. "It's
a pet rock
." For India's deep love, "[Blame] the power of
marketing, superstition and the media
," said
FirstPost
a year earlier, taking a swing at what has become the 'auspicious' gold-buying festival of Akshaya Tritiya.
"Don't question beliefs. It's personal and hurting them is sacrilege."
But claiming that India is "falling out of love with gold" isn't to raise questions. It's simply wrong on all available data.
That may of course change – something the industry
wells knows and worries about
– as more rural families gain bank accounts, younger consumers face an ever-wider choise of gadgets and services to buy, and the government works towards (finally) announcing and implementing
a 'gold policy'
to consolidate and formalize the industry.
Just don't hold your breath. India is, after all, only 2,000 if not 5,000 years into its 'love affair' with gold. This is no brief fling.