What Big Government Did to Gold Prices
Wednesday, 12/11/2013 18:05
Paying attention? A very rare year says the early 21st century trend in gold ain't done...
GOVERNMENT didn't shrink in 2013, writes Adrian Ash at BullionVault.
But the crash in gold prices might just reflect the fact it didn't grow so fast.
First though, if you live anywhere but the United States, today was a special day on your calendar.
Indeed, at ten-past-nine Wednesday morning, the date read 9.10, 11/12/13.
Hope you enjoyed while it lasted. US calendars will show 12, 13, 14 on December 13th next year. But that's the last sequential date for the Common Era until 1 February 2103. The 21st century's little gift of pointless numerology has stopped giving. And as we said, another (and perhaps more important early 21st century trend) also came to an end in 2013.
The US government stopped growing so fast.
First, Congress passed fewer new laws than any year since WWII. Just 52 according to Time magazine, below the previous low of 88 laws in 1995.
Second, the federal US government spent less money than any year since 2008. Yes, really.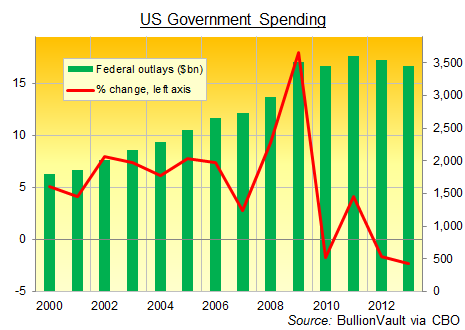 No, this happy event didn't stop Washington pushing ahead with Obama Care, assassination by drone, or Big Brother surveillance of pretty much the entire planet. Nor did it stem or reverse any of the growth in US federal debt. But including local government deficits as well, gross national debt grew in 2013 by
the smallest amount since 2009
. That might also matter, big picture.
Less government, in our books at least, is a good thing. For most other investors who dare call themselves "gold bug" too, a smaller state is much desired. And all that 2013 brought in truth was a slowdown in the rate of expansion.
But the "Twin Deficits" run up by US government and by US consumers via the trade balance formed a key plank for that handful of eager gold buyers spotting the trend early over a decade ago. No, the
US trade deficit
sits a long way from fixed. But might the little-seen, little-noted blip in Leviathan's growth have helped work to undermine gold prices this year?
People buy gold because they cannot trust government, as plenty of talking heads have noted in history.
Even socialists
!
Gross US public debt, including local government, is meantime forecast to swell next year at the fastest pace since 2006, with new record deficits set every year from now until 2018 and beyond.
So the 21st century's big trend to big government hasn't ended. Only the happy little diversion of sequential dates on your calendar has.
Do pay attention.